If you are looking for an honest WhoGoHost review or you want to know the best web hosting in Nigeria, then I got you covered on this because I took the time to write all you need to know about WhoGoHost.
Before you create your website, there are some factors to take into consideration, one of which is choosing the right web hosting company to purchase your hosting and domain.
In Nigeria, there are many web hosting companies but not all are reliable so you need to read a review like this one you are reading now to do the right thing.
Using the best web hosting in Nigeria should be the only thought in your mind whenever you think of starting a blog. But how do you know the best, I will reveal it to you in this guide.
What is Web Hosting?
Web hosting is an internet hosting service that stores website files and makes it accessible through the World Wide Web (www).
Web hosting provides space on a particular server that is owned by clients.
If you are launching a new website, web hosting is a vital aspect to consider, because without it there is no way you can create a good website.
How to choose a reliable web hosting
There are lots of cheap web hosting in Nigeria, but it's not really about being cheap, the question is, are they reliable?
That's why I wrote this WhoGoHost review personally for you, YES it's for you. You need to know about the kind of web hosting company you work with to avoid downtime on your website.
I will advise, before you make the choice of web hosting, read reviews and recommendations about the web hosting company.
ALSO READ: Top 5 Best Web Hosting In Nigeria (2021)
A lot of webmasters have worked with different web hosting companies and as such they know the pros and cons of each hosting company.
Don't make the mistake of choosing a bad web host just because it is cheap, find out from experts if it is reliable.
Whogohost Review: Overview and history
WhoGoHost Limited is a Nigerian web hosting provider, accredited by NiRA (dotNG) registrar, which was founded in 2007 by Opeyemi Awoyemi, a graduate of Obafemi Awolowo University.
Whogohost started as a reseller to serve customers who needed hosting for their websites.
Toba Obaniyi later joined the team in 2010 coming in with his tech skills to add more value to the company and grow the vision.
In 2011, WhoGoHost Limited got incorporated, Toba Obaniyi later took over the position of CEO, growing the company alongside other dedicated proficient team members.
WhoGoHost Limited initially started as a web hosting firm but later grow to be the number one hosting provider with a lot of other products and services including domain, SSL, email hosting, social media management, digital marketing, and more.
The company is a Google G Suite accredited reseller.
WhoGoHost products and services
WhoGoHost offers lots of interesting products and services all at an affordable rate which you can take advantage of to start your online portfolio.
If you want to start a blog from scratch, I would advise you to navigate to WhoGoHost web hosting, buy your domain and hosting, sign up with Getresponse for your email Marketing, and get one month free.
As a blogger, you need to build email list which will drive traffic to your blog, so you need Getresponse for all your email marketing needs.
Aside from web hosting, there are other products and services that WhoGoHost offers which you will find it in this WhoGoHost review.
Domain name registration
Shared hosting
WordPress hosting
Email hosting
Website builder
Cloud hosting
Google G-suite
Python hosting
Social media management
Digital marketing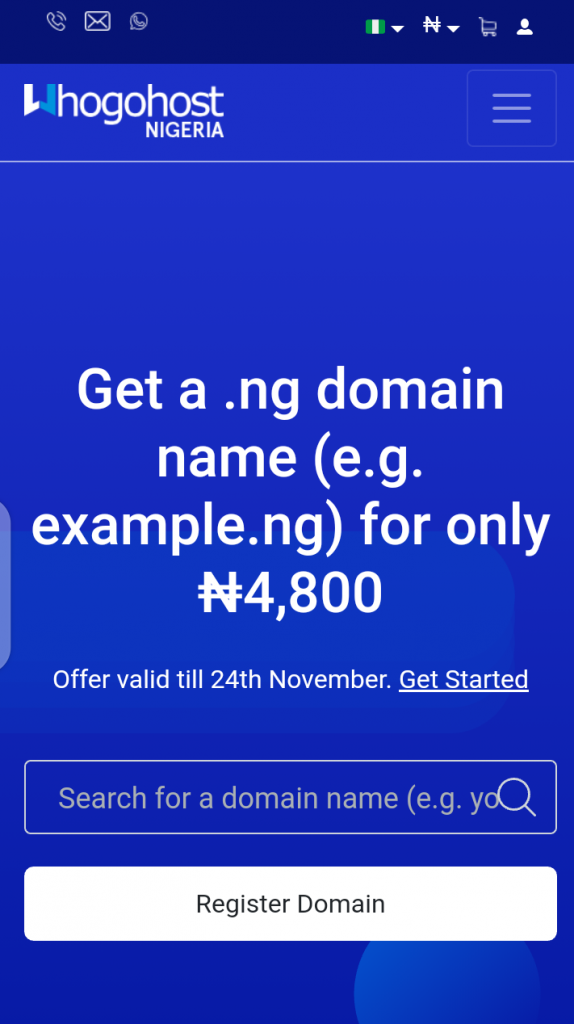 WhoGoHost Review: Is WhoGoHost a reliable web hosting?
"DISCLAIMER: This is not a paid WhoGoHost review, I didn't contact any members of WhoGoHost team before writing this review, I wrote it according to my experience with them"
WhoGoHost is a reliable hosting in Nigeria judging from personal experience.
I worked with WhoGoHost on some personal web design projects and also for my clients.
This website Blogging Booth was hosted on WhoGoHost with the domain bought from Namecheap, before I moved the hosting to Namecheap.
During my stay with WhoGoHost I never experienced difficulty in my sites.
From my experience with the WhoGoHost hosting company, I can recommend anyone to use their products and services.
My experience with WhoGoHost
I started blogging in November 2016, with zero knowledge about blogging, a true definition of "Starting from Scratch".
When I started blogging, my blogs were on the Blogspot (Google-owned) platform, I created and condemned so many blogs before I was left with two "Tech Classic" a tech blog, and "Katumu Adasi's Blog" an entertainment blog.
In 2017, I later moved from Blogspot to WordPress after abiding by the advice of my friend Innocent Naija.
ALSO READ: How to start a successful blog and earn up to $1,000 monthly
He advised me to move to WordPress and recommend WhoGoHost for me, I told him I don't have money to pay for hosting, he told me their plans were affordable and I can pay monthly so I was convinced and I moved.
Since 2017 to date, I have been using WordPress with all my sites hosted with WhoGoHost limited and there have not been complaints that's why I wrote this WhoGoHost review.
Enough of the story, I hope you are not bored with the brief story of how I started blogging. Let's move on to the main business of the day which is my honest WhoGoHost review.
WhoGoHost Features
WhoGoHost shared hosting has a lot of amazing features to beat their competitors, some of which are;
DNS zone editor
Free Domain registration
Email and SMS notifications
Unlimited emails
File manager
MySQL databases
SMS and email notifications
Cron Jobs
FTP accounts
WhoGoHost uses cPanel which comes with tools such as Softaculous one-click app installer.
With the one-click app installed, you can set up WordPress, Joomla, Drupal, etc.
You can also upload plugins, files, themes in your cPanel.
WhoGoHost is the number one web hosting provider in Nigeria with 99.9% uptime.
Both the shared and VPS hosting packages have high speed and the latest security to safeguard your online business.
Pros and cons of WhoGoHost Web Hosting
Before you use any service online, be sure to read the pros and cons so you don't make the mistake of choosing the wrong service.
Every company has a good and bad side that's the reason you need to read reviews before deciding on purchasing something online.
In this WhoGoHost review I will go deep and tell you the truth about WhoGoHost limited.
Pros of WhoGoHost Web hosting
Using this service there are lots of amazing benefits some of which you can't find with other web hosting providers.
1. Reliable Web Hosting
With WhoGoHost, be rest assured that you have reliable web hosting with no downtime.
With more than 40,000 websites powered by WhoGoHost, it is obvious that they are the number one web hosting provider in Nigeria, you can trust them with your money because they will surely deliver.
ALSO READ: Bluehost Affiliate Program Review: Make $1.5k Monthly
They also partner with Cloudflare to deliver excellent services with the latest hardware.
I have seen people experience downtime on their website and I wouldn't want to see you experience it, so I recommend the best web hosting in Nigeria for you.
2. Affordable pricing
A beginner who wants to start an online business will always utilize free and affordable tools to use for the main time before getting premium tools.
The good thing about WhoGoHost is, their products and services are affordable, you don't need to pay a huge sum of money before you purchase hosting and domains.
While their hosting is affordable, there is an option to pay monthly which means, you can start small before paying a whole year.
3. No downtime
There is no doubt that downtime is one of the bad factors affecting some online businesses.
Downtime may cause you to lose many customers who will come to your site and still return because the site failed to load.
When choosing your web host, downtime should be taken into serious consideration.
Avoid web hosts with too much downtime.
With all my sites hosted with WhoGoHost, I have not experienced downtime.
During maintenance, they are always fast in rectifying the issue.
4. Free SSL certificate
SSL certificate is very important on a website because it gives the visitors trust especially in buying from your website.
Secure Sockets Layer (SSL) are protocols specially designed to provide communications security through a network.
These protocols safeguard your internet connection against fraudsters.
SSL certificate is not free but some web hosting providers usually add SSL certificates to web hosting packages as bonuses.
WhoGoHost provides a free SSL certificate for all web hosting packages starting from the basic plan.
5. Website backup
If you want to backup your website and don't know how to go about it, WhoGoHost will help you with the backup.
They won't backup your website unless you make the request.
Just in case you want to make some changes in your website that may require backup, feel free to contact their support and they will get it done.
6. 24/7 Support
WhoGoHost customer support is top-notch in Nigeria. They have written articles on their knowledge base page which will help you solve many issues you encountered on your blog.
They also provide phone, ticket, email, and live chat support.
Whenever you encounter issues on your website, contact customer support to assist you.
7. Free domain
All shared hosting plans comes with a free .com.ng domain so you can buy only hosting and start your website.
But if you don't want to use the .com.ng extension, you can purchase another domain like .com or .net.
8. Flexible payment methods
There are situations where you want to shop online but find it difficult to pay due to the payment method available.
But in the case of WhoGoHost, it's a more convenient shopping because they have different payment options.
You can pay with your debit card which is secured by Paystack. This particular payment method is my favorite.
You can pay through a bank or mobile transfer, after payment your order will be ready immediately.
9. Free Hosting Migration
Are you frustrated with your current web host?
You can migrate your website to WhoGoHost, don't worry how you will do it, their support team will take care of it.
Just open a support ticket, take a cup of coffee and wait for the WhoGoHost technical department to handle the migration.
Cons of WhoGoHost Web Hosting
Being the best web hosting provider in Nigeria doesn't mean I have not found fault in their services.
There is another side of WhoGoHost which I want you to know. I want you to know the hidden truth about WhoGoHost limited.
You might have read another WhoGoHost review but it seems they are hiding the truth from you, I will open up everything to you because I care, Lol.
Limited bandwidth and Disk space
Honestly what I don't like about WhoGoHost is the bandwidth limit.
The pro plan has 45GB bandwidth and 12GB web space which is not good enough.
If the aspire plan has limited bandwidth, the Pro plan is supposed to come with unlimited bandwidth.
Unlimited Bandwidth and webspace are only available on the Supreme plan which is a bit expensive at the rate of N2,500 monthly.
I have to be honest in my WhoGoHost review to avoid persuading you to take action you don't intend to.
WhoGoHost limited needs to improve on their bandwidth and webspace.
Apart from that, their services are cool with Interesting products and services.
Pricing
WhoGoHost products and services are all affordable even if you are a newbie with a low budget, you can still start your website.
See the pricing of WhoGoHost shared hosting:
Aspire – N500 monthly
Premium – N700 monthly
Pro – N950 monthly
Deluxe – N2,100 monthly
Supreme – N2,500 monthly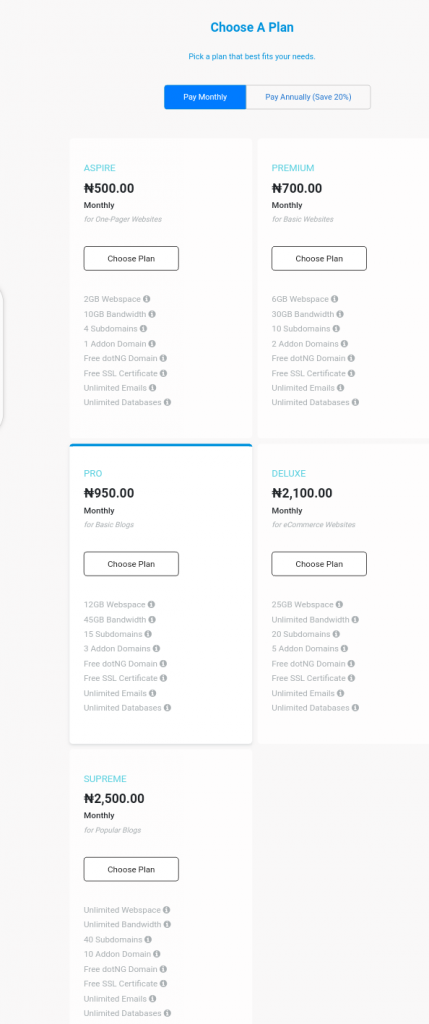 WhoGoHost coupon code
There is a popular saying in Nigeria which says "Who doesn't like better thing?"
The truth is that people like free things a lot.
WhoGoHost offers amazing discounts on their products and services. You can get these benefits by using the WhoGoHost coupon code.
WhoGoHost coupon code is for promotional purposes.
The company gives out codes that you will use when purchasing your desired products to get amazing discounts.
Terms of WhoGoHost Coupon code
The discount is only applicable to the first year domain registration, not renewal or transfer-ins.
The coupon code can only be used once.
Coupon code only works if you are using it for the first time.
How to use WhoGoHost coupon code
To use your coupon code, you need to first place your order, go to the WhoGoHost website, and place an order then proceed to checkout.
On the checkout page, you will see your order, scroll down to the bottom of the checkout page you will see space to enter your coupon code.
After you put in your coupon code, you proceed to complete your order, to enjoy the discount.
How to sign up with WhoGoHost
After reading this honest WhoGoHost review, I believed you now know the good and bad side of the web hosting provider.
WhoGoHost is simply the number one web hosting company in Nigeria, no doubt.
To sign up with WhoGoHost so you can buy your domain and hosting, go to WhoGoHost website and sign up in few minutes.
Conclusion
This WhoGoHost review should give you everything you need to know about the number one web hosting in Nigeria.
Now that you have read this WhoGoHost review, what are you waiting for? get started now.
Buy your domain and hosting, proceed to your cPanel to install WordPress, and start your website.
If you don't have an idea on how to start a blog, I have written a comprehensive guide on how to start a blog from scratch and be successful.
Thanks for reading, kindly drop your comments.