In this Roller Ads review, we will talk about one of trending advertising options, which is the push notifications.
Push notification ads have surged in popularity, with numerous networks entering the arena to offer tailored push notification advertising services for advertisers and lucrative monetization opportunities for publishers.
The potency of push notification ads becomes most evident when they are precisely targeted. This precision can significantly enhance the effectiveness of ad campaigns, potentially leading to impressive returns on ad spend (ROAS) for advertisers.
However, the intricacies of this process go beyond the surface. The pivotal role in ensuring that these ads capture the attention of the right audience lies with the platform, acting as the intermediary connecting advertisers and publishers.
Enter Roller Ads, a platform that serves as the linchpin for both advertisers and publishers. Whether you aim to promote your business or brand effectively or seek to optimize your earnings as a publisher by capitalizing on your traffic, Roller Ads stands as the solution to help you achieve your objectives.
What are Push Notification Ads
Push notification ads are essentially the messages you receive on your computer or mobile device. They often pop up on mobile screens as alerts or reminders, prompting you to take action.
On desktop computers, these ads commonly manifest as alerts in the upper right-hand corner of your screen. Occasionally, they might resemble calendar reminders or even mimic incoming email notifications, typically appearing for a brief duration.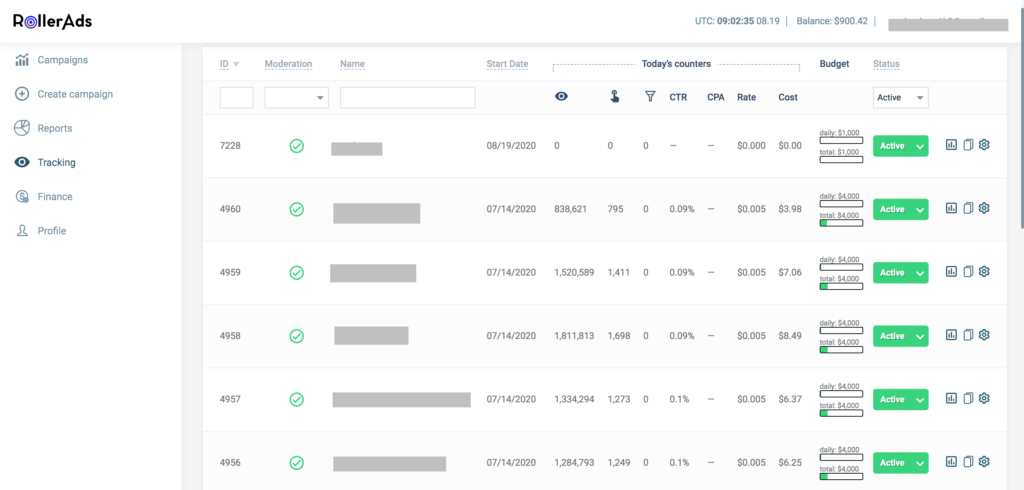 Benefits of Push Notifications Ads
1. These ads are lightning-fast, delivering quicker than any other ad format.
2. They offer affordability without compromising on speedy results.
3. They possess the capability to swiftly reach a vast audience across both mobile devices and desktops.
4. These networks empower advertisers to conduct efficient A/B testing for both images and text.
5. They offer precise targeting options, including time-based, device-specific, and customized audience targeting.
6. You have the ability to meticulously track your campaigns, allowing you to identify top-performing elements and focus your efforts accordingly.
How Do Push Notification Ads Works
Let's start with the basics. The individuals typically targeted as potential customers actively choose to become subscribers and grant permission to receive these notifications before they start receiving them.
Initially, a specific code is integrated into the publisher's websites. This code prompts visitors to consent to receiving notifications from the visited website. It often appears as a popup at the top of the website, presenting visitors with the option to "allow" or "block" notifications from that particular site. When visitors opt to allow these notifications, they are added to a list and subsequently receive notifications when relevant.
What's particularly noteworthy about these ads is their increasing sophistication. These notifications can be customized to specifically reach your desired audience.
Additionally, employing machine learning, pixel tracking, and data collection tools enables the collection and optimization of data. This optimization process enhances the performance of these ads, leading to higher click rates (CTR) and improved conversion rates.
What is Roller Ads?
RollerAds, founded in 2019, represents a relatively new but remarkably advanced platform. It is outfitted with top-tier tools designed to guarantee the presence of authentic human traffic while simultaneously optimizing revenue for publishers.
This ad network incorporates highly precise tracking and targeting tools. These tools serve the dual purpose of assuring that advertisers receive genuine traffic and that publishers are duly compensated for each click.
RollerAds is rapidly expanding to accommodate the burgeoning demand from substantial advertisers and publishers who have recognized the advantages of utilizing push notification ads for both advertising and monetization.
Roller Ads for Advertiser
RollerAds has developed an exceptionally sophisticated Self-Service Platform (DSP) that surpasses the capabilities of many other push notification networks available today.
Setting up an account is a breeze, taking only a few minutes and steps for automatic approval. Their intuitive campaign builder guides you effortlessly through the entire process.
From the outset, you'll appreciate the simplicity of configuring and utilizing their advanced targeting features.
Roller Ads for Publishers
Push notification advertising is not only highly effective for advertisers but its success prompts them to offer higher pay per click rates. Consequently, this translates into extra revenue for publishers.
The administrative panel is exceptionally user-friendly, making the setup process a breeze. Furthermore, it offers diverse withdrawal options, including wire transfer, Payoneer, PayPal, and several others.
Roller Ads Payment Method
Payment Methods includes Wire Transfer, Credit card, Capitalist, WebMoney.
Payment Frequency for publishers: NET 30.
Pricing Model: CPC
Minimum Deposit: $50
Minimum payout: $100
Withdrawal Methods: ePayments, WebMoney and Bank wire transfer
Conclusion
RollerAds stands as a self-service, high-performance advertising network with a global reach and an array of potent in-house optimization tools.
Impressively, RollerAds boasts over 10,000 direct publishers, facilitating a daily delivery of more than 1.2 billion impressions and a remarkable 2.5 million daily clicks.
The ad network employs the CPC (cost-per-click) pricing model for push ads, while Onclick utilizes the CPM model, featuring a minimum click value of a mere $0.001. However, to maximize results, especially in Tier 1 Geos, you might consider placing higher bids.
RollerAds extends its offerings beyond Push, including the On-Click ad format, a Popunder style ad, which you can conveniently select from the advertiser panel during campaign creation.
Furthermore, RollerAds equips advertisers with valuable campaign and targeting tools, ensuring effective audience engagement. We'll delve into these tools shortly.