In this post, we'll delve into a Monetag review. However, before we explore Monetag's specifics, it's crucial to understand why website monetization holds such significance.
For website owners, the primary objective is to monetize their online platforms through advertising. There are several advertising networks which one can monetize their site with and start making money.
Over the years, AdSense has proven to be the best advertising network although there are other AdSense alternatives which you can use to make money.
Getting AdSense approval is not that easy especially for newbies. It is always advisable to focus on quality content and make sure your site navigation is working smoothly.
To address this issue, we're here to introduce you to an alternative online advertising network.
What is Monetag?
Monetag is a popular advertising network, providing you with the opportunity to generate income from your digital assets, including websites and applications.
This platform boasts access to an extensive network of high-quality global advertisers, ensuring that publishers have access to top-tier monetization opportunities across various channels, including desktop, mobile, and in-app traffic.
Notably, Monetag excels in optimizing revenue from exit traffic and social traffic, making it a versatile choice for publishers.
As of now, Monetag is open to partnerships with a wide range of online content providers, including news websites, entertainment platforms, online cinemas, blogs, social networks, streaming sites, and more.
Monetag Publishers' Requirements
Monetag has the following requirements for publishers that wants to join the program:
No adult content.
No Malware-related content.
Site on free hosting platforms such as Blogspot, Weebly, or Wix not accepted.
How to Join Monetag
When you visit Monetag's publisher registration page, you'll see two different account types to choose from: Individual and Company.
It is advisable to choose the individual account if you are a blogger but you are an agency or organization then you should opt for Company.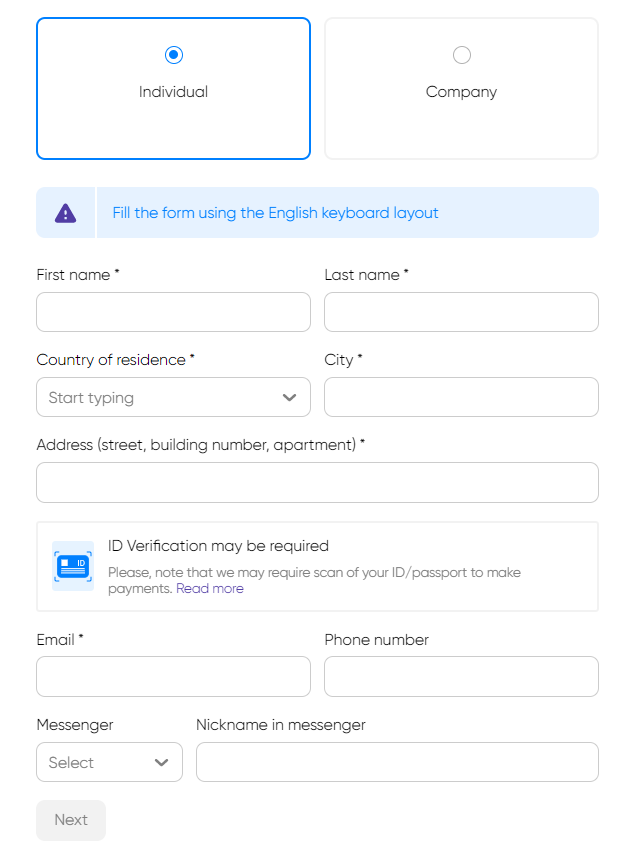 Carefully fill in the fields on the registration with the correct information and provide your Identity card for the ID verification to be able to receive your earnings.
Upon completing the publisher registration process, you'll promptly receive a verification email. Once you've successfully verified your account, you'll gain full access to your personalized account dashboard.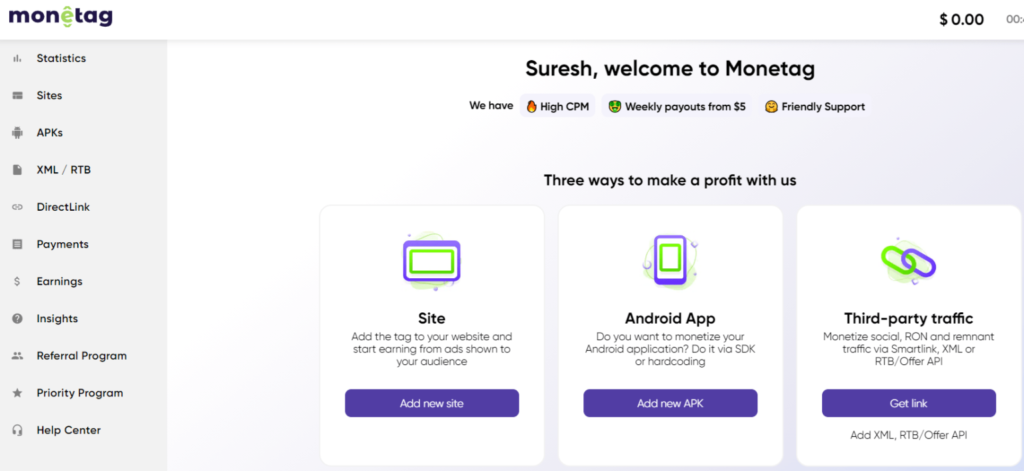 How to Add Site to Monetag
After successful publisher's registration, you can proceed and add your site to your account dashboard. Add your website URL and verified using the verification methods available.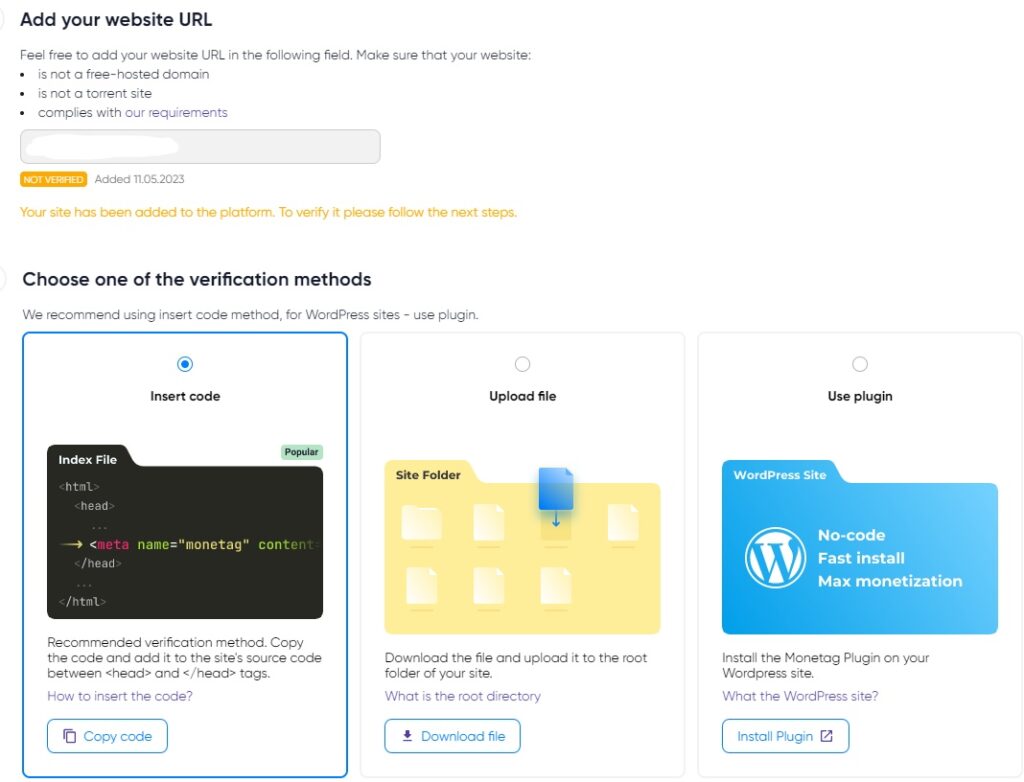 Monetag App Monetization
For App Monetization, you will follow the same steps.
As the app owner, you have the option to choose between both Google Play and Direct Download channels for distribution. Additionally, it's crucial for you, as the app owner, to specify the number of users. Once you've completed these steps, you can proceed by sending your request.
What Is Monetag MultiTag?
Monetag is dedicated to simplifying the ad implementation process for its users. To achieve this, they've introduced an AI-based tool called MultiTag, designed to effortlessly generate five distinct ad format tags.
MultiTag encompasses the following five ad formats:
Popunder (Onclick)
Push Notifications
Interstitial
In-Page Push Banner
Vignette Banner
By incorporating a single line of code, publishers can seamlessly display pertinent ads on their websites. This streamlined approach not only enhances user experience but also allows you to potentially earn higher CPM rates with just a single click.
Monetag Ad Formats
Monetag has six (6) high performance ad formats, which are highkighted below:
Popunder or Onclick ads
Push notifications
Vignette banner
In-page push
Interstitial
SmartLink
Monetag Payment Methods
Monetag send payment to publishers using the following payout options:
PayPal
Skrill
Webmoney
Payoneer
Wire
Monetag Payment Threshold
The minimum payout for all payment methods is $5, except for Payoneer.
To activate the Payoneer option, you need to accumulate earnings of at least $30.
Once the Payoneer option is activated, the payout threshold becomes $20.
If your website draws in more than 10,000 unique daily users, you'll qualify for weekly payments through PayPal.
Monetag CPM Rates
Monetag's CPM rates are subject to fluctuations based on factors such as niche, geographical location, and website traffic.
If you've recently integrated your site with Monetag, please allow several days to weeks for a comprehensive analysis of your site's performance. Monetag will then tailor its ad selection based on user interests and geographic regions to maximize both quality and profitability.
Notably, websites that attract Tier 1 traffic are more likely to experience higher CPM rates.
Monetag WordPress Plugin
For WordPress site users (excluding WordPress.com), Monetag provides a dedicated plugin for monetization. To access the official Monetag plugin for WordPress, visit https://wordpress.org/plugins/monetag-official/.
It's important to note that Monetag will approve your WordPress site only after a verification process.
Once your WordPress website receives approval, you can seamlessly incorporate Monetag ads by selecting from the five available ad formats: Onclick, Vignette Banners, Push Notifications, In-Page Push, and Interstitials.
Monetag vs. AdSense
AdSense holds a special place in the hearts of many when it comes to generating revenue. However, it's worth noting that some publishers have discovered that, with specific ad units, they can surpass AdSense earnings.
AdSense primarily showcases ads based on a website's content and keywords. In contrast, Monetag adopts a more targeted approach, tailoring ads to user interests, geographical locations, and gender.
Furthermore, while AdSense might disapprove or restrict certain sensitive content types like Real-Money iGaming, Cryptocurrency, and Foreign Dating, Monetag readily approves them.
Ad blockers can pose a challenge for Google ads, potentially halting their display. Monetag, on the other hand, effectively navigates ad block technology and continues to deliver ads.
Both AdSense and Monetag offer diverse ad formats, each with its unique characteristics.
The signup process with Monetag is notably hassle-free when compared to AdSense. With Monetag, you can promptly begin installing ads on your websites, whereas AdSense often entails a waiting period for approval.
In terms of payouts, AdSense requires publishers to reach a minimum of $100 in revenue before receiving payment. In contrast, Monetag offers a more accessible minimum payout threshold of $5.
Interestingly, some publishers have discovered that combining Monetag with AdSense ads can be a lucrative strategy, potentially boosting their overall earnings.
Monetag Referral Program
Monetag extends a referral program exclusively for its publishers, distinct from the affiliate program.
It's important to note that you can participate in an affiliate program without being a registered user. However, the referral program is exclusively designed for registered users.
Access to the Monetag referral program is contingent upon verifying your website or app. Once this verification is complete, you can start benefiting from the program, earning a 5% commission based on the revenue generated by publishers you refer.