Using proxy browsers has several advantages over normal browsers which will be highlighted in this article as you read on.
As online services continue to proliferate, we engage in daily data exchanges with numerous online platforms. Consequently, safeguarding online privacy becomes paramount.
Multiple avenues exist to bolster digital privacy. Yet, the simplest and cost-effective approach, yielding substantial results, is employing a proxy browser or a proxy browser extension.
Table of Contents
What is Proxy Browser?
A proxy browser is a type of web browser that facilitates anonymous and secure internet browsing by routing your web traffic through a proxy server. A proxy server acts as an intermediary between your device and the websites you visit. When you use a proxy browser, your requests for web pages are first sent to the proxy server, which then fetches the content from the web and returns it to you. This process helps to hide your actual IP address and location, making your online activities more private and secure.
Benefits of Using Proxy Browsers
Here are the benefits of using proxy browsers.
1. Anonymity
By masking your IP address, a proxy browser helps you browse the internet anonymously, making it difficult for websites to track your online activities.
2. Bypassing Restrictions
Proxy browsers can help you bypass geographical restrictions and access content that might be blocked in your region. This is especially useful for accessing websites and services that are not available in your country.
3. Security
Proxy browsers can add an extra layer of security by hiding your IP address and encrypting your internet traffic, which can protect your data from potential hackers or cyber threats.
4. Privacy
Proxy browsers can prevent websites and online services from collecting your personal information and tracking your online behavior.
5. Control
Some proxy browsers allow you to configure settings and choose specific proxy servers, giving you more control over your online browsing experience.
10 Best Proxy Browsers for Online Privacy
Now let us take a look at the 10 best proxy browsers for your online privacy.
1. Bright Data Extension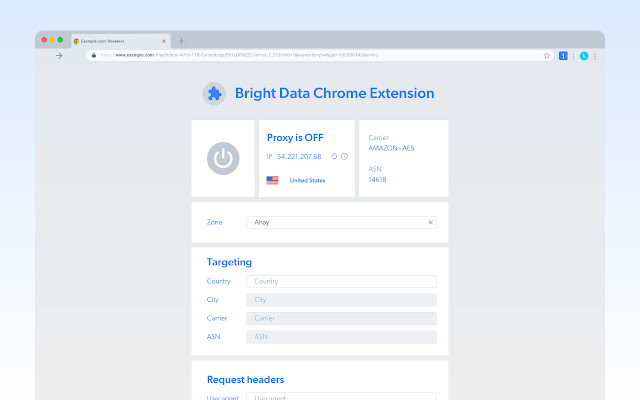 If you're utilizing Bright Data for data collection and extraction purposes, their privacy-focused web extension proves to be quite valuable. This extension is compatible with both Chrome and Firefox browsers and necessitates signing up for an account to initiate its usage.
With this extension, you can seamlessly navigate across multiple web pages while shielding your actual IP address. It empowers you to manually select a location and gain access to desired services and sites. Notably, it stands apart from certain other proxy tools by enabling concurrent requests from diverse IP addresses. This technique effectively masks your original IP address, ensuring your true origin remains concealed.
In addition to this feature, Bright Data offers a range of other services including residential rotating proxies, datacenter proxies, data collection tools, and mobile proxies.
2. IPRoyal
Regardless of whether you acquire your proxies from IPRoyal or not, their Proxy Manager presents a straightforward and effective solution for proxy management directly within Chrome.
The extension boasts a clean and user-friendly interface. There's no necessity to delve into intricate settings; simply input your proxies (whether for all protocols or distinct ones for HTTP, HTTPS, and FTP), and you're all set! The ability to generate profiles with varied proxies and seamlessly switch between them with a single click further enhances the experience.
Additionally, the Proxy Manager seamlessly connects with IPRoyal's website, where you can procure budget-friendly proxies and have them operational in mere seconds.
3. Utopia P2P Web Proxy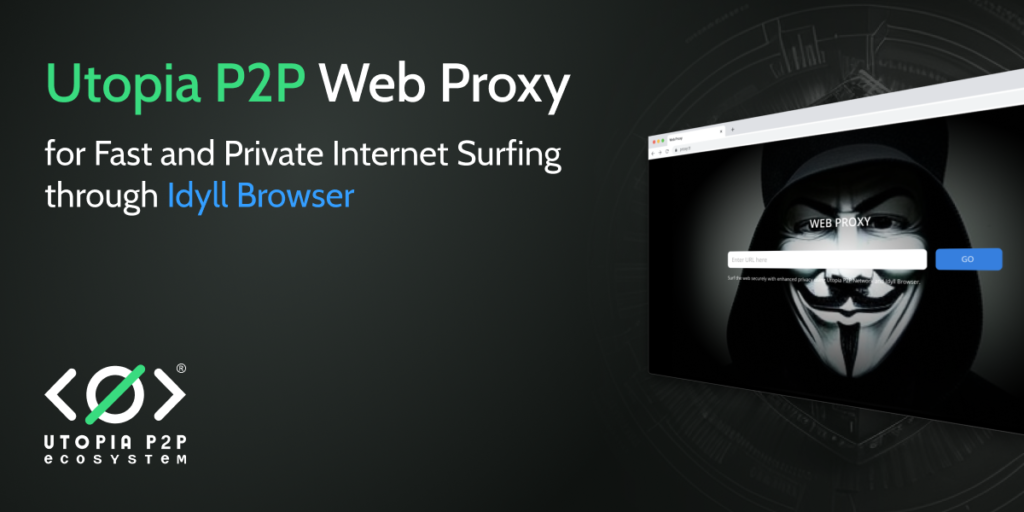 The Web Proxy stands as a distinctive and secure tool exclusively within the Utopia P2P ecosystem. Operating in conjunction with the anonymous Idyll browser within Utopia P2P, it obviates the need for any additional downloads. This tool empowers you to access any website with complete anonymity, even those that are typically blocked. Moreover, the loading speed is notably impressive, with each page loading within mere seconds.
To employ the Web Proxy, simply download Utopia P2P onto your PC (compatible with Windows, macOS, Linux). Following an anonymous registration, you'll gain entry to the suite of tools that encompasses the Web Proxy. If you already possess the ecosystem and have been using it, a simple update to the latest version is all that's required.
Subsequently, launch the Web Proxy and relish the swift, anonymous browsing experience even on restricted websites. It's worth noting that the Web Proxy is functional solely within the PC version of the ecosystem.
4. Hide.me
Hide.me presents a complimentary proxy service designed to facilitate unobstructed access to websites and enable private browsing from a selection of locations.
The service can be utilized without the necessity of creating an account. In addition to the proxy network, you gain supplementary features encompassing script removal, URL encryption, and the ability to enable or prevent cookies.
5. KProxy
Kproxy stands as another browser extension that offers free proxy functionality. Registration for an account is not mandatory. However, the free version is limited to particular locations.
If you seek to transcend these constraints, the pro version stands as an option worth considering.
6. Tor Network
Employing the Tor browser or the Tor network ranks among the most potent strategies to shield your true internet identity.
The Tor browser presents a customized rendition of Mozilla Firefox, equipped with built-in privacy and security features. By directing multiple requests to websites from diverse locations, it thwarts tracking of your original IP address.
While acknowledged as an efficacious approach, it cannot serve as a complete replacement for your standard web browser. Connecting through the Tor browser may result in notably longer page loading times.
The Tor browser is accessible across macOS, Windows, Linux, and Android platforms.
If you intend to utilize the Tor network as a proxy for your Android mobile device, the solution is Orbot.
7. ProxySite
ProxySite presents a cost-free web proxy service that grants access without necessitating account creation. A range of US/EU servers are at your disposal for selection.
Additionally, you have the option to eliminate cookies, scripts, and objects, thereby elevating privacy when utilizing the proxy.
8. Epic Privacy Browser
Epic Privacy Browser presents an intriguing departure from conventional web browsers, offering inherent tracking protection. Notably, it features an integrated VPN that can be activated during your browsing sessions.
Adding to its appeal, the browser also furnishes supplementary advantages such as a video downloader. While it might not be the ideal choice for everyday use, it could prove suitable for temporary browsing requirements demanding heightened privacy.
Installation options encompass Windows, macOS systems, and smartphones alike.
9. Hidester Proxy
Hidester Proxy emerges as another valuable no-cost web proxy, furnishing entry to US and EU servers. Despite the server count being confined to a mere two, its functionality remains robust—encompassing URL encryption, script removal, and additional features.
In contrast to certain other web proxies, it extends the convenience of a Chrome extension, should the need arise.
10. InstantProxies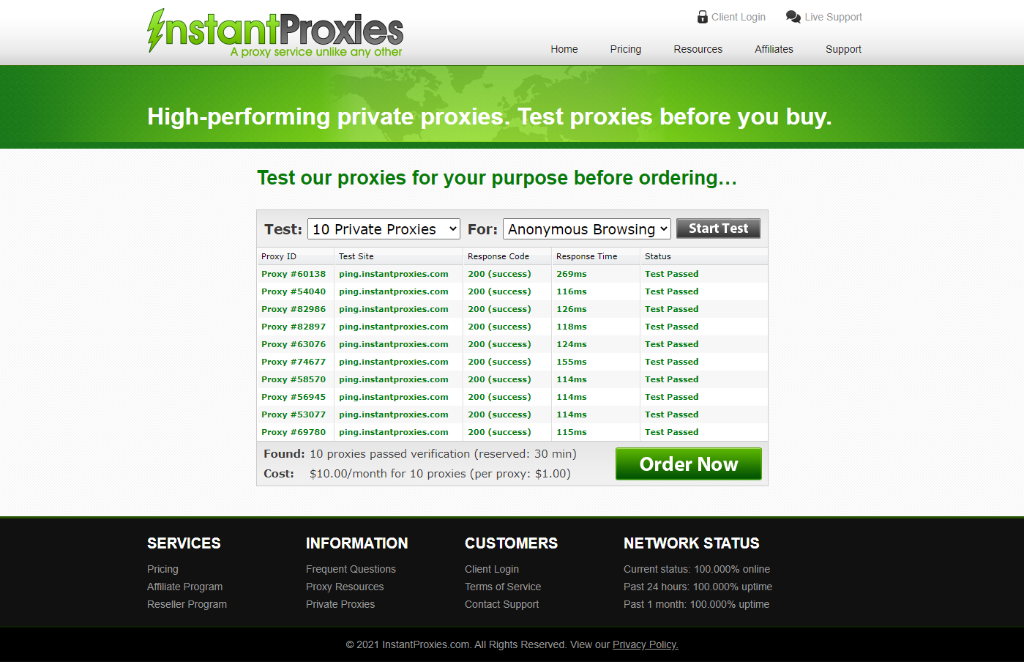 InstantProxies stands as a premium proxy service that enables you to assess server availability before committing to a subscription. Plans commence at $10 per month, affording you ten private proxies, and there's the provision to arrange a customized order if your proxy needs are greater.
The service additionally provides a support chat feature for assistance. Given its paid nature and absence of trial options, conducting thorough research might be prudent before considering it, recognizing that you're venturing into it at your own discretion.
Conclusion
The simplest approach to employ a proxy involves browser extensions and web proxies. For comprehensive solutions, exploring specialized browsers like Epic Privacy Browser could be beneficial. However, if your needs extend to using proxy networks for business or commercial purposes, it might be worthwhile to consider some of the mentioned paid alternatives.