---
In the digital age, proxies have become invaluable tools for various online activities, from web scraping to accessing geo-restricted content. One proxy service that has been gaining recognition is SmartProxy. In this comprehensive review, we'll delve into the features, pricing, performance, and user experience of SmartProxy to help you make an informed decision.
Features That Set SmartProxy Apart
SmartProxy boasts an impressive array of features that cater to the diverse needs of its users.
1. Residential and Datacenter Proxies
SmartProxy offers a dual approach, providing both residential and datacenter proxies. Residential proxies are sourced from real IP addresses, making them ideal for web scraping, data extraction, and other applications where genuine IPs are crucial. On the other hand, datacenter proxies are known for their speed, making them suitable for tasks that demand high-speed connections.
2. Global Proxy Locations
One standout feature of SmartProxy is its extensive network of proxy servers spanning multiple countries. This means you can access geo-restricted content and perform tasks that require specific location-based IPs with ease. Whether you need a proxy in the US, Europe, or Asia, SmartProxy has you covered.
3. Versatile Proxy Types
SmartProxy offers both HTTP and HTTPS proxies, catering to a wide range of use cases. Whether you're into web scraping, social media management, e-commerce, or any other online activity, you'll find the right proxy type to suit your needs.
4. Session Control
For users who require uninterrupted access to the same IP address for extended periods, SmartProxy's session control feature is a game-changer. This ensures that you maintain a consistent IP for a specified duration. It's particularly valuable for tasks that demand continuity, such as sneaker copping or social media management.
5. IP Whitelisting
Security-conscious users will appreciate SmartProxy's IP whitelisting feature. This allows you to secure your access by whitelisting specific IP addresses, effectively preventing unauthorized usage.
SmartProxy Products
SmartProxy offers varieties of products and services which includes the following:
1. PROXIES
Enjoy 55M+ real IPs in 195+ locations, any city worldwide, and 50 US states.
Equip ISP proxies and enjoy unbeatable speed and stability.
Dive into a 10M+ ethically-sourced mobile IP pool with 130+ locations and 700+ ASNs
Use stable, fast, and furious shared 100K+ datacenter IPs worldwide.
Power up your scraping by accessing real-time data from the most challenging websites.
2. PROXY TOOLS
Juggle multiple accounts at the same time risk-free.
Bring essential proxy features right into your browser.
Get proxies to your favorite browser with a few clicks.
Test lists of proxies to avoid potential errors.
Generate proxy lists in bulk with no hassle.
SmartProxy Use Cases
Below are the use cases of SmartProxy:
Create and manage multiple social media & eCommerce accounts with ease.
Gather public web data to generate valuable insights and scale your business.
Track and monitor prices to keep up with the ever-changing markets.
Upgrade adtech game – test ads, optimize CPA, and verify links effortlessly.
Collect SERP data to optimize SEO strategy and grow a brand's visibility online.
How to register with SmartProxy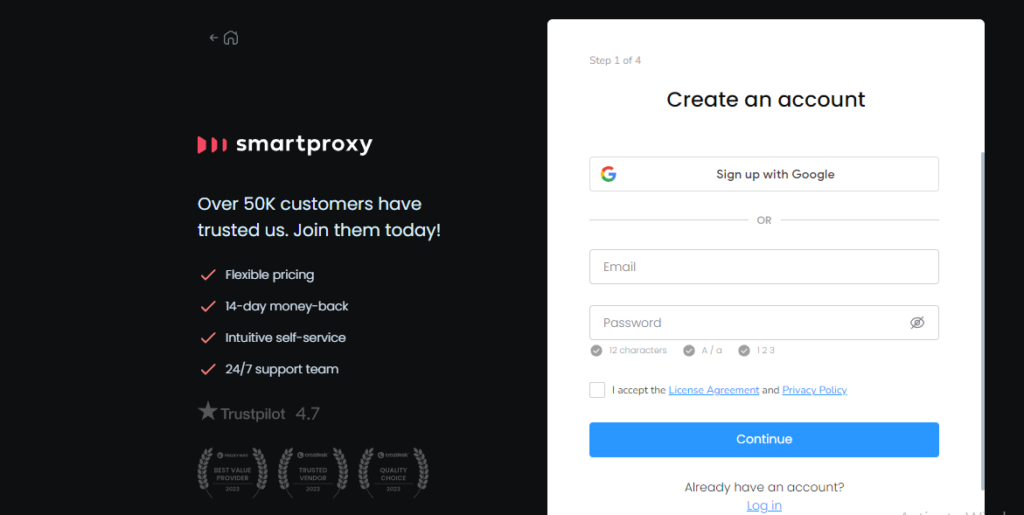 Visit the SmartProxy Website:
Go to the SmartProxy website
Select a Plan:
Choose a subscription plan.
Register:
Provide your email, create a password, and enter your personal and billing information.
Agree to Terms:
Accept the terms and conditions.
Verify Your Email:
Check your email for a verification link and confirm your account.
Login:
Log in to your SmartProxy account.
Start Using SmartProxy:
You're ready to use SmartProxy for your needs.
Pricing That Fits Your Needs
SmartProxy offers a flexible pricing structure that aligns with various user requirements. Their pricing is determined by the number of proxies and the type (residential or datacenter). Let's take a closer look at their pricing plans:
1. Starter Plan
The Starter Plan is perfect for individuals or small-scale users. It offers a budget-friendly option with a limited number of proxies, making it accessible to beginners or those with modest requirements.
2. Regular Plan
The Regular Plan steps up the game with more proxies, catering to users who need a bit more firepower for their online activities. It strikes a balance between affordability and scalability.
3. Advanced Plan
The Advanced Plan is designed for power users who require a substantial number of proxies to handle their tasks. It's an ideal choice for businesses and professionals with demanding proxy needs.
4. Enterprise Plan
The Enterprise Plan offers a customizable solution for larger organizations and enterprises. It allows you to tailor your proxy setup to your exact specifications, ensuring maximum efficiency and control.
Impressive Performance and User Experience
One of the critical aspects of any proxy service is its performance, and SmartProxy does not disappoint. Their proxies are known for their speed and reliability. Whether you're web scraping large datasets or managing multiple social media accounts, you can expect consistent and dependable performance.
The user experience with SmartProxy is smooth and hassle-free. The user-friendly dashboard makes it easy to manage your proxies, check your usage, and access support. Their customer support team is responsive and knowledgeable, ready to assist you with any queries or issues that may arise.
Conclusion
In conclusion, SmartProxy is a powerful and versatile proxy service that caters to a wide range of users, from beginners to enterprise-level clients. Its feature-rich offerings, extensive network of proxy locations, and customizable pricing plans make it a compelling choice in the proxy market.
The consistent performance and user-friendly experience further solidify its position as a top-tier proxy service. Whether you're into web scraping, sneaker copping, or any other online activity that requires proxies, SmartProxy is definitely worth considering. So, unlock the power of proxies with SmartProxy and elevate your online capabilities today.