There have been lots of debate about which is the best web hosting in Nigeria, so in this article, I will put the debate to an end by revealing the top 5 best web hosting providers in Nigeria.
While some people may choose foreign hosts over local hosts, it doesn't mean in Nigeria there is no reliable and trustworthy web hosting.
Nigeria web hosting providers have been doing great over the years, hosting thousands of websites each.
In this post, I will give you detailed information on five Nigeria web hosting companies that I consider the best in the country based on their reputation and experience with them.
I will list the top 5 best web hosting in Nigeria so you should know before starting your website.
Qualities of a good web hosting
If you are a newbie who wants to start your website, you need to be very careful in choosing a web host.
A bad web host can frustrate your dreams of making money online.
There are qualities to consider when choosing a web host, which are:
1. Reliability
Reliability is one of the big factors to consider when choosing a web host for your online project.
If you choose an unreliable web host, you will be frustrated.
When your website goes down, your visitors will reduce. If you lose visitors, then you lose money and reputation.
Your website is not supposed to be down even for a short period.
ALSO READ: WhoGoHost Review 2021: Hidden Truth Revealed
That's the reason you need to choose reliable web hosting for your online business.
How do you know a good hosting, read reviews, just like the WhoGoHost review I wrote earlier.
2. Webspace
Consider getting a hosting that offers a good web space either unlimited web space or huge size.
A webspace takes care of your website content; videos, photos.
If you are deciding on web hosting, check the features of web hosting before taking action.
3. Speed
The speed of your website only can increase or decrease your visitors.
No visitor will like to wait for so long just for your website to load.
If your website is slow, then you will watch your visitors go somewhere else and you stand to lose money.
4. Bandwidth
Consider this factor very necessary. If your website bandwidth is low, it will affect the number of traffic you get on your website.
Low bandwidth won't be able to accommodate huge website traffic, that's why you need to buy hosting with more bandwidth.
Let it not be that you are looking for huge traffic, when you now have the traffic your web hosting can't manage your traffic due to low bandwidth.
5. Support
Any web hosting provider without competent customer support, avoid them.
You need to work with a very trusted web host, that is the company with 24/7 Support, through email, phone calls, live chat.
You may encounter technical issues with your website which you are unable to resolve, just reach out to your support team to get it done for you free.
6. Features and Technology
They are features you need to look up to in web hosting before making a purchase.
Check the number of sub-domains allowed, databases, unlimited email, scripting language support.
Don't rush to make payment for hosting because it's cheap, go for the best web hosting in Nigeria.
7. Standard pricing
Pricing is one factor that has influenced online business. Many people tend to go for cheap online tools without looking at other options.
The cheap price doesn't determine the best web hosting in Nigeria.
Go for standard pricing and also consider other features the web hosting offers.
Don't be deceived by cheap hosting that will give you headaches with everyday downtime.
Local Web Hosting (Nigeria Web Host)
Nigeria Web Hosting are servers resident locally in Nigeria with local support.
Local Web host are making waves with some big companies hosting their website locally.
Lots of webmasters use local Web host for their website.
Benefits of using Nigeria Web Host
While you might have heard people say many unpleasant things about Nigeria web host providers, that doesn't speak of all Nigeria based hosting.
My friend told me that;
"Nigeria web hosting is not good for business,"
I agree and disagree with his opinion.
I agree in the sense that some Nigeria web hosts are not excellent in their services, and disagree because not all the company are incompetent.
Below are the reasons you need to choose a local Nigeria web host for your website project:
1. Pricing
By hosting your site locally you pay less compared to the price of host overseas.
Because of the devaluation of Nigeria's currency (Naira), things overseas became expensive.
Best web hosting in Nigeria is not determined by the price of their products/services.
2. Speed
Due to ultralow latency, local Web hosting makes your site run faster than foreign hosting.
Latency works better when your site is host locally, this is because the local traffic is routed through the Internet Exchange Point of Nigeria.
3. Boost Nigeria Economy
The truth is hosting your website locally helps to boost the economy and patronize your country's web, hosting providers.
Nigeria loses billions yearly to a foreign hosting company which is affecting the economy of the country.
4. Data Privacy and Support
It is very important to know where your data is hosted for privacy's sake.
Preferably, it is better to host your website on a local host where you know the data Privacy laws of the country.
If you host your website internationally, if there is any breach in data privacy laws, and the company shut down, you stand a chance of losing your data.
A local web host provides support locally with favorable language, accent, and time.
It is easier to contact local hosting providers, especially through phone calls.
5. Free domain
Almost all the Nigeria web hosting providers offer a free domain when you buy shared hosting.
The free domain is mostly .com.ng extension, and it is added when you buy a yearly shared hosting plan.
READ MORE: Cloudways Hosting Review: Best Cloud Hosting (2021)
This is an added advantage because if you have only money for web hosting, you can start your website with the free domain.
Best Web Hosting in Nigeria
Let's get to the business of the day, which is the best web hosting in Nigeria. This is what you need to know before purchasing a web host for your website.
Nigeria web hosting also offer services the following services
Domain name registration
WordPress hosting
Email hosting
Website builder
Cloud hosting
Google G-suite
Python hosting
SSL certificate
VPS hosting
Domain reselling
Hosting reselling
Below are the top 5 best Nigeria web hosting;
1. WhoGoHost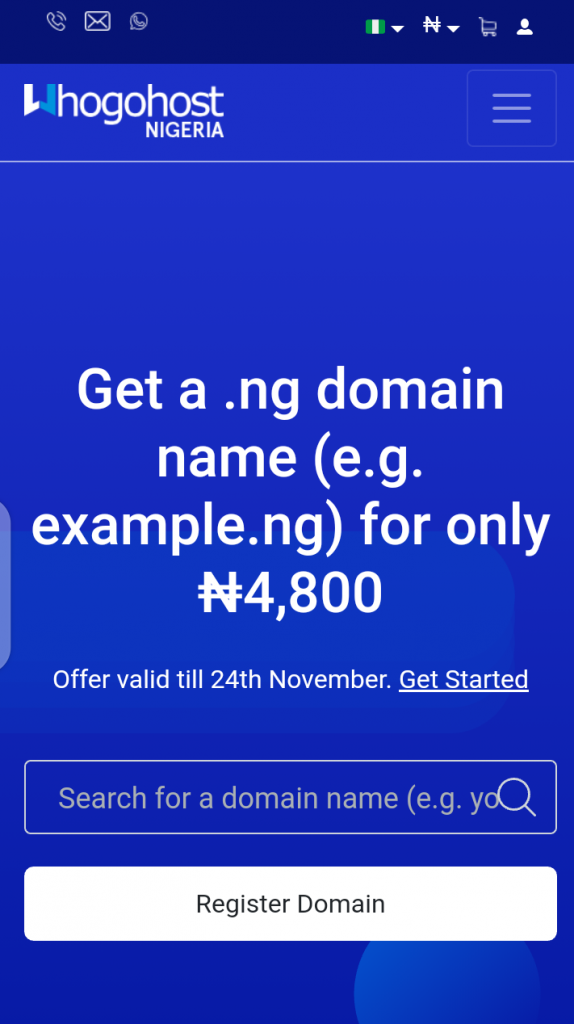 WhoGoHost is the best web hosting in Nigeria with 40,000 websites hosted on their server.
WhoGoHost Web hosting is a household name when it comes to web hosting, they have been in the business since 2007.
I strongly recommend their services to anyone who wants to start a website.
Price: Starting from N5,000/yr
Uptime: 99.9%
Support: Email, phone, live chat, and support ticket
2. Qservers
Another Nigeria web hosting that is reliable is Qservers web hosting. Although I have not used it on my projects, I have recommended it to people who gave me good feedback.
Qservers was started in 2004 and it has witnessed massive success.
They are known for their affordable hosting plans and hosting of e-commerce websites in Nigeria.
Price: Starting from N5,000/yr
Uptime: 99.9%
Support: Email, phone, live chat, and support ticket
3. DomainKing
DomainKing web hosting is a popular and one of the best web hosting in Nigeria with 99.9% uptime.
Their services are affordable with an easy to use platform. DomainKing is an excellent option with lots of bloggers hosting their websites on their servers.
DomainKing is reliable, affordable and I recommend it for bloggers who want to get started.
Price: Starting from N4,500/yr
Uptime: 99.9%
Support: Email, phone, live chat, and support ticket.
4. Smart web
SmartWeb hosting is one of the best web hosting in Nigeria. It was launched in 2004 and has grown to an extent of hosting over 100,000 websites.
They offer affordable domain registration, web hosting, and cloud services.
SmartWeb supports over 20,000 entrepreneurs, web designers, developers, content creators, and start-ups.
Price: Starting from N4,500/yr
Uptime: 99.9%
Support: Email, phone, live chat, and support ticket
5. Garanntor
Garanntor's emergence in 2016 provided fierce competition for other Nigeria web hosting providers who were already in the business.
Garanntor Web Hosting is reliable with more than 20,000 clients trusting them for their services.
Their customer support is top-notch. Over thirty (30) proficient technical support team.
Garanntor is a NIRA accredited registrar .NG domains and also ZACR accredited registrar for .ZA domains.
Price: Starting from N2,000/yr
Uptime: 99.9%
Support: Email, phone, live chat, and support ticket.
Conclusion
Before starting a website, have your budget and go for the tools that suit your budget.
Don't do more than your capacity.
I believe you now know the top 5 best web hosting in Nigeria.
No need to waste time, sign up with any of the five web hosting providers, and start your online business.
Thanks for reading, kindly let me know if you have a question or opinion by dropping it in the comments section.