This is a complete Cloudways hosting review which you need to read to know everything about the high performance cloud hosting.
The name Cloudways may sound strange in your ear, but it is not new in the industry.
Cloudways has a lot of features that beat other competitors and unleash the full potential of your websites.
The hosting is unique because of its ultimate software stack called ThunderStack.
In this Cloudways hosting review, I will show you the important features of the cloud-based service.
How To Choose The Best Hosting Company
Before making the choice and decision of cloud hosting, be sure to check out the service you want to use.
I will recommend you read reviews, check features, and even sign up for a free trial on the platform, by doing this you will be able to make a good cloud hosting choice.
There are many hosting providers which makes it difficult to make a perfect hosting to use for your website.
However, always check the price and features, and check ratings and reviews from webmasters.
ALSO READ: Top 5 best web hosting in Nigeria with cheap money
Three are factors you need to consider when choosing a hosting package for your online business, which are:
Uptime
Reliability
Add-ons
Upgrades
Pricing
What is Cloudways?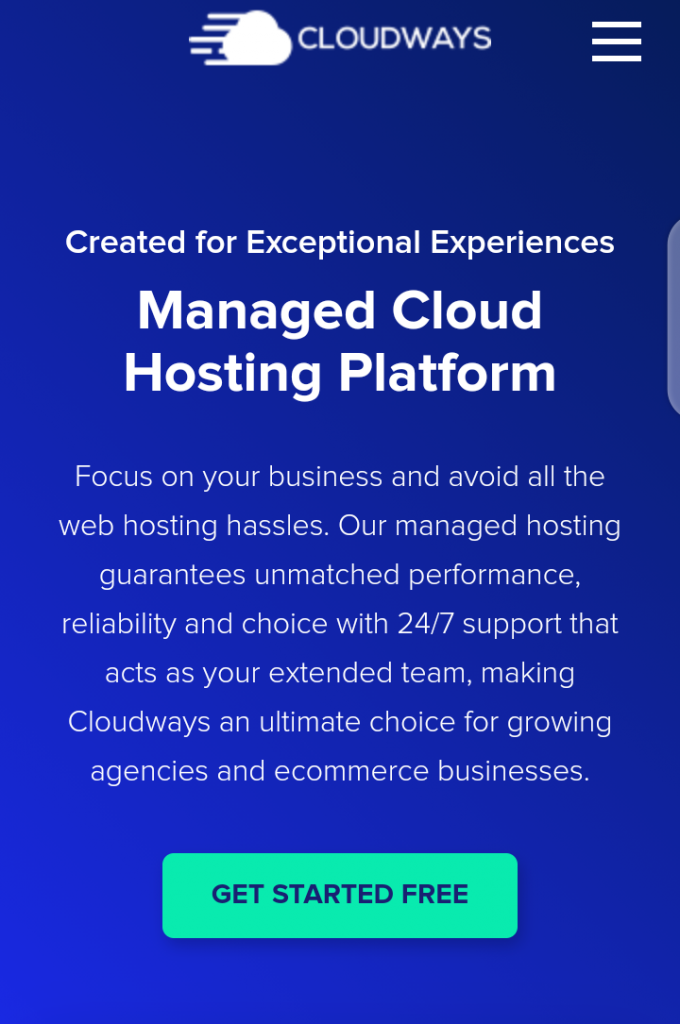 Cloudways is a cloud-based hosting company that helps host and manage applications that are hosted on cloud servers.
Cloud-based hosting requires an expert to manage it that's why is not good to choose it without knowing more about it.
Cloudways works in partnership with these five top cloud providers to deliver quality services:
DigitalOcean
Linode
Vultr
Amazon Web Services (AWS)
Google Cloud.
It also has Nginx, Memcached, Apache, FPM (FastCGI Process Manager), Varnish, Redis, and MySQL in its combination.
Cloudways Hosting Review
Cloudways is a managed cloud hosting platform with a solution to launch web applications on different cloud servers.
Cloudways servers are reliable with high-end performance including technical support ready to help.
If you need a high performance and affordable WordPress host, then Cloudways is the right choice.
ALSO READ: WhoGoHost Review 2021: Hidden Truth Revealed
Cloudways provides the speed and needed security to keep your WordPress site up and running with no downtime.
Cloudways platform
Cloudways platform is easy to use with the interface tuned for performance.
It's website loads fast with easy navigation to whatever you want to do on the platform.
Cloudways provides you with a well-optimized platform and user-friendly website
Cloudways WordPress
Cloudways offers the best managed to host for your WordPress website with unbeatable benefits.
If your website doesn't load in 7 seconds then you stand a chance of losing visitors who may not even return to your website again.
While Google considers page load speed to be 2 seconds, and it's an important SERP ranking factor.
It all comes down to choosing the perfect hosting for your WordPress website which Cloudways is the best choice.
Pros and Cons of Cloudways Hosting
This is an important part of this Cloudways hosting review because I will reveal the pros and cons of Cloudways.
For any service you want to use online, you must read the pros and cons before making your mind.
Pros of Cloudways Hosting
Excellent support
Affordable
The huge option of cloud providers
Built-in (backups)
Host any platform and/or application
Cons of Cloudways Hosting
Can get pricey depending on the platform provider – however, performance is excellent
No CPanel
No ROOT access
Cloudways features and benefits
1. Simplicity and Choice
With Cloudways, you grow your business with more freedom and the least restrictions.
Some hostings may have more restrictions on their services, making it hard to use but that's not the case with Cloudways.
2. Worry-Free Experience
Are you worried after purchasing a hosting plan with Cloudways?
No need to worry because you have all the control over your applications and services.
3. High performance
Everybody wants to have a website that loads faster.
Choosing a good hosting for your website is an important factor like I always said.
Cloud hosting is the best hosting for your website, that's why you need to choose Cloudways Hosting to experience enhanced load times.
Cloudways provide speed with enhancing performance with the following:
Dedicated Environment
PHP 7 Ready Servers
Built-in Advanced Caches
Cloudways CDN
Auto-Healing Managed Cloud Servers
Free WordPress Cache Plugin
Redis Support
Pre-configured PHP-FPM
Free Magento Full Page Cache
HTTP/2 Supported Servers
4. Transparent Pricing
If you are starting a blog, have in mind that you need to purchase some tools.
Pricing is very necessary. Before you dream of using the best hosting in the world, first, consider the price of their services.
ALSO READ: How to start a successful blog and earn up to $1,000 monthly
Cloudways pricing works for everyone, it has amazing pricing plans that fit every business type, either a startup or a professional.
Pricing plans:
Digital Ocean – $10/month
Linode – $12/month
Vultr – $11/month
Amazon AWS – $36.51/month
Google Cloud – $33.30/month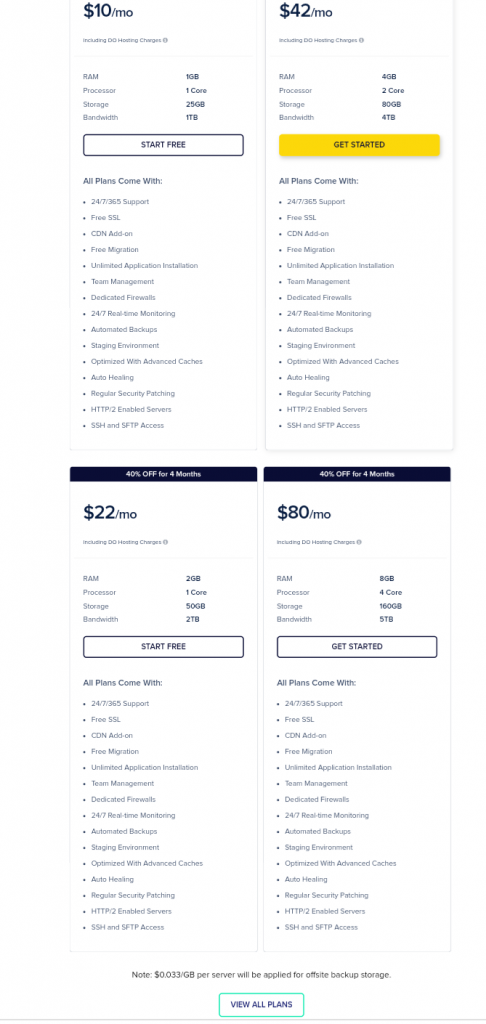 Cloudways Promo Code
Cloudways always offer discount prices to help make it easier for clients to use their services.
Black Friday 2020 deals are here and Cloudways has a discount for you.
Get 40% off for 4 months on any of Cloudways Hosting.
Use this Cloudways promo code: BFCM2020
5. Support
Cloudways support is 24/7 with a dedicated technical department to handle your request anytime.
Cloudways provides support in the following ways:
24/7/365 Live Chat
Online Ticketing
Phone Access
Application-level Issues
Server Customization and Configuration
Enhanced SLAs
Fast Ticket Response Times
6. Security
Cloudways proactive security practices protect your website from attacks and malware.
Cloudways security keeps all your servers safe and secure, with the following services:
1-Click Free SSL Installation
Dedicated firewalls
Regular Security Patching
Bot Protection
IP Whitelisting
Two-Factor Authentication
Cloudways Free Trial
Cloudways offers 3 days free trial to help check and review the services before making payment.
Cloudways free trial is the only way to check their products and services.
Many hosting providers don't have a free trial, you only purchase what you want to.
Cloudways Hosting Review: Conclusion
If you are looking for a good hosting for your website, Cloudways is an answer to that with lots of features and benefits.
After reading this Cloudways hosting review, I believe you now have the information you needed.
Go to Cloudways, get your cloud hosting, and start your website.
At Cloudways, you have enough control to tackle some issues yourself. Support is available through live chat and email.