People have been researching for information on how to start a successful blog, and this is the best time to start your own blog and start making money without wasting time.
You have read many articles about how to start a blog and still haven't got started or you have not read any article.
All the same, just follow the step by step guide I will provide in this article to get started.
Have you ever had sleepless night thinking of how to start a successful blog?
If YES then you will definitely learn how to start a successful blog by reading this post to the end.
When you follow my step by step guide, you will not only get started but you will start your own blog successful and start to make money online.
Why you need a blog
Over the years blogging has grown from being just a means of sharing personal ideas to one of the most lucrative online businesses which many rely on to make money.
Day by day, more blogs are created, the more new blogs come into existence, new tools are developed to help make blogging easy.
Okay you have heard enough story now let's go to the main business of the day; how you can start a successful blog and start making money.
Little advice
You can start today and be more successful than those who started earlier.
When starting a blog, You need a Personal computer (PC) either desktop or laptop but laptop is preferable.
But in the case where you cannot afford to buy a laptop or desktop, you can buy a smartphone.
You can as well use your family or friend's laptop or go to the cyber cafe but going to the cyber cafe is a bit expensive because you will be paying for time to browse.
Do you imagine yourself going to the cyber café to buy time to work on your blog or publish your articles.
Assuming you have a news blog that requires to be updated on a daily basis, will you have the money to pay everyday?
READ ALSO: Bluehost Affiliate Program: Join FREE and earn up $1,500 monthly
Many successful bloggers today, most of them started with phones before upgrading to laptops.
Some pro bloggers even prefer updating their blog with a phone, so I advise you get a phone.
Depending on your budget but if you have a buoyant budget then don't hesitate to get a laptop.
Steps on How to start a successful blog
In this post I will guide you step by step on how to start a successful blog and start creating content which you later monetize and start making money.
Step 1: Research on Niche
The first step to get started if you want to learn how to start a successful blog and build your own brand is to decide on what you want to blog about.
Research and decide your niche. There are so many profitable blogging niches.
As the name implies 'Niche', your niche best describes your blog. Knowing the category where your blog belongs to will help you create content that suits your target audience.
Some people start blogging because their friends are doing it and they fail to research the possibly best niche that will work for them.
Getting content becomes a problem when you don't understand the niche you are into.
So my advice for you is that you choose a niche that you are very familiar with.
The niche you know about and can solve problems related to the niche just in case any of your readers contact you for help.
Example niches
Examples of some niches include travel. fashion, technology, food, news, tech, education, lifestyle and many other niches which are still profitable.
There are lots of niches which I have not mentioned above, you can as well research on the ones I listed and choose your desired niche and trust me you will be a success at it.
Step 2: Choose blogging platform
Blogging platform is the platform you use to power your blog. There are many blogging platforms such as blogspot (blogger), WordPress, Tumblr etc.
If you really want to know how to start a successful blog then you need to read this particular step.
Blogspot (Blogger) is a free blogging platform from Google. You only need your Gmail account to start your own blog using Blogspot (Blogger) platform.
Using the Blogspot (Blogger) platform you can buy a domain name or you can choose to use the blogspot subdomain.
Another popular blogging platform is WordPress. WordPress is divided into two versions, WordPress.com and WordPress.org.
WordPress.com is the free version of WordPress, you can choose to use subdomain without spending money on domain and hosting, while WordPress.org is the one I recommend.
READ MORE: Top 5 Best Web Hosting In Nigeria (2021)
This post is not to detail on their differences.
In this tutorial, I make use of WordPress.org so you will need a domain name and hosting for your blog.
Step 3: Get a domain name and web hosting
What is domain name? That is a question most people would ask. A domain name is a unique name on the internet that represents your blog.
There are many domain name registrars where you can purchase your domain, for example mine is bloggingbooth.com, the price is $10 for a year which I purchased from Namecheap.
You can visit their website and purchase your own unique domain name.
Web Hosting is where your blog files will be stored, you need a web hosting in order to start your blog.
I recommend you get a web hosting from Namecheap they are reliable and affordable.
Go to Namecheap website, purchase your domain and hosting.
After you have successfully purchased your hosting and domain name, the next step is the crucial aspect of this tutorial.
If you really want to know how to start a successful blog, If you are drinking coffee while reading, please drop the cup of coffee so we get serious.
Step 4: Install WordPress
Like I said earlier, we have gotten to a very important aspect of this tutorial. I assure you after this tutorial you will be a proud owner of your own blog.
Congrats you have purchased your hosting and domain.
Your hosting details will be sent to the email address you used during the registration and purchased.
Login into your CPanel using your username and password, don't worry about how to get your CPanel login details.
Your details will be sent to you through your email and you have the option to modify your password.
Now you have successfully login to your CPanel, this is how your CPanel looks like.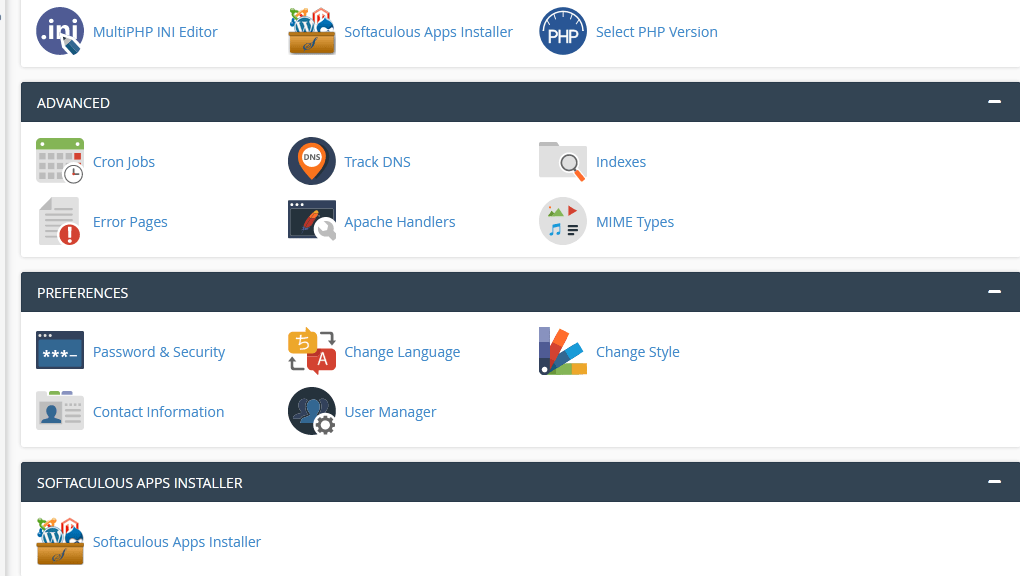 Then navigate to where you see Softaculous and click on it.
It will open different software which includes WordPress which is the software we are using for this tutorial.
Under the softaculous, you will see WordPress icon, click on it.
You will be redirected to WordPress installation area.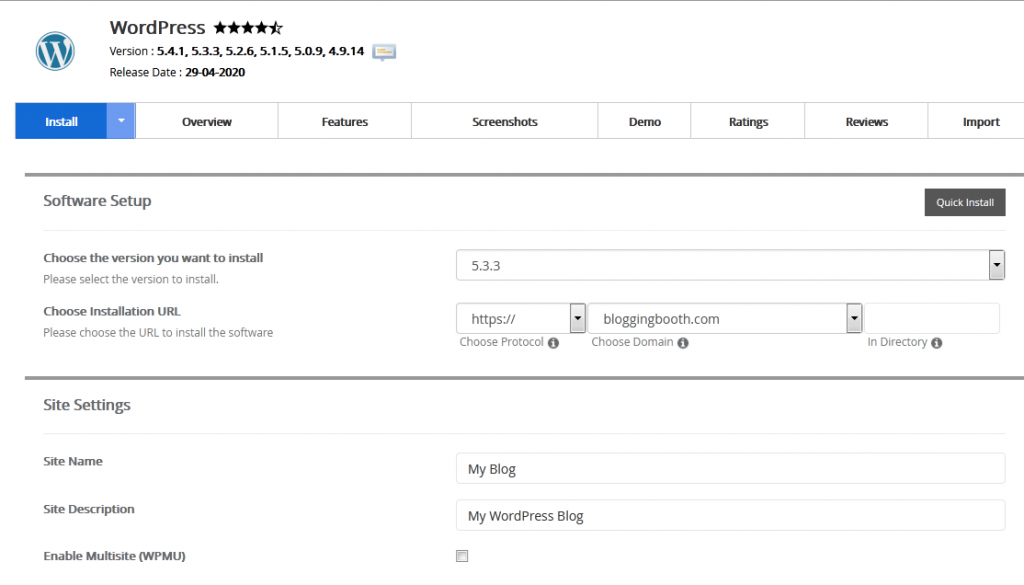 Put your blog details which are your blog title, description, username, and password.
Choose any theme of your choice or you can do that later.
Enter the email address which your installation details will be sent to then click install.
In a few minutes your WordPress blog is up and running.
After the installation, you will be provided with your admin URL.
Your admin URL is the link you will be using to login your blog.
Your admin URL looks like this https://example.com/wp-admin, you can click on the admin URL or put it in the address bar of your browser, wait for a few seconds and your WordPress blog will load.
Then you will be required to put your username and password.
Immediately you put in your correct login credentials, your WordPress blog dashboard will open.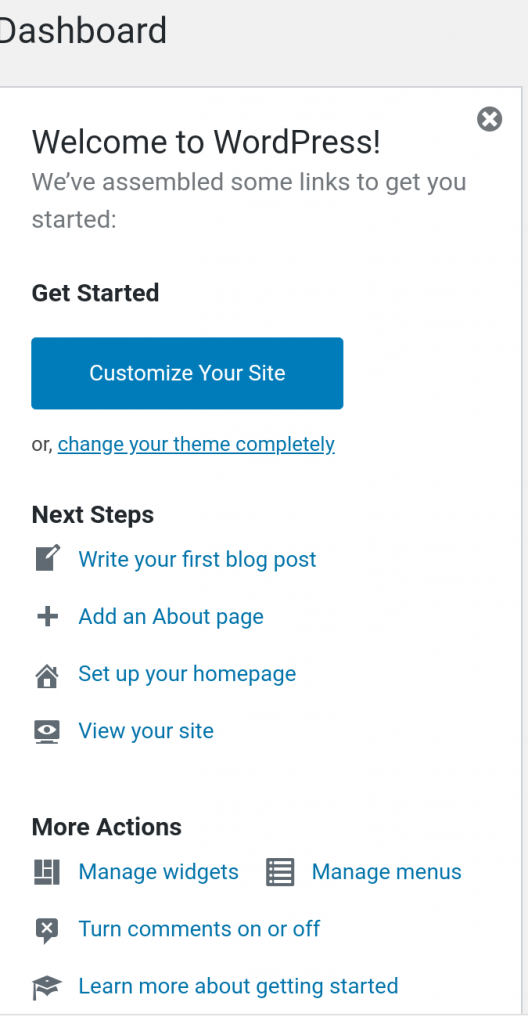 Step 5: Customize your blog
Congrats, you have a newly launched WordPress blog.
Next thing is to carefully study and understand the WordPress dashboard and start customizing your blog to your taste.
Now you can customize your blog, you can do that by going to appearance in your dashboard.
Under appearance you will be able to change your blog theme, customize the header, footer, widget, menu and background.
Step 6: Install Plugins
WordPress works with plugins and the good news is you don't need to develop the plugin yourself.
There are lots of already made plugins to help your WordPress blog work smoothly.
Install relevant plugins like SEO plugin which will handle all your blog SEO configuration.
Newsletter plugin will be used to get subscribers to build your email list for getting traffic to your blog.
There are many SEO plugins, such as Yoast SEO, Rank Maths, Squirrly SEO, SEO Framework.
I recommend Yoast SEO and Rank Maths because I have used the two plugins before and they are great in ranking blogs on search engines.
Step 7: Create Pages
Pages on your blog provide information your audience needs to know.
Information such as your contact details, privacy policy which explains how you use the information your blog collects.
Add pages such as About, Contact, Privacy policy to your blog, you can do that by clicking on Pages in your WordPress dashboard and click on add new.
Then put the desired name of your page in the space for title and proceed to the body to write the information that needs to be in the page.
When you are done you click on publish and your page will be live.
Step 8: Create new post
After customizing your site, configuring your site SEO using your desired SEO plugin and creating all your relevant pages you can start creating content on your site.
Creating content on your blog is easier, but you need to do keyword research in order for your post to rank on search engines.
READ MORE: WhoGoHost Review 2021: Hidden Truth Revealed
Like I said earlier, you need to choose a niche which is favourable to you so that you will not run out of content ideas.
Monetize your blog
After creating your blog and putting in contents I know you will be thinking of how to make money with your blog.
There are different means of monetizing your blog and you will start to make good money online.
Advertisement
One of the means of monetizing your blog is through advertising.
Advertising networks like Google Adsense create opportunities for bloggers to make money on their blog by displaying adverts on their site.
Google Adsense pay base on cost–per–click (CPC).
Which means you will be paid when people visit your site and click on the Ads.
When you sign up with Google Adsense, your site will be reviewed before approval.
And if it doesn't go against Google Adsense policies and is qualified then your application will be approved.
After approval Google will start displaying adverts on your site and pay you when people click on the Ads.
Google Adsense is not the only advertising network, you can try Infolinks, Medianet, PropellerAds and lots more.
Selling Products
Another great way of making money with your blog is by selling products to your audience.
You can sell your own digital products like eBook, video course.
Take time to write an eBook about a topic you are good at and it must be problem solving.
Create a video course to teach people and sell the course on your blog then make money.
Affiliate marketing
Affiliate marketing is another great way to make money with your blog and it works super cool.
In this method you don't need a product to sell but you only refer people to buy other peoples product and get paid commission.
You can sign up with an Amazon affiliate and other companies.
Promote their products on your site and make money when people purchase the product.
When you register with an affiliate program you will be giving a referral link.
Use the referral link to get people to buy the product you are promoting.
You can write a post related to the product and insert the link within the post.
You can also place a banner on your site with the referral link when people click on banner ads it will redirect them to the product sales page.
When they make purchases you get paid your own commission.
Sponsored Post
Sponsored posts will make you a huge amount of money through your blog.
This is a method that is working awesomely for bloggers. With this method you need to make your blog great both content, traffic and design.
This is how sponsored posts work; brands will contact and pay you to write about their products or services.
The more you grow your blog the higher the chance of getting more sponsored posts.
Freelancing
Do you know how to create a blog after following this guide??? if yes then you can start making money by creating websites for people and get paid.
A freelancer is a self-employed person who offers services, often working on several jobs for multiple clients.
There are different freelance jobs on the internet such as writing, web development, graphic designs and lots more.
You can get clients through your blog and deliver freelance jobs then get paid an awesome amount of money.
Conclusion
The aim of this post is to show you how to start a successful blog.
Blogging is a lucrative online business that you can venture into and start making money.
Making money through blogging is not a get rich quick scheme, it requires consistency and doing the right thing.
Start your blog today, don't think it is late and never compare your progress with others.
If you want to start a successful blog just follow the steps in this guide.
And don't be in a hurry to see results, build authority first.
Let me know if you have challenges or questions using the comment section.