You may be looking for how to sell feet pics online and make money without being scammed and at some point you don't know where to start.
If you are looking for a side hustle to do in 2022 in order to make money for yourself, of course, there are lots of side hustles as long as you are ready to work.
Selling feet pics online is one side hustle that has been fetching money for lots of people online espepvial on social platforms such as Instagram.
What is feet pics?
Feet pics is the picture of feet taking while you sleep or maybe just lying down on your bed which businesses, stock photo sites, modeling agencies, bloggers, foot enthusiast and internet marketers are looking for online to buy.
Regularly selling your photos online for top money while lounging at home could help you increase your investments or generate some much-needed passive income.
How Does Selling Feet Pics Work?
How to sell feet pics online works in three simple steps, which are highlighted below:
Take pictures of your feet (high-quality).
Choose where to sell your feet picture.

Promote on social media or blog.
By following the above three steps you are good to go sell your feet pics online and makes money.
These images are being sold on foot-focused websites, on social media platforms like Facebook, Instagram, Twitter, and Snapchat, as well as on individual blogs.
Always add a watermark to your photographs to stop people from downloading them for free. And I advise getting paid before giving any top-notch pictures to purchasers.
How to sell feet pics online
There are several trusted sites which you can sign up and start selling feet pictures and get paid, The steps are not hard but as simple that anyone could easily understand it.
Take high quality pictures of your feet, then proceed to any of the websites which you can do business with and sell the pictures.
There are lots of stock photos websites which you can sell feet pictures for and make money. You can also sell on Instagram, but always be careful of being scam on social media.
Where Should I Sell My Feet Pics?
Kudos. Now that you have learnt how to sell feet pics online, the next step is where to sell and make money. Below are the sites where you can easily sell your feet pics without being scammed:
On the Fun With Feet website, customers can browse and purchase foot pictures and movies, as well as sell foot-related items.
Setting up a profile and sharing it so that it is available to potential purchasers will make selling your feet photos simple.
In order to attract a foot-obsessed audience, Fun With Feet advises building specific collections or themes, offering a mix of free and paid material, and offering both types of content simultaneously.
Fun With Feet only charges a small listing fee of $9.99 for 3 months ($3.33/month) or $14.99 for 6 months ($2.50/month), and all sales are quickly put into your Fun With Feet wallet for withdrawal.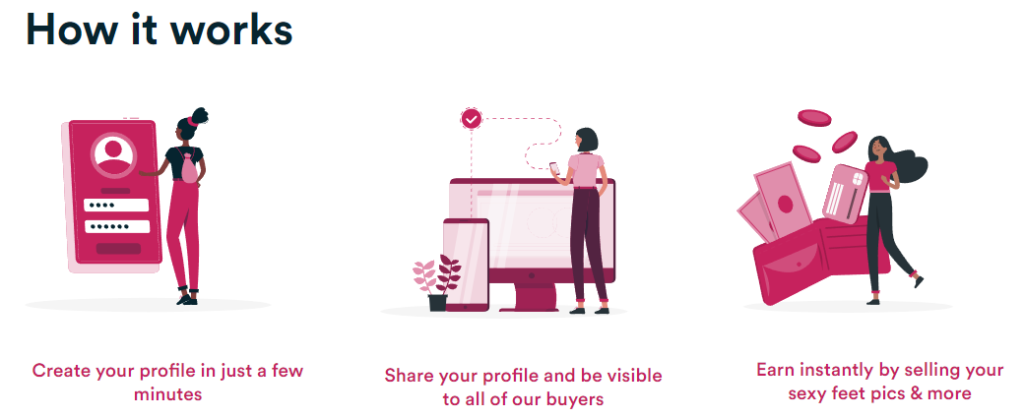 A dedicated marketplace called that allows consumers and sellers to buy and sell feet images and videos.
Although you must purchase a membership for $14.99, once you do, you keep 100% of the money you make from sales. Seller registration is free.
One of the biggest online markets and communities for buying and selling used and used products, including used clothes, shoes, and other accessories, is All Things Worn.
However, you can now sell foot pictures with little trouble thanks to the recent addition of a new tool called "Instant Content."
Anyone may connect with people who like their feet on Instafeet and get compensated in exchange for access to premium content.
Request a profile. Read the rules first because not everyone will be admitted. To verify, you must display a legitimate photo ID.
Most users pay less than $10 per month. It is preferable to have many people pay a small amount. Five subscribers equals $50 per month.
FeetFinder claims to be the safest and most secure website in order to buy and sell content related to feet. Your data and card information are kept private and protected from potential threats thanks to encrypted servers, PCI-compliant security, and third-party firewalls.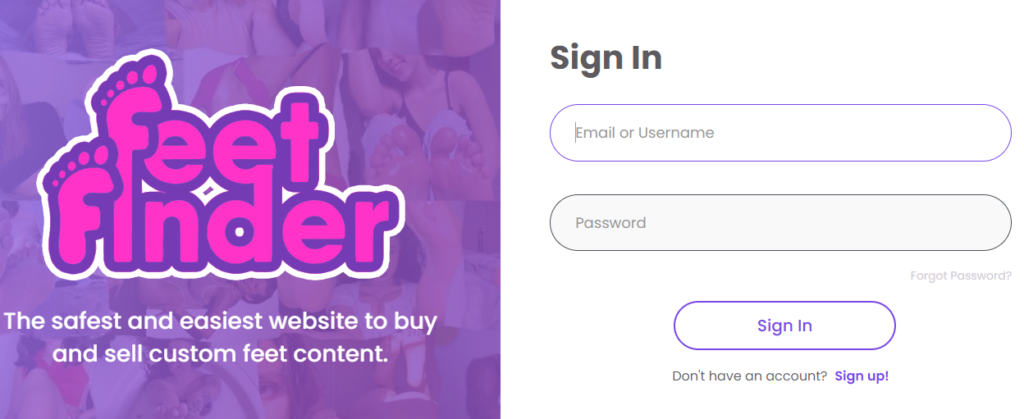 Is selling pics online legit?
Absolutely, yes! Selling feet pics is legit. There are several reasons why individuals and businesses purchase fee pictures.
The market goes beyond movies. Photographs are needed by bloggers, journalists, writers, and product makers to market their writing and sell more goods.
How to sell feet pics online doesn't seems but it is necessary to know who you are selling to to avoid being scammed.
You've probably seen a few blogs with beautifully groomed feet relaxing on a beach or next to a lotion bottle. If you engage in this side business, you might be the next.
People that work with feet, including doctors and lecturers, will also find a need for foot photographs. To patients and students, these experts might need to draw attention to particular foot issues.
Is it legal to sell pics online?
Yes, selling feet pictures is generally permitted in the US, UK, Canada, New Zealand, and other countries. You must, however, be at least 18 years old and the rightful owner of the images.
There might be a business possibility where you launch a modeling agency and market images of others, though.
The first thing you should know is how to sell feet pics online which is highlighted earlier in this post.
How much to sell pics online?
If you really want to know how to sell feet pics online then you should also be aware of how how much you stand to gain when you sell your asset.
The cost varies according to the photo and the location of sale. You should expect to pay $5 to $100 on average for each image. Based on your experience and the clientele you have, you can anticipate charging more or less.
$5 may not seem like much, but it adds up. For instance, 20 sold images would bring in $100, whereas 100 would bring in $5,000.
Conclusion
After reading to this stage, I believe you now know how to sell feet pics online and earned money as a side hustle.
These foot picture websites might group images according to categories like pedicures, socks, lotion, high heels, soles, and more.
Additionally, some of these websites can have blog posts with advice on how to take and market your images. By using a verified website, you can be guaranteed that your work is purchased and sold in a secure setting.
There are many websites where you can sell your goods directly to customers. A few possibilities to consider are OnlyFans, Foap, Etsy, Whisper, Craigslist, eBay, or stock photo websites like iStock or Shutterstock.
There aren't any major obstacles in the way of this side business. Make sure your photos are of high quality, upload them to the digital platform of your choice, and watch the passive revenue pour in.
No matter where you decide to sell your photos, be sure to inquire about the commission and ongoing costs.
Thanks for reading, now you can do your side hustle smoothly, without asking how to sell feet pics online. Please drop your comments.