In this article you will read HFX Academy review which will gives you all the necessary information you need to know about the trading company.
There are lots of forex and crypto academies. Of course, all might not be legit.
Before you enroll in any training, read reviews just like this HFX Academy review that you are reading and also make research.
It is obvious that there are several scams online. That is the reason you should be careful.
Lets talk about HFX Academy!
What is HFX Academy?
HFX Academy is an online academy where academics and binary options fans may study everything there is to know about binary options trading while gaining practical experience.
In recent years, a slew of new businesses have emerged under the pretext of professional trading courses, promising to assist retail traders in making large sums of money through the FX market.
The FX market has a daily turnover of more than $6 trillion, and it continues to grow steadily. Binary traders, according to the HFX trading university, can profit in minutes, not hours!
Binary trading, also known as High-Frequency Forex (HFX) in the financial industry, is a fast-paced, fast-cash market designed for those who want to enter and exit the market at the same time.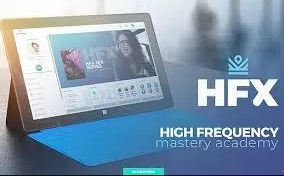 What HFX Academy claims to do
This HFX Academy review is not in anyway against or in favor of the trading institute, however it is written base of research and information gained from HFX Academy users.
Purchasing instruments with Binary is the simplest and fastest way to create extra revenue on the side, whether it's to supplement your current income or to do something completely different, binary trading is undoubtedly one to consider.
With HFX's ostensibly high-frequency system, you get access to a 5-step trading technique that allows beginner traders to profit like an expert virtually 24 hours a day, 5 days a week!
No concerns, because the HFX trading academy claims to cover you, which is why their master HFX instructors designed a strong five-step blueprint that is currently assisting over 30k members and expanding each week in achieving consistent outcomes.
HFX Academy Reviews: Is it legit or scam?
The HFX Academy is operated as a pyramid scheme which makes makes lots of people uninterested in their trading training.
The placed focus on users making money by signing up more users to the platform.
You can agree with me that this is the most important part of this HFX Academy review, so you need to read it clearly.
Some users expressed their views, stating that they give %20 of time for training and operates %80 as a pyramid scheme.
HFX Academy Pyramid Scheme
You should be aware that HFX Academy is a multi-level marketing (MLM) business. As a result, you can profit by bringing in new users to the platform.
So it's a win-win situation; as long as you can get friends and family to sign up with them, you'll only be able to make money with HFX Academy.
You presumably subscribe to HFX academy because they also teach commercial strategies.
Conclusion
HFX academy is a company that claims to specialize in financial market trading and instruction, and the legitimacy of this claim has been investigated in this article.
The HFX university claims to give you the knowledge you need to compound and grow your money anywhere in the planet.
The company has also evolved into the drop-out space, which is changing the way people use social platforms to make money online by leveraging current trends and marketplaces.
Thanks for reading HFX Academy review, what do you think about the platform, kindly drop your comments.