In this Africgold review you will find out all you need to know before investing in the online platform.
It is no doubt that there are several scam plaforms online so one should be wide when it has to do with online investment.
Africgold is an online platform that promise to help its users make money online by mining cryptocurrency.
What is Africgold Bank?
Africgold is a cryptocurrency mining platform which make it possible for users to mine crypto.
It allows mining of different crypto and enables registered members to acquire crypto.
Africgold utilize virtual techniques for mining and tracking of revenue and conversion of units to real money.
The platform claims to make acquiring cryptocurrency fast and easy for everyone interested in owning a crypto portfolio.
READ MORE: Wakanda Inu Review 2021: Is it Worth the hype?
Africgold users can cash out their money when due.
Africgold Plans & Packages
Musk miners
Pentium
Skyway
Musk package
The Musk plan has a registration fee of ₦3,000 and he earning ₦15 per hour, ₦360 per day, making it ₦10,800 per month.
Pentium plan
The Africgold package users are required to pay ₦5,000 and be earning ₦50 per hour mining. You will be making ₦1,200 per day making it ₦36,000 per month.
Skyway Plan
Africgold skyway package gives users ₦110 per hour and the system uses auto mining which means ₦2640 per day, making it ₦79,000 per month. Registration fee is ₦10,000.
Africgold Minimum Withdrawal
You can withdraw your earnings when you attain africgold withdrawal threshold of N10,000.
How Does Africgold Work
Africgold pays its users as they mine per minute and your earnings will be added to your account which you can withdraw anytime.
There are different plans which you can join any plan of your choice.
You can join any plan of your choice, the higher the plan, the bigger the earnings. You can start from the small package and upgrade anytime.
Users can also earn more money by referring people to the Africgold platform.
Africgold Review: Is Africgold Legit or Scam?
There are rumours regarding Africgold, at the moment I can't guarantee if the platform is legit I can't call it scam either.
However, the scheme looks suspicious as although users are giving positive reviews about Africgold.
The financial plaform is still paying its users their profit and you should trade with caution.
Africgold doesn't have a legit license to operate as a mining company which is an impression that it's not legit.
READ MORE: How to get UBA Africard for Free
How to register on Africgold
The steps to Africgold registration is simple, you will have to purchase a pin, create an account, start mining and make money.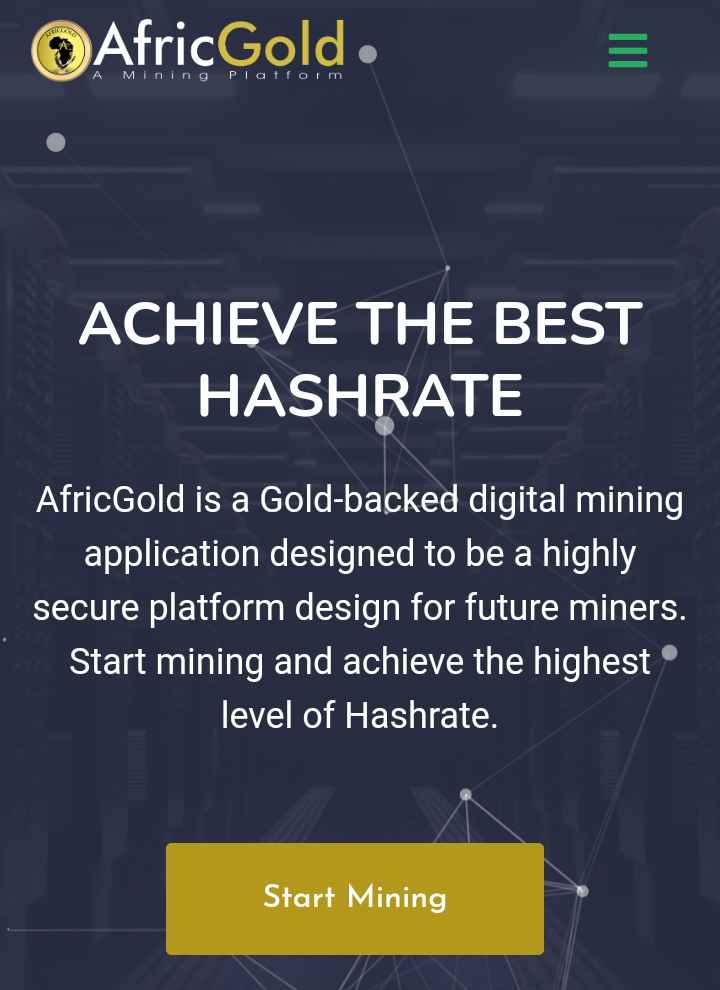 Purchase an activation code to join your preferred plan.
Fill in your details in the form.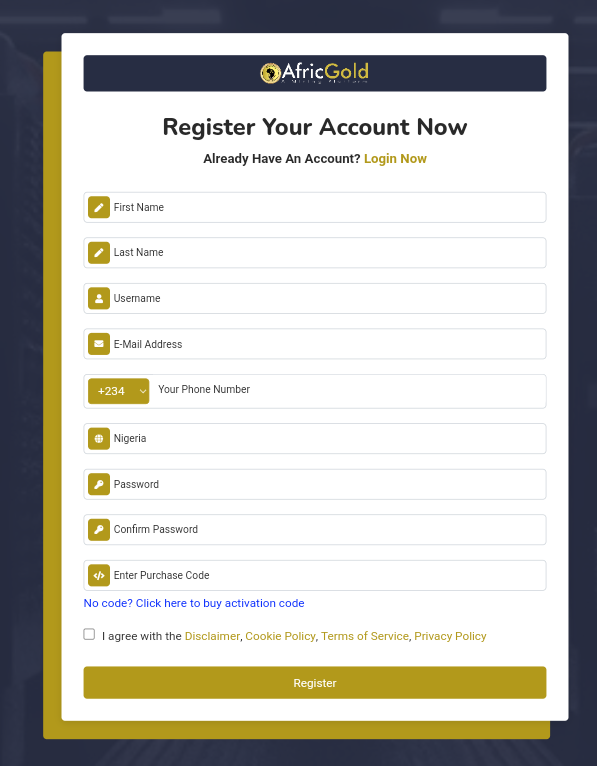 Start mining to make money on africgold.
Conclusion
Africgold operation looks suspicious however people are still taking advantage of it to make money despite the fears.
Payment scheme like this always pay when it been launched recently.
Before making any investment, it is advisable to read review to know if your money is in a safe place.
Thanks for reading, please share and don't forget to drop your comments. What do you think about Africgold?