Wakanda Inu Crypto: Is Wakanda Inu a good investment?
In this Wakanda Inu review you will find out if the African meme coin is legit and truly worth the hype.
It is no more news that cryptocurrency is the new oil money and you need to know the dynamics so you don't stay off the shores.
Over the years, some unpopular coins have emerged, skyrocketing with people taking advantage of it to grow their portfolios.
Wakanda Inu is one of the coins which has been going up recently with several hype from crypto gurus.
What is Wakanda Inu?
Wakanda Inu is a Decentralized Meme Token Built as a charity-oriented meme token, entirely for social purposes across the globe.
Wakanda Inu (WKD) is a project forged from the deep and warm consciousness of humanity.
The digital meme token which represents the daily struggles and aspirations of the best aspects of what it means to be alive as a community.
The African meme coin is a decentralized meme token with the aim of driving growth in the industry and decentralized finance-oriented activities across the world.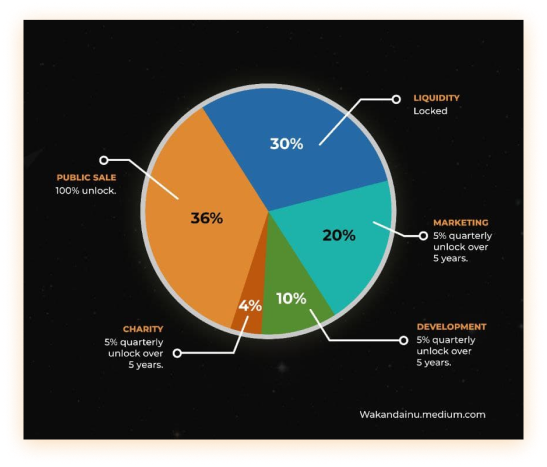 Wakanda Inu Roadmap
Building the ecosystem.
Core team developer and other units.
Website launch.
Public Sale.
Pancakeswap listing.
Liquidity provider and locking.
Burning of 12.5T from the treasury.
Coingecko and coinmarketcap listing.
Auditing.
Marketing, referral campaign, advertising and promotion, KOL, Wakanda Machinery, Wakanda legend, Wakanda panther.
Centralized exchange discussion and listing.
Community vote on what to build among (NFT, FARMING STAKING, DEX ,etc)
Wakanda Inu Review: Is it Legit or scam?
Wakanda Inu (WKD) is legit and one of the coins recently going up massively.
Below are the reasons why you should trust Wakanda Inu:
No presale.
No special public sale allocation to team members.
80% of the public sale goes to liquidity.
Liquidity locked.
Community driven.No taxes on transactions.
Charity oriented and much more.
Anti-whale mechanism.
Wakanda Inu Features & Token Details
Tokenomics
Max Supply: 1,000,000,000,000,000
Treasury: 750,000,000,000,000 (Monthly burn for 5 years)
Total Supply: 250,000,000,000,000
Token Allocation (of Total Supply):
Marketing – 20%
Development – 10%
Public Sale: 36%
Liquidity: 30%
Charity: 4%
Wakanda Inu Public Sale
IDO price: $0.00000001
Min: 0.1 BNB
Max: 1 BNB
Security
No presale of Wakanda Inu token (WKD).
80% of the public sale goes to liquidity.
Liquidity locked.
Audit reports will be provided as soon as possible.
World class blockchain developers.
Token Vesting
Public Sale – TGE: 100%
Marketing/Development/Charity: 5% per quarter for a period of 5 years.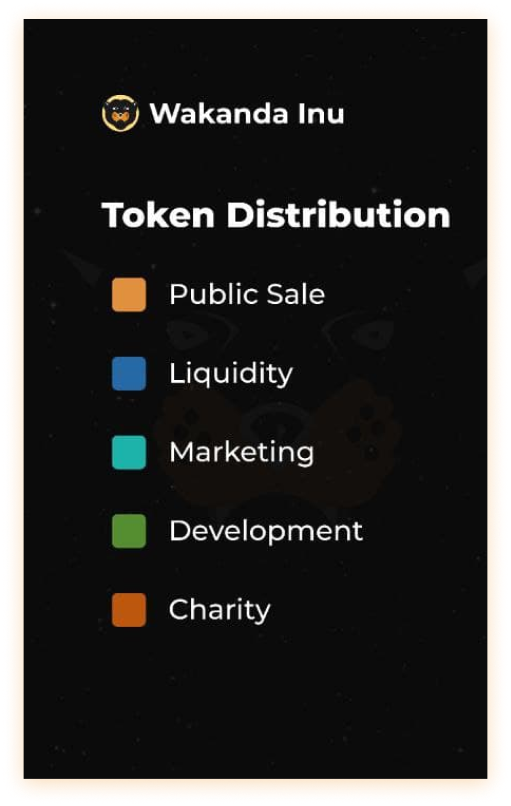 How to buy Wakanda Inu (WKD) Token
The digital token is available for sale on pancakeswap with either BNB or BUSD.
Conclusion
Wakanda Inu (WKD) is a decentralized community-driven project with lots of hype from crypto gurus, although the hype is worth it.
The token is gradually growing to become one of the meme coins to look up to in the industry.
It is always necessary to make research before investing in any business either crypto or any other online business.
As such, the wish of the community will be carried out through a well-organized community voting.
Wakanda Inu FAQ
How much is Wakanda Inu in Naira?
The price of Wakanda Inu in Naira has not been estimated yet due to the rise and fall of the crypto.
Is Wakanda Inu a good investment?
Wakanda Inu is a good investment. It's an African project which is doing wonders.
What is Wakanda Inu website?
Wakanda Inu website is wakandainu.com
What is Wakanda Inu Contract Address?
Wakanda Inu address is 0x5344C20FD242545F31723689662AC12b9556fC3d
What is Wakanda Inu Coin Price?
$0.000000349426
Is Wakanda Inu on Binance?
It is not currently listed on Binance