In order to stay updated about the NFTs, there are some NFT newsletters which provides latest updates on the trending crypto.
Learning about NFTs can indeed be challenging, especially with the constantly evolving landscape of NFT developments. However, if you seek the most effective means to stay informed about the latest NFT projects and drops, you've landed on the perfect spot.
In this blog post, I'll explore the NFT newsletters solely focused on keeping you well-informed about all the developments within the rapidly evolving NFT industry.
What is NFT?
NFT stands for Non-Fungible Token, which is a unique digital asset that represents ownership of a specific item or piece of content on a blockchain. Unlike cryptocurrencies like Bitcoin or Ethereum, which are fungible and can be exchanged on a one-to-one basis, NFTs are non-fungible, meaning each token is distinct and cannot be exchanged on a like-for-like basis.
Key Features of NFTs
Below are some of the key features of NFT which are relevant about the crypto.
1. Uniqueness
Each NFT is one-of-a-kind, with a unique identifier and metadata that distinguishes it from other tokens. This uniqueness is verifiable on the underlying blockchain, ensuring the scarcity and authenticity of the asset.
2. Indivisibility
NFTs cannot be divided into smaller units like cryptocurrencies. They are whole units representing the entirety of the digital asset they represent.
3. Ownership and Provenance
NFTs provide verifiable ownership and provenance of digital assets, allowing creators and collectors to track the ownership history and authenticity of the asset over time.
4. Interoperability
NFTs are built on blockchain standards like Ethereum's ERC-721 or ERC-1155, making them interoperable with various platforms and marketplaces that support the same standards.
5 Best NFT Newsletters
Here are some of the best NFT Newsletters to stay updated about crypto:
1. Metaversal
Metaversal stands as a premier NFT newsletter, encompassing the most recent developments in NFT projects, news, and events. Notably, they dedicate a section to comprehensive market analysis, ensuring you remain current with the industry's prevailing trends.
One of the most appealing aspects of Metaversal is its diverse range of content, ensuring there's something to capture your interest.
Key features encompass:
A rich array of NFT content curated by experts in the field.
Detailed market analysis and expert commentary.
Timely and comprehensive coverage of the latest projects and news in the NFT realm.
2. Zima Red
Zima Red, led by Andrew Steinwold, stands out as an NFT newsletter with a comprehensive focus on various web3 topics. Their offerings include insightful analysis and commentary on the latest NFT news within the crypto space, along with a rundown of the week's most noteworthy NFTs. For those seeking to remain well-informed about all things NFT, Zima Red serves as an invaluable resource.
Moreover, the newsletter goes beyond NFTs, encompassing other web3-related subjects like the metaverse and blockchain gaming. Andrew Steinwold also hosts his own podcast format as part of the newsletter.
Key features of Zima Red include:
A weekly newsletter featuring the most current NFT news.
In-depth analysis and expert commentary on various NFT-related topics.
A concise overview of the top NFTs from the week.
3. NFT Lately
Stay up-to-date on everything NFT with the NFT Lately newsletter. This comprehensive resource covers an array of topics, from market analysis to the latest industry news and developments.
If you seek a thorough overview of the NFT landscape, NFT Lately is the ideal choice for you.
Some key features of the newsletter include:
Extensive coverage of a diverse range of NFT-related topics.
In-depth market analysis to keep you informed on trends and insights.
Timely updates on the latest news and developments in the NFT industry (NFT alpha).
Twice-a-week drop on NFT releases, ensuring you never miss out on important launches.
4. Rarible
For an all-encompassing NFT newsletter, Rarible's NFT News is the perfect subscription for you. Each week, the Rarible team carefully curates top-notch articles, videos, and resources covering various aspects of the NFT space. Whether it's about collecting, purchasing, or utilizing NFTs in games and applications, you'll find valuable insights within the newsletter.
Additionally, Rarible's NFT News shines a spotlight on the finest creations available on the Rarible platform, ensuring you stay updated on the latest and most remarkable NFTs.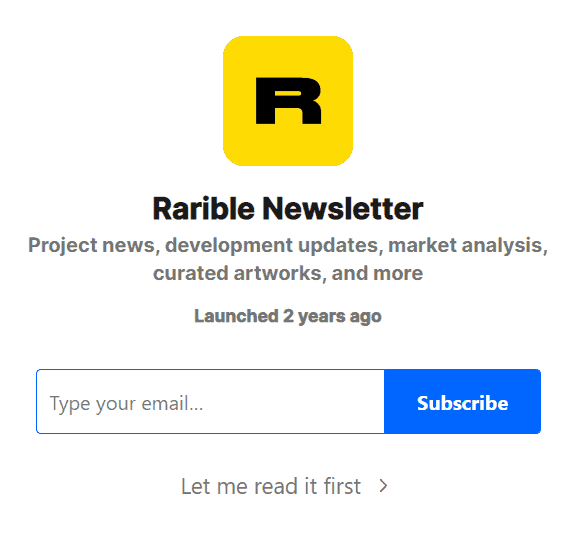 Key features of Rarible's NFT News include:
A weekly digest presenting the best and most relevant NFT content.
Highlights of exceptional creations featured on Rarible.
Tips and valuable resources for both NFT collectors and users, enhancing your experience with NFTs.
6. The Drop
Discover The Drop, an NFT newsletter that delves into the forefront of NFTs and digital art. Unveiling exclusive interviews with artists and collectors, it provides unique insights into their creative process and experiences. Furthermore, The Drop offers engaging articles that shed light on the business aspects of the industry, presenting a comprehensive view of the NFT ecosystem.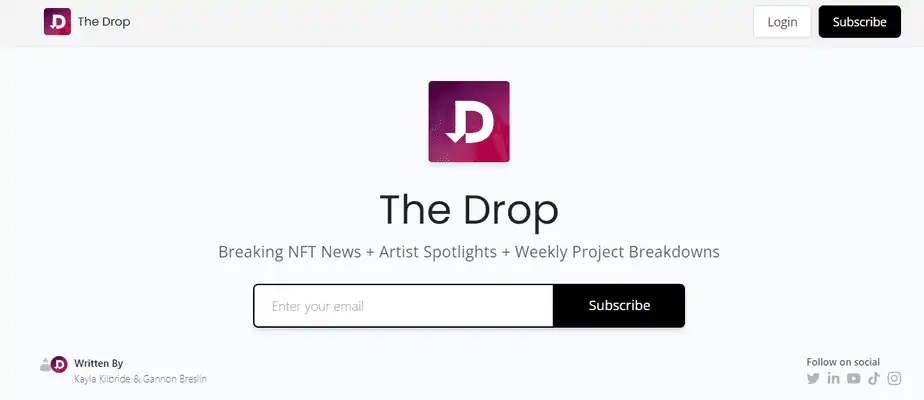 Key features of The Drop comprise:
Insider interviews with esteemed artists and collectors, revealing captivating stories and perspectives.
Informative articles exploring the business side of the NFT industry, enriching your understanding of its dynamics.
A dedicated focus on NFTs and the vibrant world of digital art, keeping you abreast of the latest trends and developments.
Conclusion
If you have read to this extent, then you have seen a selection of the best NFT newsletters to keep you well-informed about NFTs. Ensure you subscribe to one or all of them to stay abreast of the latest news, diverse projects, and captivating creations within the NFT realm.
Don't forget to learn how to find the the next crypto gem with 100x and make profit and make money in your crypto journey.