In this Buzzsprout review, I'll cover all the necessary features, strengths, and cons of Buzzsprout's podcast hosting. Podcasting began a long time ago and has now become a necessary tool for internet marketers.
Currently, there are many options for hosting podcasts, and it seems like there are more options available every day.
Buzzsprout currently has over 100,000 users, and it is rapidly expanding.
Table of Contents
Buzzsprout is unquestionably a one-stop shop for all your podcasting needs.
What is Buzzsprout?
Buzzsprout is a web-based tool for hosting and storing podcast episodes. Buzzsprout is one of the top podcast hosting services available and has firmly established itself in the podcasting community.
In addition to hosting the episodes, podcasters may improve their marketing and monetization efforts by utilizing Buzzsprout's sophisticated audience analytics tools.
And you may pay for all of this and more on a reasonable monthly or yearly basis.
Since around 2009, Buzzsprout has begun operating, and since then, it has been gradually expanding.
Who needs Buzzsprout?
You might be wondering, if my honest Buzzsprout review you are actually reading is for you.
Although Buzzsprout is designed to benefit podcasters of all experience levels, it will be even more appealing to newcomers.
The platform's user interface is sufficient and devoid of pointless frills that could divert you.
Many newcomers to the world of podcasting could find the following technical terms:
RSS feed management
ID3 tags
iPod
Mp3
iPodder
Microphone
iTunes
Any new podcaster, however, can easily manage all these aspects with Buzzsprout.
Even if you are an expert podcaster, you might still have to worry about marketing.
Fortunately, Buzzsprout assists with marketing and makes sure you don't have to concentrate on the specifics of podcast settings.
You can devote all of your concentration to producing material in this manner.
Buzzsprout Review: Is it legit?
I'm sure that Buzzsprout is one of the top podcast hosting services available. It features a variety of sophisticated capabilities for experienced users as well as makes getting started simple for newbies. In addition, the platform allows you to earn money from your program.
How to setup Buzzsprout
Setting up your podcast is a crucial aspect of this Buzzsprout review, that's why everything is detail for your understanding.
This is where you need support the most if you're setting up your show for the first time, and Buzzsprout most definitely provides it!
Or perhaps you're changing the host of your current show; Buzzsprout makes the transition simple. Let's examine both.
As you put up your show, you can start with Buzzsprout's free plan. Later on, you should upgrade to a paying tier because the episodes expire after 90 days.
But for the time until you "officially" begin your show, the free plan is ideal.
Steps for Buzzsprout Podcast Hosting
Buzzsprout features a step-by-step setup guide to walk you through the simple signup and setup process.
The show's specifics come first. You will be guided through all of the typical Apple Podcast information, including the podcast title and type (including the more recent serial vs episodic tags, for example).
The process for uploading your first episode is covered in more depth in the section that follows.
This is where you ensure that your information is included in all the top directories. Then the distribution commences.
How to Publish Podcast in Buzzsprout
The publishing process on Buzzsprout is quite straightforward, right away. To begin generating your episode, follow the steps below:
Click on "Upload a New Episode" after logging in.
To upload your audio file to Buzzsprout's servers, drag it into the upload box.
Submit.
In some circumstances, Buzzsprout will modify your file to conform to a standard format and bitrate.
Although you can submit whatever you want and Buzzsprout will take care of the format, for some people this is a huge drawback.
However, they have a new improvement to prevent it.
How to transfer an Existing Podcast to Buzzsprout
Given how crucial it is to their development, many hosts excel at doing this.
However, Buzzsprout's method is one of the simplest. Buzzsprout will ask for your current RSS feed before fast ingesting all of your past episodes.
It collects everything so you don't have to worry about anything, including audio files and episode information.
Your RSS feed must be redirected as the final step. This can be simple or a little challenging, depending on who you host with right now.
However, Buzzsprout has a tutorial for the majority of hosts, so you ought to be able to figure it out.
If after reading this Buzzsprout review and you decided to migrate your podcast to Buzzsprout, that will be a great move for you.
Features of Buzzsprout
Reading the Buzzsprout review without knowing the features isn't complete, so I've included the features of using Buzzsprout.
While it's true that Buzzsprout makes hosting podcasts simple, it also has a number of other advantages that set it apart from other options.
Before purchasing Buzzsprout's paid plan, you should go through this section to learn more about some of its most important features.
1. Free Website
It takes more than just a podcast hosting service to succeed in the podcasting industry.
Additionally, you need a website where potential customers can see your content. And in keeping with their attentiveness, Buzzsprout's creators have taken care of this as well.
As of 2019, Buzzsprout gives you a completely free website where you may showcase all of your podcast episodes.
You establish more credibility as a podcaster by directing your listeners to this exclusive website.
Additionally, the website can be used to lead visitors to directories that they usually visit, such Spotify and Apple Podcast.
However, bear in mind that this free website is really a placeholder for things to come.
You must choose specialized website builders like WordPress, Wix, or Weebly if you want your podcast website to be highly customizable and functional.
Buzzsprout also provides a specific plugin that you can use to embed podcast episodes on blogs that were created using WordPress.
You may also use the plugin to make special articles to advertise your podcast episodes.
2. Make money with Buzzsprout
It doesn't matter if you started podcasting for a living or just as a hobby; it never hurts to get paid for it.
Buzzsprout provides an affiliate marketplace where you may connect with the appropriate affiliate programs to assist in making money.
Go to the "Resources" area of the dashboard and select the affiliate marketplace option to join up for the affiliate program.
You'll be able to work with companies like Instacart, Allswell, and many others after you sign up.
Once you've received the necessary approvals, Buzzsprout will immediately insert the affiliate link into the episode notes.
This means that the link will always be live and available to generate revenue for you, regardless of the platform that listeners use to view your podcast.
3. Auto-transcription
It's not enough to submit podcast episodes and wait for listeners to start streaming in—you also need to optimize your podcasts for search engines.
Transcribing every episode is one of the greatest methods to achieve this, as it increases the likelihood of being found by search engines.
By offering services for automatic transcribing, Buzzsprout handles this element as well.
The portal delivers your files to Temi, an automated transcription system, in case you want to transcribe your episodes.
You just get an email with the entire transcription text once the process is finished.
Buzzsprout takes care to display the editable transcription beneath the website's description of your episode.
4. Customer Support
Customer service is one of the top concerns for anyone using a podcast hosting service.
You can trust Buzzsprout to provide you with the appropriate support when you need it.
You can also access the dedicated Facebook group for advice on promotion and related topics. Their customer service is incredibly responsive.
Customer support is a vital part while talking about Buzzsprout review and it's necessary to read and consider.
5. Buzzsprout Dashboard
Let's now talk a little bit about the Buzzsprout Dashboard, which is renowned among users for its straightforward, easy-to-use interface, and functionality.
The platform's dashboard serves as the main hub from which you can obtain data on crucial parameters like download volume, listener demographics, and even geographic audience segmentations.
At this point, I'd also like to talk on the board's layout, which is quite user-friendly and simple to understand.
The most recent episodes are listed first in the statistics, followed by the most watched episodes.
You can get a thorough analysis of the performance of your most recent episodes using Buzzsprout's statistics.
The platform algorithm simultaneously works to determine how many people listened to each episode within the first 90 days.
You can fully grasp where the majority of your listeners are from using the geographic listener segmentation option.
Additionally, statistics are offered at the incredibly detailed level of each episodes so you may learn more about your performance.
Buzzsprout Review: Pricing Plans
The pricing plans are the section of the Buzzsprout review that is, possibly, the most significant for the majority of people.
Buzzsprout keeps things simple in this regard as well; rather than charging you depending on the size of the files you post, you are charged based on the number of hours of material that is published.
Below are the pricing and plans
Free Plan
$12 per month
$18 per month
$24 per month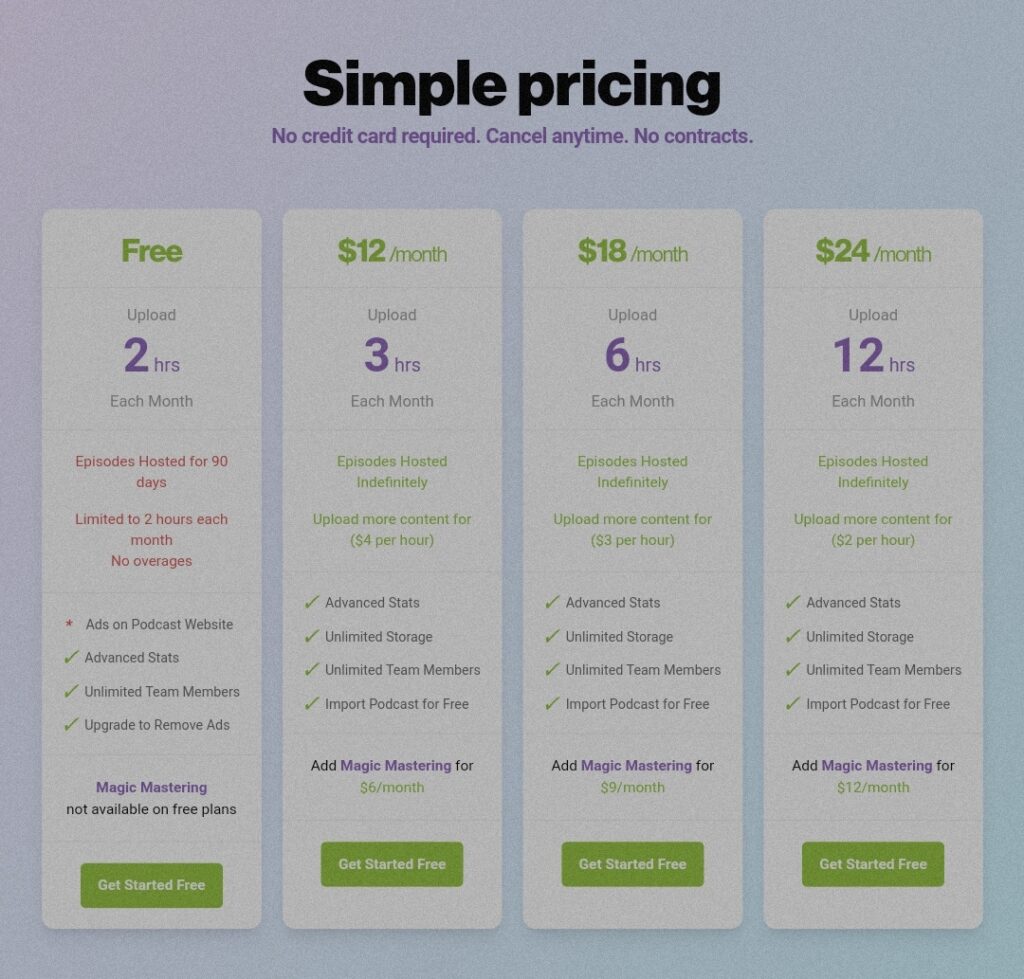 1. Free Plan
The only restriction on this tier is that you can only submit two hours of audio each month.
Additionally, episodes are only kept online for 90 days before being immediately erased.
However, you can add an infinite number of team members and gain access to sophisticated user data.
Ads will be present on the free website that comes with this plan, but you can always upgrade to get rid of them.
Overall, this is among the greatest strategies for starting a free podcast.
2. $12 Per Month
You receive 3 hours of audio uploads each month with this package. You will therefore get to host 45-minute episodes each week if you post episodes on a weekly basis.
That ought to be more than enough for the majority of folks wishing to start.
When you choose this option, you have all the advantages of the free one as well as the benefit of unlimited hosting.
Additionally, if you upload more than the permitted amount of content, you will be charged $4 per hour.
3. $18 Per Month
By upgrading to this option, you get all the advantages of the lower tier plus an additional 6 upload hours per month.You can upload more content at the same time for a discounted pricing of just $3/hour.
4. $24 Per Month
You receive a whopping 12 hours of audio uploads per month with Buzzsprout's top tier subscription plan.
This strategy works best for regular posts and expert audio programs.
Additionally, if you require extra bandwidth, you may do so for just $2/hour.
Buzzsprout Promotional Tools
A few useful features that Buzzsprout offers can aid in promotion and listener engagement, and they're included in this Buzzsprout review.
If you're uploading an episode for the first time and need assistance with advertising, these options can be helpful.
1. Video Soundbites
One of Buzzsprout's cool and practical features is Visual Soundbites.
With this, you can choose a brief segment of audio from a podcast episode and make a quick video out of it.
The video serves as a trailer for your podcast, drawing viewers in and luring them to listen to the many hours of audio that are available.
Such teaser videos are perfect for quick and simple advertisements and perform well on social media.
The only setup required is to choose the beginning and ending places of the soundbite, alter the artwork, and you're ready to go.
This feature enables you to benefit from the greater click-through rates that videos are known to have.
2. Chapter Markers
When they're accessible, I personally utilize chapter markers a lot in podcasting, which is something that is becoming more and more frequent.
These days, chapter markers are a common component of podcasts.
With the use of these markers, you can essentially break up lengthy episodes into "Chapters" or sections devoted to particular subjects.
Because they give listeners greater discretion over when they want to hear a specific episode segment, chapter markers are a terrific approach to draw audiences.
While chapter markers can be inserted while editing, Buzzsprout allows you to do so directly from the hosting platform.
3. Advertising
Buzzsprout has the ability to dynamically add. This implies that you can effortlessly add current and pertinent advertising to the start and finish of every one of your current episodes.
You can update them whenever you want and use them to share, advertise, or promote anything.
With Buzzsprout, social sharing is really simple because the platform provides facilities for sharing to all the most well-known social media platforms.
Additionally, you have the choice to create and copy email links for use in marketing efforts.
You can make user accounts for several team members using Buzzsprout.
4. Free Canva Artwork Helper
All podcasts require a cover image, and some podcasters also like to produce artwork for individual episodes.
If you find it difficult to make engaging visuals for your show and don't have the money to hire someone to do it for you, Buzzsprout has you covered with their Canva integration.
A simple-to-use graphic design tool, Canva is ideal for producing podcast images.
You can use these functions with Buzzsprout's Canva Artwork Helper without ever leaving the podcast host's dashboard.
Pros and cons of Buzzsprout
This section of the Buzzsprout review highlights the pros and cons of Buzzsprout which you need to know.
Pros:
Best for beginners and professionals.
Includes free plan to start.
Easy and simply dashboard to use.
marketplace for affiliates.
API integrations for transcription and embedding of episodes.
Excellent customer service.
Cons:
No plan that provides limitless audio.
Few choices for website personalization.
Buzzsprout Review: Final Thought
Let's recap some of the major points as we draw closer to the conclusion of this Buzzsprout review, shall we?
Podcasters that want things to be quick, easy, and professional should use Buzzsprout. It's for the host who needs to accomplish their job quickly and uncomplicatedly so that you may focus on your content.
The design is first-rate, to start. One of the best-looking and most user-friendly podcasting dashboards available.
The feature set is also excellent. It lacks fancy bells and whistles and is simple to use, but it includes everything you need to conduct a successful performance.
Finally, the cost is reasonable and simple to understand. It costs only $12 a month if you anticipate working fewer than 45 minutes per week.
I'm sure that Buzzsprout is one of the top podcast hosting services available.
It features a variety of sophisticated capabilities for experienced users as well as making getting started simple for newbies.
In addition, the platform allows you to earn money with the Buzzsprout affiliate program.
Thanks for reading my honest Buzzsprout review, you should take the wise step to sign up to the plan that suit your budget and needs.