In this blog post, we will guide you through the basics of viewing Snapchat logs and explore possible methods to access this information. While Snapchat promotes privacy and ephemeral communication, there may be situations where you need to view Snapchat logs for various reasons.
Snapchat is a popular social media platform known for its disappearing messages and multimedia content. It allows users to send photos, videos, and messages that vanish after a set time.
What are Snapchat Logs?
Snapchat logs refer to the records or data associated with a user's activity on the platform. This data can include sent and received messages, multimedia content, friends lists, and other related information.
Snapchat itself does not provide a built-in feature to view detailed logs of user activity. However, there are alternative methods and third-party tools that can help retrieve and access certain information related to Snapchat usage.
Information to See in Snapchat Logs
Below are some of the important details to see on the Snapchat My Data page:
How to Download Snapchat Data
While it is not feasible to access the actual content of Snapchats you have received in the past, Snapchat does provide the ability to view certain metadata associated with these Snaps.
This metadata offers information regarding the Snaps you have recently sent and received. However, it is essential to note that Snapchat operates as an ephemeral messaging service, wherein all Snaps are designed to be automatically deleted once they have been viewed by the recipients or have reached their expiration time. This emphasis on privacy and temporary nature is a key aspect of Snapchat's functionality.
Additionally, Snapchat implements a retention policy wherein any unopened Snaps are removed from their servers after a period of 30 days. This further reinforces the notion of impermanence within the platform, ensuring that user data and content are not stored indefinitely.
Therefore, while the specific contents of past Snaps may not be accessible, Snapchat retains metadata briefly for users to review, emphasizing the transient and privacy-centric nature of the platform.
Login to Snapchat, select your profile photo on the top left.
Select the Gear icon (for Settings).
Scroll down and select My Data in the Account Actions group.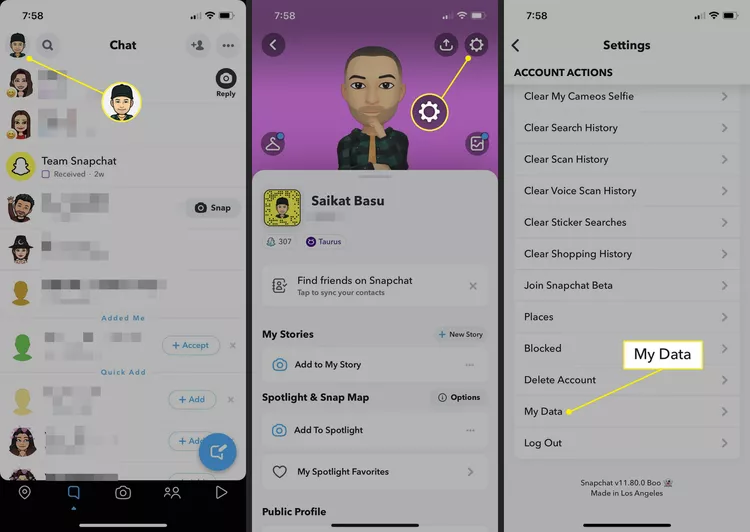 If Snapchat prompts you to log in again, simply provide your username/email and password, and if necessary, verify your identity using reCAPTCHA.
Once logged in, navigate to the "Manage My Account" screen and select "My Data" once again.
Enter the email address where you want to receive your Snapchat history files and confirm it.
Proceed by selecting "Submit Request." Snapchat will receive your request and send a confirmation email.
You will receive an email from Snapchat's support team containing a hyperlink labeled "click here." Click on the link to be directed to the Snapchat log-in screen.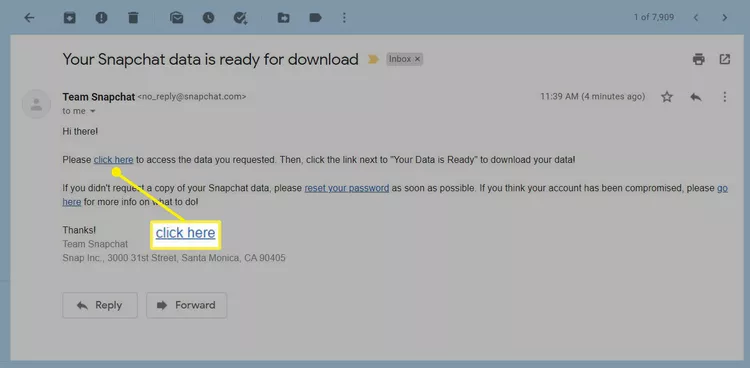 Re-verify your identity if prompted. Snapchat may require you to verify your account using a code sent to your registered phone number if any suspicious activity is detected.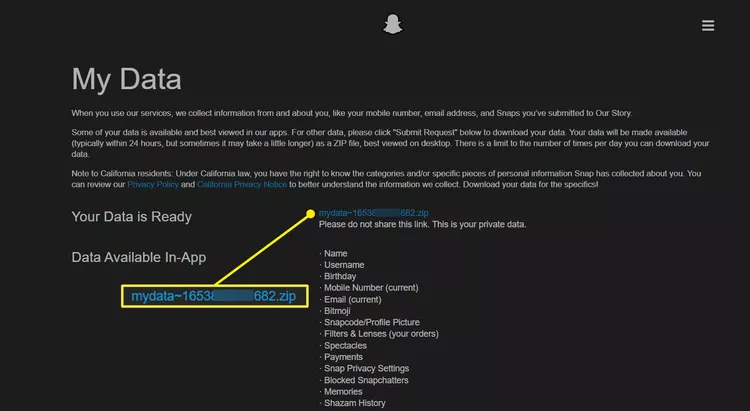 A browser window will open, displaying the "My Data" page. Look for the "Your Data is Ready" section and click on the link provided to download the ZIP file.
Once the ZIP file is downloaded, unzip the folder and locate the index.html file. Opening this file will enable you to view the list of your Snap History Metadata.
Conclusion
Viewing Snapchat logs can be a complex process with limited options available. Snapchat itself does not provide comprehensive logging features, and any third-party methods should be approached with caution and consideration for privacy and legal regulations.
Utilize Snapchat's official features, such as the data download feature, for accessing your own data.
If necessary, seek legal channels or authorized monitoring applications with proper consent to access someone else's Snapchat logs. Always prioritize privacy rights and adhere to ethical guidelines when dealing with sensitive information from social media platforms like Snapchat.