Let's take a look at Bluehost affiliate program review with detail information on how to make money with Bluehost.
Bluehost affiliate program is one of the biggest affiliate programs in the world with Bluehost offering huge commission.
If you are looking for an honest Bluehost affiliate program review, you are in the right place.
According to Wikipedia, Bluehost is a web hosting company owned by Endurance International Group. It is one of the 20 largest web hosts, collectively hosting well over 2 million domains.
What you need to know about Bluehost Affiliate Program
Bluehost is the No. 1 hosting provider recommended by WordPress which gives it edge over other hosting companies.
In 2017, almost every web hosting company launched their own affiliate program aiming to drive traffic and convert them into paying customers.
If you want an easy way to start making money online then you should choose affiliate marketing.
Bluehost Affiliate Program offers the opportunity for bloggers and publishers to promote Bluehost products and make money.
You can earn $65 to $130 per sale while promoting Bluehost products on your website.
When you sign up to Bluehost affiliate program you will start promoting the following products:
Shared hosting
VPS hosting
Dedicated hosting
WordPress hosting
WooCommerce hosting
How to set up a Bluehost account
In order join Bluehost affiliate program you will need to have a website which you will use for promotion and Bluehost is an excellent choice to make when creating your website.
So in this review I will show you how to set up your Bluehost account.
Bluehost offers free domain for first year and free SSL included in the package when you buy hosting.
1. Go to BLUEHOST.COM and choose shared hosting
The first step to take in getting your account set up is to navigate to Bluehost.com.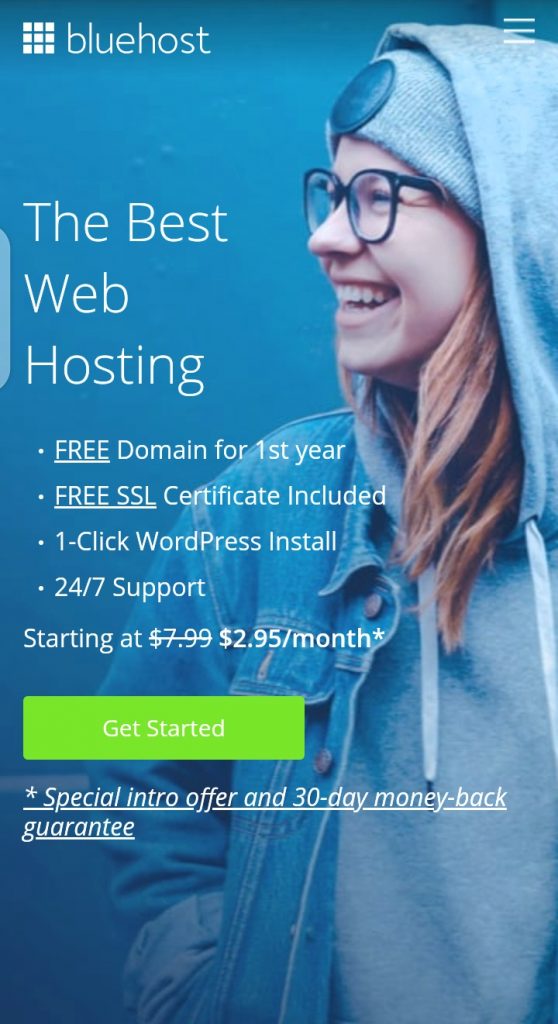 2. Choose a shared hosting plan of your choice
The next thing to do is to select a Bluehost shared hosting of your choice depending on your needs and budget.
3. Register a domain name:
Before starting your website you should have the choice of your domain in mind.
Create a new domain or use an existing domain you already have with another domain provider.
Follow the steps to set up your Bluehost shared hosting with that URL.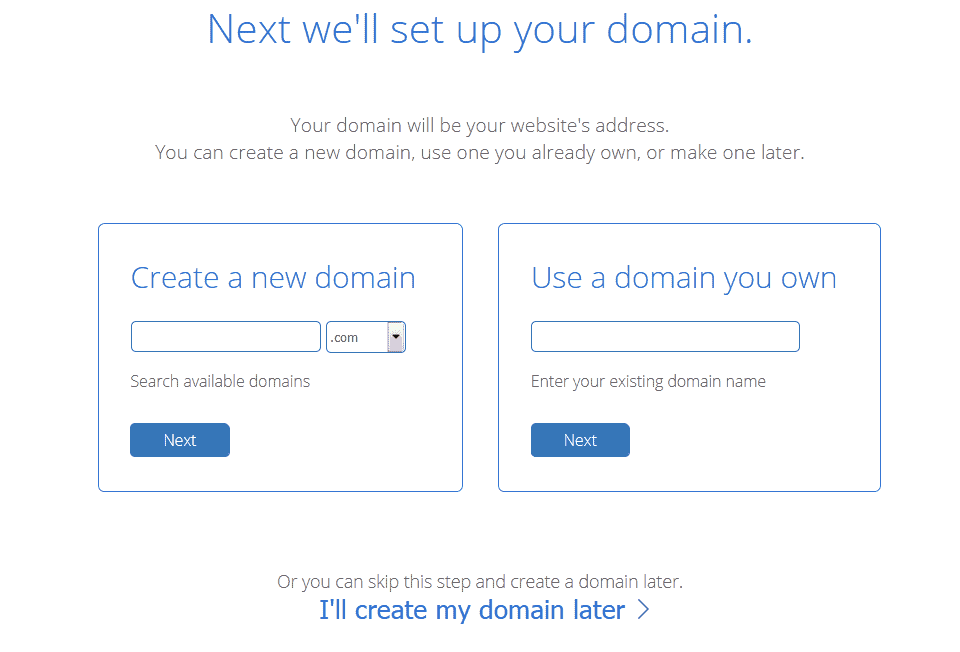 4. Fill in your information
Fill in the required information. There is also an option to use your Google profile and account information.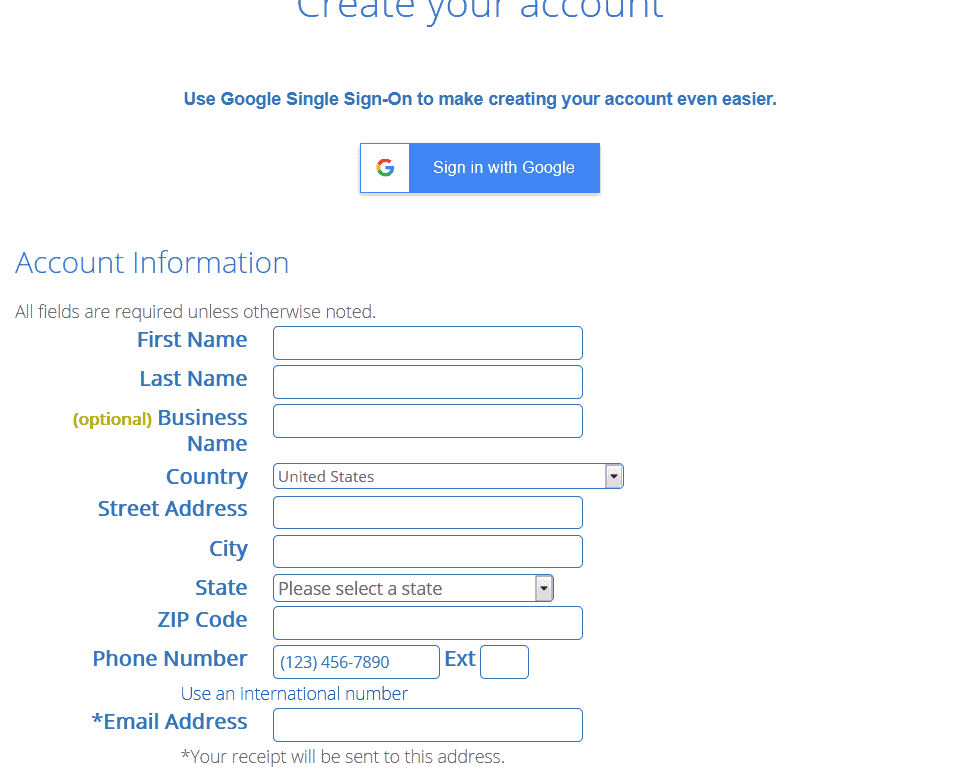 5. Review your package and make payment
You need to review your package and there is an option to include additional features such as SiteLock in your plan.
Don't forget to uncheck the features you don't need.
Congrats, after completing the steps use your Bluehost login details to sign in and launch your website.
You can check out this post on how to start a successful blog and make up to $1,000 monthly.
Making money online through Bluehost affiliate program works perfectly when you have a website you will use for promotion.
Honest Bluehost Affiliate Program Review
Bluehost is one of the most popular web hosting companies hosting over 2 million domains.
Bluehost affiliate is as simple as signing up to the program, get your affiliate links and banners, post on your site and make money with the referral you generate.
READ ALSO: How to start a successful blog and earn up to $1,000 monthly
Last calendar year, Bluehost paid out more than $5 million in commissions.
Just like other affiliate programs, there are advantages and disadvantages of Bluehost affiliate program.
Bluehost Affiliate Program Review: PROS
1. Huge payout:
Bluehost affiliates are entitled to commission starting at $65 for each confirmed and qualified hosting purchase.
When you make 2 sales you earn $130. The more sales you make the more money you earn.
Bluehost uses PaPay as a payment method to send earnings to their affiliates.
PayPal transactions are subject to a fee. But Bluehost covers those for you. You'll earn the full $65 and won't have to worry about charges.
Payments process takes between 45 and 60 days after the sale. All sales process between the 16th and last day of the month.
For instance, if you earned a deal in January, your earnings will be reviewed and applied between the 16th and 31st of March.
Bluehost requires a one-time $100 minimum (2 sales) before they process your first commission payment!
This will only be on the first payment, any single sale can be processed after this payment has been made.
2. 24/7 Support Team:
As an internet user sometimes i got stuck with some task online and require support.
Bluehost Affiliate support team is super active 24/7 giving you the support you want, they are quick to reply to mail.
3. No unnecessary restrictions:
Joining the Bluehost Affiliate Program is easy as it doesn't require much protocols and no unnecessary restrictions.
Everyone who owns a website is allowed to apply for the Bluehost affiliate program.
The application is fast, easy, and straightforward with the approval done almost instantly.
Bluehost Affiliate Program Review: CONS
There are few disadvantages in Bluehost affiliate which I will be revealing to you because this is an honest review.
1. Withdrawal Limit:
One issue with Bluehost affiliate is you must earn up to $100 or make two sales before you can withdraw your first earning.
You might want to withdraw your earnings immediately after making just one sale but that is not possible.
The good news is this only applies to your first time withdrawal, subsequent withdrawal can be done with any amount.
2. User Downgrade Issues
In a case where one of your referred customers decided to downgrade their hosting, your commission will be deducted.
It is advisable to have a lot of traffic on your website where you promote Bluehost products in case anybody downgrades his account it won't affect you.
How to join Bluehost Affiliate Program
Like I said earlier, joining this affiliate program is easy, no hassle, just follow the steps and your affiliate account will be set up in a few minutes.
Go to Bluehost.com then scroll down the page then you will see the affiliate program link, click on it and the affiliate area will open.
Then sign up, put in the required information and follow the steps to get your account set up in less than five minutes.
You will need to enter your valid PayPal email address which Bluehost will use to send your payments.
If you don't have a PayPal account, create one because Bluehost utilizes on PayPal to send payments.
When you are done, accept the Bluehost affiliate terms and click submit.
After submitting your application you must wait for approval from Bluehost but I assure you it doesn't take time to get approval.
Be sure to fill out the tax form found in your Bluehost affiliate login dashboard. You will need to submit this info to receive your earnings.
How to promote Bluehost affiliate links
Congratulations, your Bluehost affiliate account is now active, next thing is to make money.
At this point you need to start promoting your affiliate links to be able to make sales so you earn your commission.
There are many means of promoting your affiliate links. I will be revealing a few strategies in this post.
1. Write post:
Write a post about How to start a blog then add your Bluehost affiliate link within your post.
When your audience read the post and take action to get their website they will purchase Bluehost hosting and you earn commission.
Many people want to start their own blog but don't know how to start.
By writing a detailed post about how to start, your readers will start their blog and of course you make your money.
2. Banner advertisment:
Another way of promoting your affiliate link is placing banner ads on your website.
Bluehost provides different banner sizes depending on where you want to place it on your website.
Bluehost ads banners are attractive and won't spoil the design of your site.
Banner ads convert well. Place the banners on your homepage and on your pages.
3. Email List
A great way to make money online is by building email list and get subscribers in your list.
You can send messages to your list telling them about Bluehost and its benefits and you will make sales and earn your commission.
Building an email list should be a priority as a blogger because that is the strategy for making money online.
You can use your email list to promote different offers to your list and also promote your blog.
4. Bluehost Video Review
You can do a video review on YouTube for Bluehost with your referral link in the video description.
When people watch your Bluehost review they will be moved to purchase a hosting and you earn commission.
Video content is an important way of relating with your audience.
Bluehost Affiliate Program Summary
Bluehost affiliate is a system that can make you lots of money monthly on your website.
You want to monetize your blog, don't worry about using an advertising company.
Affiliate marketing is a great way to make money on your blog without sweating.
You need to have a good audience, be good in SEO because that is where a greater percentage of traffic comes from.
With hard work, time, and a consistent marketing strategy, you can earn extra income from your website using the Bluehost affiliate program.
Just in case you are reading this and you don't have a website, read how to start a blog from scratch and make money.