Online transaction is very necessary these days so in this Walmart MoneyCard review you will find out about one of the legitimate means on online transaction.
The Walmart MoneyCard serves as a prepaid banking card offering numerous advantageous features. Among its benefits are cash back rewards for purchases made at Walmart.com, Walmart Fuel Stations, and Walmart stores.
Notably, the card does not incur any fees at Walmart locations, and it also provides a convenient mobile app that enables users to monitor their transactions and deposit funds into their account.
What is Walmart MoneyCard?
The Walmart MoneyCard, a prepaid debit card provided by Walmart, extends valuable benefits to its users. Customers can earn cash back rewards by using their Walmart MoneyCard at Walmart stores, fuel stations, and online purchases at Walmart.com. These rewards become accessible after 12 months of active use, as long as the card retains a positive balance.
Features of Walmart MoneyCard
Additionally, the Walmart MoneyCard boasts several other advantageous features, including:
Freedom from overdraft fees, providing peace of mind in managing finances.
An attractive 2% annual interest rate, enhancing savings potential.
Convenient and free cash reloads through the Walmart app, simplifying account funding.
ASAP Direct Deposit, enabling quick and secure access to funds.
Free family accounts, allowing family members to manage their finances efficiently and independently.
With these appealing features, the Walmart MoneyCard presents itself as a versatile and user-friendly option for those seeking convenience, rewards, and financial flexibility in their daily transactions.
Pros and Cons of Walmart Money Card
Pros:
Earn cash back on Walmart purchases
Enjoy a 2% APY annually (Annual Percentage Yield)
Up to four free family accounts for added convenience
Cons:
Fees are applicable only at Walmart locations
There are various additional fees to consider
How to Get the Walmart MoneyCard
To become a part of the Walmart Money Card program, head over to Walmart MoneyCard official website and complete the application form. The process involves providing essential details such as your full name, address, phone number, Social Security number, and selecting your preferred card type, either Visa or Mastercard.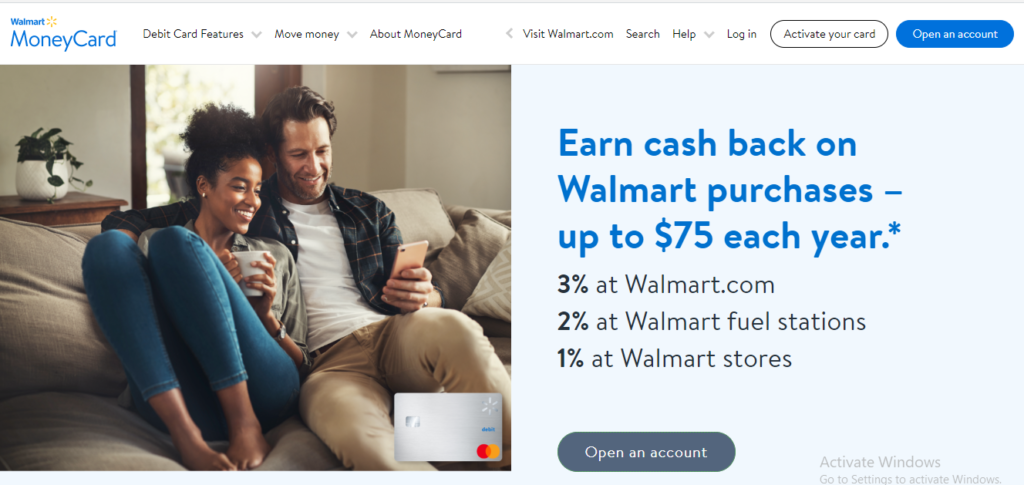 By furnishing this information, you can initiate the enrollment process and embark on the journey of enjoying the benefits and convenience offered by the Walmart MoneyCard program.
Walmart MoneyCard Fees
The Walmart MoneyCard entails several fees, encompassing:
Monthly fee: $5.94, although waived if the card is loaded with $1,000 or more in the preceding monthly period.
ATM withdrawal fee: $2.50.
Teller cash withdrawal fee: $2.50.
Cash reload fee: $5.95, but complimentary when cash is loaded via the app at a Walmart location.
ATM balance inquiry fee: 50 cents.
Activation fee: A one-time $1 fee.
International transaction fee: 3% of the purchase amount.
Paper checks fee: $5.95 for a pack of 12 paper checks.
Card replacement fee: $3 for standard delivery and $15 for expedited delivery.
It is essential to be mindful of these fees when using the Walmart MoneyCard to make informed decisions and manage your finances effectively.
Conclusion
The Walmart MoneyCard emerges as an excellent option, particularly for avid Walmart shoppers who wish to maximize their benefits. By utilizing the card, you can relish cash back rewards of up to $75 annually, enhancing your overall shopping experience.
You can withdraw money from Walmart without a card, although many users don't know about this so they struggle to withdraw money.
Furthermore, the convenience of managing your funds effortlessly and making swift deposits on-the-go through the user-friendly MoneyCard app further adds to the appeal of this financial tool. Embrace the Walmart MoneyCard, and unlock a world of savings and hassle-free financial management tailored to your shopping needs.