Before you get your first loan, take a few minutes to read this Imoney loan app review so you don't find yourself going in the wrong direction.
Many people always advise against loan apps although they can save you when you are in urgent need.
Some of the loan apps in Nigeria are not legit because of their mode of operations.
Getting a quick loan can be a good idea only when there is no other option.
Don't take it as your first option to keep getting loans from these loan apps.
Imoney is another platform that promises quick loans with low interest rates. Continue reading as I open up everything you need to know in this Imoney loan app review.
What is Imoney Loan App?
Imoney is a Nigerian loan app for providing quick cash loans to users for a short term repayment, with terms and conditions.
Just like other loan apps, Imoney promises quick loans with easy and affordable repayment packages and interest rates.
The platform was launched mainly for disbursement of short term loans to individuals who wish to use the money for their respective purposes.
How does the Imoney Loan app work?
Imoney is a platform that operates mainly online.
To get a loan from them you must provide your correct details including your Bank Verification Number (BVN).
Their system uses artificial intelligence to analyse your information and determine your credit score.
If your credit score is bad, don't even expect any loan.
READ MORE: LCredit Loan App Review 2022: Read this before taking loan
How to apply for Imoney Loan
Applying for an Imoney Loan seems to be one of the easiest things to do online.
Simply go to Playstore if you are an Android user and install the Imoney Loan app.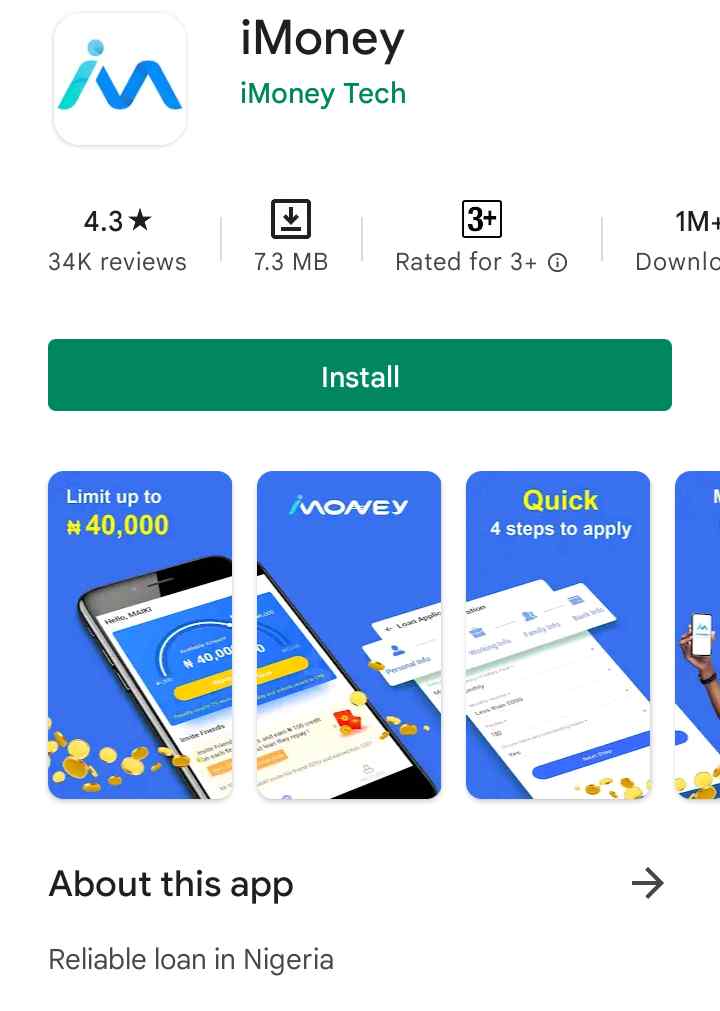 For iPhone users, the app is available on the Apple Store.
After installation, open the application on your smartphone and register using your personal information and BVN.
Then apply for a loan and your loan will be credited instantly if you meet their requirements.
Imoney Loan App Review: Is Imoney Loan App Legit?
Imoney loan app is legit.
There have not been complaints from Imoney users although some people may talk about their interest rate which may not be favourable to everyone definitely because it is on a high side.
I am not a fan of getting loans from loan apps although I have tried FairMoney and KashKash.
Some of these loan services are known for giving out cash loans with interest rate and short repayment time.
Imoney loan interest rate
Imoney loan interest rate is high and the repayment period is short.
They offer a loan of N8,000 to pay back N12,000 in 7 days.
This is what makes this loan app one of the worst loan apps in Nigeria.
If only they can work on their interest rate and repayment time then they will be among the best loan apps in Nigeria, but for now they are not included.
READ MORE: Crowdyloan Review: 3 Reasons it might be a scam
Conclusion
This Imoney loan app review is not to promote or demote the brand but it is my honest review about the platform.
Imoney loan disbursement is cool, fast but they have very big problems when it comes to interest rate and repayment time.
Their repayment period is so short that someone can't even get the money to pay back the loan.
Thanks for reading, I would love to hear about your view and experience with Imoney, please drop your comments.