In this Bitcoloan review, you will find out all you need to know about the platform. If you have been following this website, you will surely know that I don't advise someone to invest in something they don't know much about.
Bitcoloan is another online financial platform with lots of promises, but the fulfil the promises is what you will find out in this post.
According to BitcoLoan, there is a market where users may lend or borrow money. You can quickly find the appropriate offer thanks to their algorithms.
Table of Contents
It is necessary to find out if Bitcoloan is legit but the before then you need to find out more about the company before they will run with your money, you know I wouldn't want that to happen to you.
What is Bitcoloan
Bitcoloan is a well-known peer-to-peer cryptocurrency lending network which assists persons in need of money in finding lenders who are eager to help them out.
They also provide some investing choices, which aids people looking to generate money.
They only assist customers in finding what they're looking for; they are not a bank or other type of financial organization.
BitcoLoan acts as a middleman between two persons looking to lend or borrow bitcoin.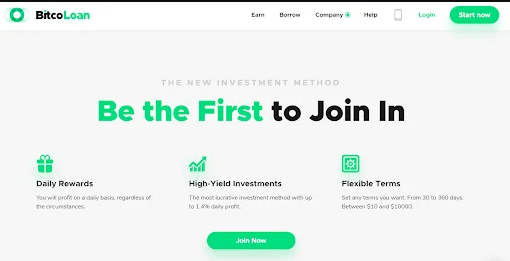 How Bitcoloan works
Customers obtain cryptocurrency loans or sign up as lenders. A borrower or investor could find the appropriate offer quickly by using Bitcoloan's rapid search option.
A borrower will choose a lender if they are in urgent need of a loan.
Features of Bitcoloan
The platform offer loans with no paperwork. The loan is processed in minutes without taking much time which is one of the reasons people join the program.
On the Bitcoloan platform you get loans and pay back with interest rate similar with your financial institution. Of course you know you must pay back the loan.
While you get loan on the platform or lend money, you can still make money by referring people to the platform and earn commission when your referral make the first transaction.
Bitcoloan Review: Is it legit or Scam?
Bitcoloan is not legit. They seems to operate like a ponzi scheme instead of what the platform promises. The platform may have crashed before even the link to their website is not opening.
Pros and Cons of Bitcoloan
Below are the pros and cons of Bitcoloan which you need to know before you join the platform.
| | |
| --- | --- |
| Pros | Cons |
| Selling of cryptocurrency | The identity of the founder is unknown |
| Membership is free | No goods or services available for purchase. |
| Moonshot potential | Tokens are based on the ERC-20 protocol |
Bitcoloan Payment Method
The primary source of payment on the BitcoLoan platform is cryptocurrency. However, the account often displays it as USD. The list of coins that the forum will accept as payment is provided below:
Bitcoin (BTC)
Bitcoin Cash (BCH)
Ethereum (ETH)
The Dogecoin cryptocurrency (DOGE)
Tethering (USDT)
a dash (DASH)
Litecoin (LTC)
Monero (XMR)
How To Get A Loan On BitcoLoan?
Create a free account on the platform.
Deposit the requested fund in Bitcoin.
Fill out the loan application form and wait.
Withdraw money to your Tether USD wallet.
Conclusion
Bitco Loan advertises daily returns of up to 1.4%, but this return is allegedly derived from loans you are making to other users of the network.
On the site, there are essentially two loan and borrowing options. When you lend money to a user on the site, you get paid.
To borrow, however, you would have to deposit the platform with the equal of the amount you wish to borrow.
Thanks for reading my honest Bitcoloan review, please drop your comments.