After reading this Crowdyloan review, you will make the choice either or not to use the loan platform to borrow money.
There is no doubt that in some situations, one might need to borrow money for one thing or the other.
And technology has made it easier that you don't need to walk into a bank to request a loan, you can get a loan with your mobile phone.
But before you start your loan application, make sure you are dealing with a legit platform, that is why you need to read reviews like this.
What is Crowdyloan?
Crowdyloan is a Peer-to-Peer lending platform for receiving loans and pays with commission. The funds are borrowed between the members of the platform.
It is simply as people coming together to help each other, whenever someone needs money, another person will help.
The platform is third-party, and not responsible for giving out the loan, it is only a platform that makes it possible for like minds to meet and help themselves.
READ MORE: KashKash Loan App Review 2021: Is it the Best Loan App?
Disclaimer:
"This review is not in support or against Crowdyloan but is just my view about the lending platform. Note that any transaction you do with any company is solely at your own risk."
How does Crowdyloan work?
Crowdyloan is a lending solution that works in simple steps.
The financial service helps you make up to N160,000 with an initial investment of N1,000 only.
Crowdyloan Lending Levels
The financial platform has six (6) levels, the last level is where you earn N160,000.
Level 1: Give N1,000 loan & Receive N5,000 in 5 minutes.
Level 2: Give N5,000 loan & Receive N10,000 in 2 days.
Level 3: Give N10,000 loan & Receive N20,000 in 4 days.
Level 4: Give N20,000 loan & Receive N40,000 in 6 days.
Level 5: Give N40,000 loan & Receive N80,000 in 8 days.
Level 6: Give N80,000 loan & Receive N160,000 in 10 days.
How to get started with the Crowdyloan app
Below are the three (3) simple steps to get started and receive your first loan in 5 minutes.
Create your CrowdyLoan account.
Activate your account with N1,000.
Receive N5,000 back in 5 minutes!
How to Open Crowdyloan account
Just like every other online financial service, you need to open an account with Crowdyloan before you can start making money.
Go to www.crowdyloan.com or type it in your browser.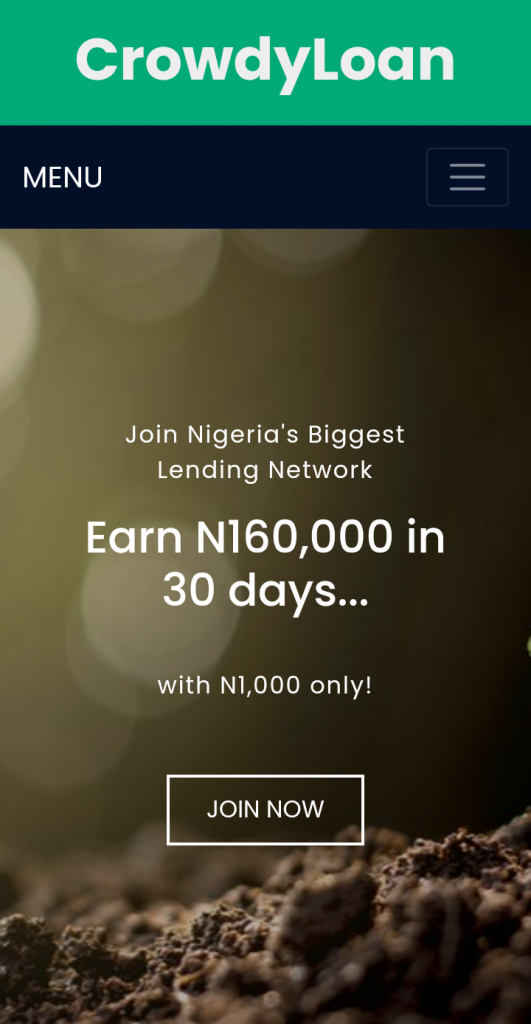 Click on JOIN NOW, a registration page will open.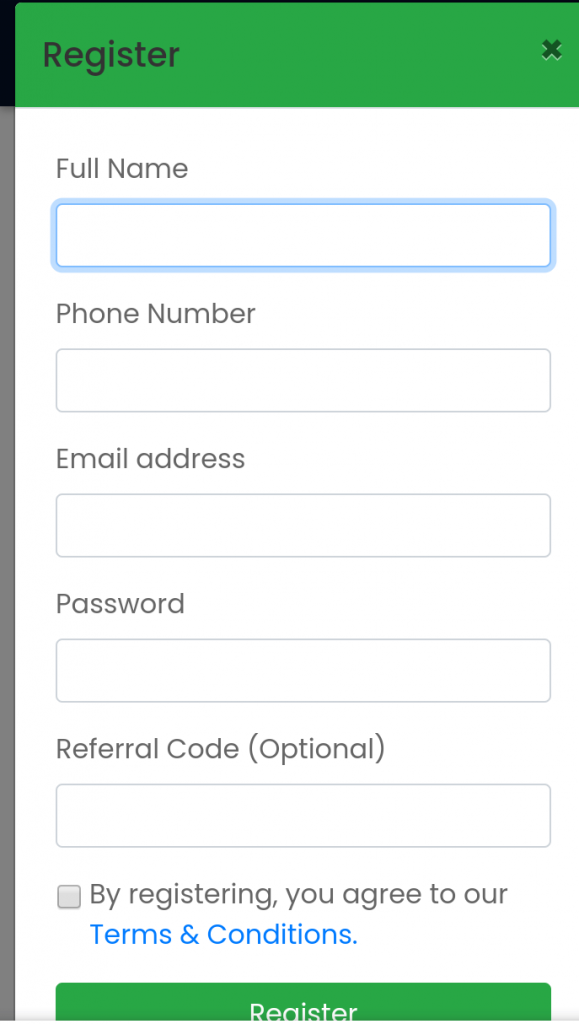 Fill in your details, full name, phone number, email address, password, and a referral code if you have any.
After filling in your information, read and accept the terms & conditions, then click on register.
Congrats, your Crowdyloan account is ready, login in and make sure you verify your email address.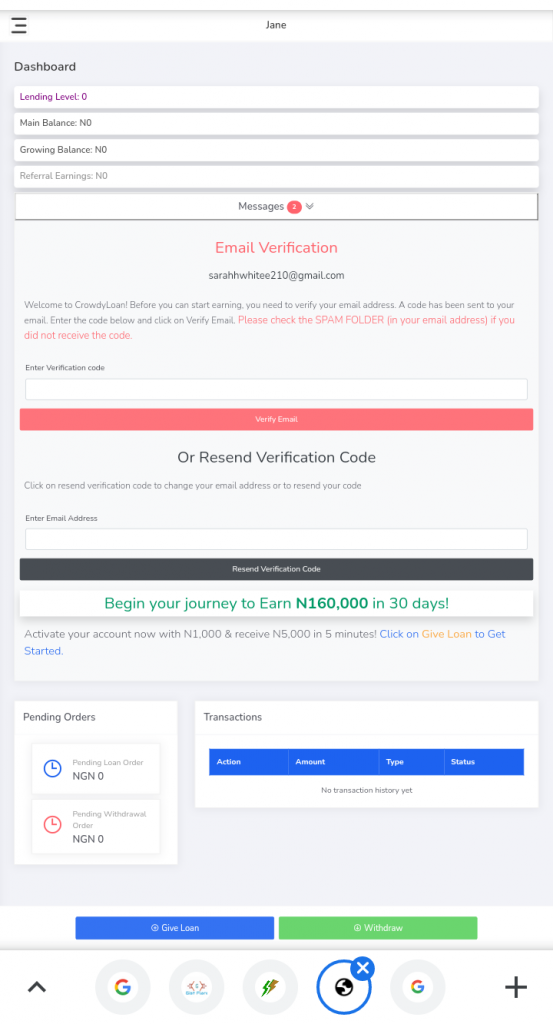 How to activate Crowdyloan account
Account activation is done on the dashboard after you successfully log in to your account.
On your Crowdyloan dashboard, scroll down and click on "Click on Give Loan to Get Started".
Once you activate your account with N1,000, you get N,5000 in 5 minutes.
READ MORE: Iron Trade Review 2021: Could this be a Scam?
Crowdyloan Review: Is it Legit or Scam?
I know this is what you want to hear and it is advisable to always do research and find out how legitimate a program is before joining.
Let's get on to it!
Crowdyloan doesn't possess those features that make me believe its legitimacy.
Although some of their users have been giving good reviews about the lending platform, I am not very convinced to invest my money.
Reasons it might be a scam
Below are 3 reasons why the platform might be a scam:
No valid contact address on their website.
No information about regulations/registration with relevant authority(ies).
Terms & Conditions and privacy policy pages are not working but showing 404 errors. A reputable company should have a terms & conditions page set up.
Crowdyloan Affiliate Program
You don't only receive loans with Crowdyloan, but you can also earn money by referring people to join the platform.
When you refer someone to join the lending platform, you earn 10%.
If your referral successfully refers another person then you earn 5%, sound good right? Maybe you can start with that.
Crowdyloan FAQ
Is My Money Safe?
CrowdyLoan claims its platform is decentralized, allowing members to give funds directly to each other.
They claim it is impossible to run away with your money, but no one can tell if it's true or not, so you invest at your own risk.
Is Crowdyloan Legit?
The answer is NO for me.
But that doesn't stop you from using the platform to lend money if you choose to.
The way Crowdyloan is being run by the owners, it's scary that they might end up running away with people's money.
Who is the owner of Crowdyloan?
The owner of the platform has not been revealed, and more information about the platform is not shown on their website.
What is Crowdyloan contact Email?
Their customer's support email is [email protected]. You are free to reach out to them.
Yeah, can only see the contact email when you log in to your Crowdyloan account.
Like I said earlier, their contact details are not specified, messages to this email may likely not get a reply.
What if a member refuses to refund Loan?
In a case where a member refuses to return the loan, Crowdyloan takes responsibility for that.
They will allocate another person to pay you.
READ MORE: Rise Vest Review 2021: Is it a Legit or Scam Investment?
Conclusion
I believe with this Crowdyloan review, you have gotten the needed information before investing your money.
I don't recommend Crowdyloan because they operate more like a Ponzi scheme.
I don't join or use any service online that doesn't have good contact details.
Either phone number, email address, or live chat so I can easily contact the administrator when I encounter issues.
Thanks for reading, please share, and don't forget to drop your comments.
If you have questions or want to express your view about the platform, kindly use the comment section.