In this EasyCredit loan app review, everything regarding the quick loan app is revealed so you know if it's legit or another scam in town.
We all know there are lots of loan apps in Nigeria with some of them promising huge benefits but at the end of the day, it becomes a scam.
In the case of EasyCredit, the loan app is one of the popular loan apps in Nigeria.
Read on as I explained what you need to know about EasyCredit.
READ MORE: FairMoney Loan App Review: Is it the best loan app in Nigeria?
What is EasyCredit?
EasyCredit is a Nigerian loan app for disbursement of quick loans to Nigerians who are in urgent need of money for different purposes.
The platform aims at providing users with short term loans to sort out necessities while they pay back with interest.
With your personal information and Bank Verification Number (BVN), EasyCredit will determine your eligible loan app using artificial intelligence to calculate your credit score.
EasyCredit loan app Review: Is it legit or scam?
EasyCredit is a legit loan app although many people have been complaining about their high interest rate.
Some users who previously received loan from the platform complained Easycredit charged over 30% for 8-day loans.
How to get loan from EasyCredit
Getting a loan from EasyCredit requires your correct details and BVN, no collateral or paperwork.
The loan is mainly online.
Simply download the EasyCredit loan app on Play Store or Apple Store.
Sign Up using email address and phone number.
Add your BVN.
Request for loan.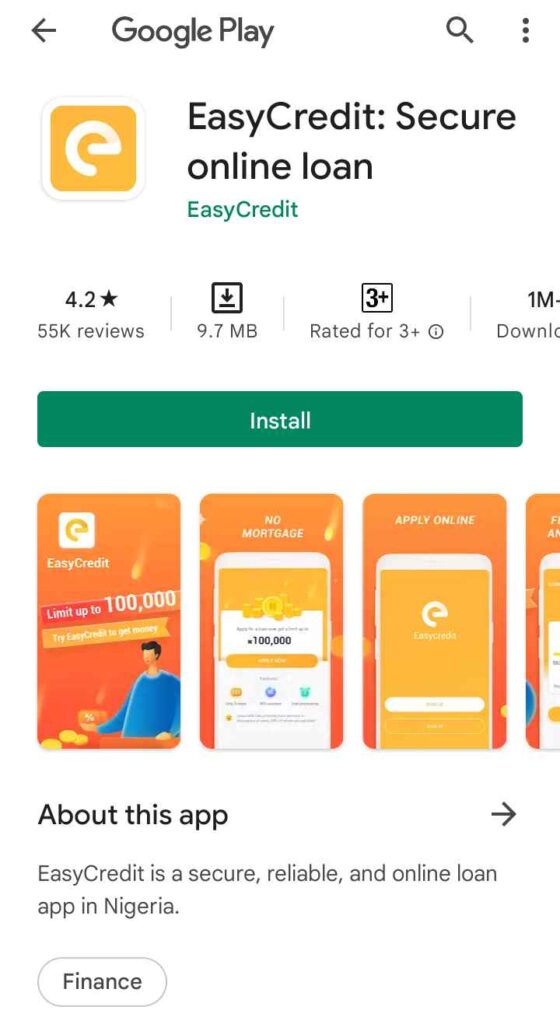 After requesting for a loan, sometimes your application may be rejected which possibly means your credit score is bad.
If you are owing any other loan app, then you have to pay before applying for a loan with EasyCredit.
How much can I borrow from EasyCredit?
EasyCredit offers loans from N2,000 to N500,000 depending on your credit score with your bank.
If your bank record is straight, then expect to receive a good loan from EasyCredit.
You have a chance of collecting a higher loan amount once you repay your previous loan.
READ MORE: LCredit Loan App Review 2023: Read this before taking loan
What if I don't repay my loan?
Any loan you get from EasyCredit or any loan app, make sure you pay before it is due to avoid embarrassment.
If you refuse to repay your loan, you will be blacklisted, can't get any loan elsewhere and your interest will keep on increasing.
Anytime you deposit money into your account, it will be deducted for the unpaid loan.
Conclusion
If you have read this EasyCredit loan review to this extent, congrats because you have discovered what you didn't know about the loan app.
It is always advisable to read reviews, do your own research before making any investment or joining any online business.
When it comes to loans, know who you are dealing with and pay your loan on time.
Thanks for reading, please share and also drop your comments.
What do you think about EasyCredit?