In this Mufasa Inu $MFSA token review you will find everything about the new cryptocurrency before thinking of investing.
With the recent crying trends in the world, one can say that it is a right decision to invest in it with good ROI.
While investing in any crypto, learn the process, study the market and understand the dynamics before putting your hard earned money.
It is not advisable to use someone's money to invest in any online business.
What is Mufasa Inu Token?
Mufasa Inu Token ($MFSA) is a DEFI Deflationary BSC Token Protocol aimed at empowering the King of the BSC Jungle.
Mufasa INU movement aim is to embark on a Journey to Build and Structure a Dynamic Ecosystem – FASASOL – FASAPAD – FASALEND. Community Driven. DEFI. Deflationary.
Features of Mufasa Inu Token
Deflationary Monetary System
A portion of the $MFSA Token has been specially allocated to be Burnt continuously! This Strategically reduces the Supply of $MFSA while increasing its value overtime. The Burning phase commences IMMEDIATELY after listing.
Anti-Whale Implementation
NO MANIPULATION. NO MASSIVE DUMPS. PERIOD. We aim to build a community where every Investor has a Fair chance at making profit. Our DEV Team has made sure of that by coding $MFSA in a way that counters Price Manipulation and Dumps.
$MFSA is Rugpull Proof. The Team plans to renounce Ownership of the LP tokens for 6 Years and above with an openly provable time-lock Smart contract. Enough time to prove our unending loyalty and commitment to the MUFASA INU Community.
READ MORE: Wakanda Inu Review 2021: Is it Worth the hype?
Token Distribution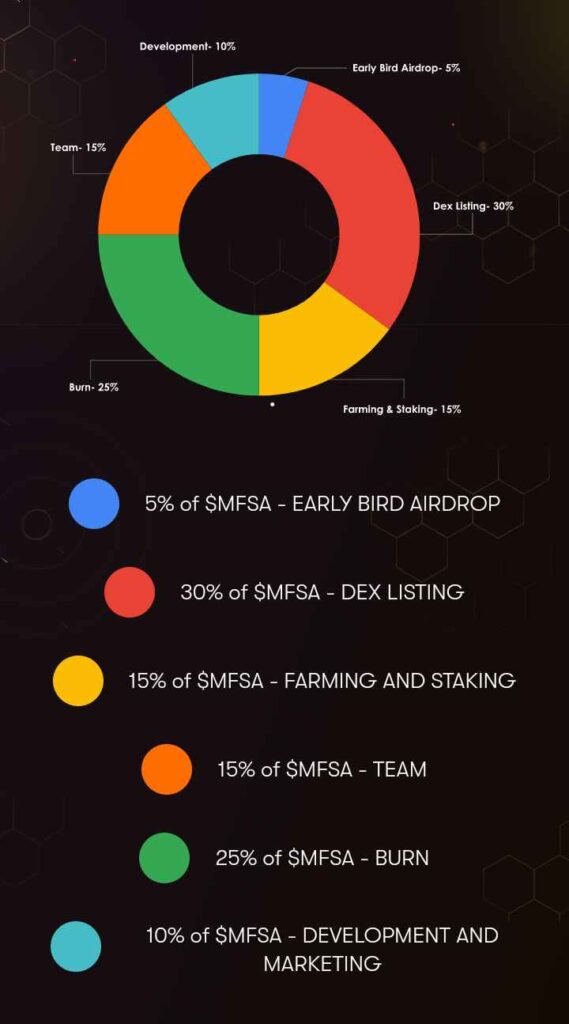 $MFSA Public Sale
The MUFASA Inu Public Sale will be hosted on PINKSALE Launchpad. More details on Participation will be announced via our Social Channels – Telegram, Twitter, Reddit etc
MUFASA Inu Roadmap
Phase 1
Structuring the Ecosystem
Assignment of Teams/Developer Roles
Website launch.
Phase 2
Private Sale
Bounty Program
Early Bird Airdrop
Phase 3
Public Sale
Pancakeswap listing
Liquidity provider and locking
READ MORE: Caketools Presale: What to expect from the next African Coin
Phase 4
Token Burn (Monthly until Allocation depleted)
Coingecko/Coinmarketcap listing
Auditing
Phase 5
Centralized Exchange Choice (Community driven Votes)
Centralized Exchange Listing
Mufasa Inu Token $MFSA Contract Address
0x1d61d2616464F9A227D05ddED4f586697fe6FE77
Mufasa Inu Price
Mufasa inu current price $0.006896 per token.
1 Mufasa Inu ($MFSA Token) = $0.006896
How to buy Mufasa Inu Token
You can buy the new token by going to Mufasa Inu official website then join the community.
Frequently Asked Questions (FAQ)
What is $MFSAINU?
Mufasa INU is a DEFI Deflationary BSC Token Protocol aimed at empowering the world. MFSAInu has the majority of its tokens locked and an allocated portion of supply burnt every month. MFSAInu provides intrinsic value, high worth and a robust ecosystem. The King of the INUs is here to retake the throne!
What blockchain will the $MFSA token operate on?
The MUFASA INU token is built to function on the Binance Smart Chain Blockchain, known for its speed, low transaction fees and several benefits. It is the best choice for the deployment of the $MFSA Token.
What is the total supply of $MFSA Token?
The total marketcap of the $MFSA Token is 1 Billion. With over 20% allocated for burn.
Is the liquidity pool locked?
Yes. After launch, the liquidity pool of the MUFASA INU will be locked for 6 years and above with an openly provable time-lock smart contract.