The Lesotho PayPal account is a solution to the problems Nigerian internet marketers face in receiving payment from overseas.
Every online marketer will need a verified PayPal account that can send and receive money in order to be able to make payments and receive money especially from international clients.
PayPal is one of the most popular and secure means of making payments online, with many popular online marketplaces using it as a payment method.
Getting a verified PayPal account in some countries is difficult as PayPal limits some features in some countries, including Nigeria.
So, in this post I will reveal to you how to create and verify your PayPal account in Nigeria. A PayPal account that will send and receive money and also withdraw money from a bank account.
As blogger or internet marketer, you can always create invoice with Zintego whenever you have need to send invoice to your clients and get payment through Paypal.
Lesotho PayPal account
In this guide, I will show you how to create a Lesotho PayPal account. In Lesotho, PayPal works fine for sending and receiving money in Nigeria.
The Lesotho PayPal account works perfectly as you can use your Nigerian documents when creating the account.
If you are an affiliate marketer or intending to start affiliate marketing, then you need a verified PayPal account which you will be using to make payments and also receive payments.
Requirements for opening a Lesotho PayPal Account in Nigeria
You already know that you need a verified PayPal account as an internet marketer for your easy online transactions.
Below are the necessary requirements for opening a Lesotho PayPal account in Nigeria.
Name: Your legal name (First name and surname)
Valid Email Address: Use to login and also used by your clients to pay you.
A Valid Government issued ID: Either National ID, Voters Card, International Passport, Driver License.
Phone Number: Nigerian phone Number
Your full Nigerian Address: Valid address same as the one on your Government-issued ID card.
How to create a Verified PayPal account
After getting all the requirements for opening a Lesotho PayPal account ready, next step is to proceed to creating the account.
The first step in opening a Lesotho PayPal account is to navigate to https://www.paypal.com/ls/webapps/mpp/merchant to or put the link in your browser and hit the enter key and you will see a page that looks like the one below.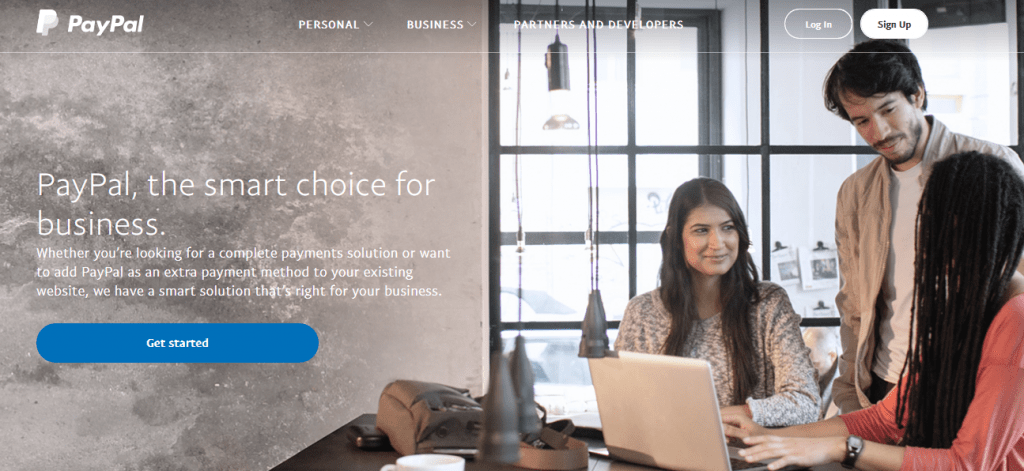 Then click on sign up at the top right corner then you will see the two options "Personal Account" and "Business Account"
You will need to choose Business Account option because that is the one that works perfectly well.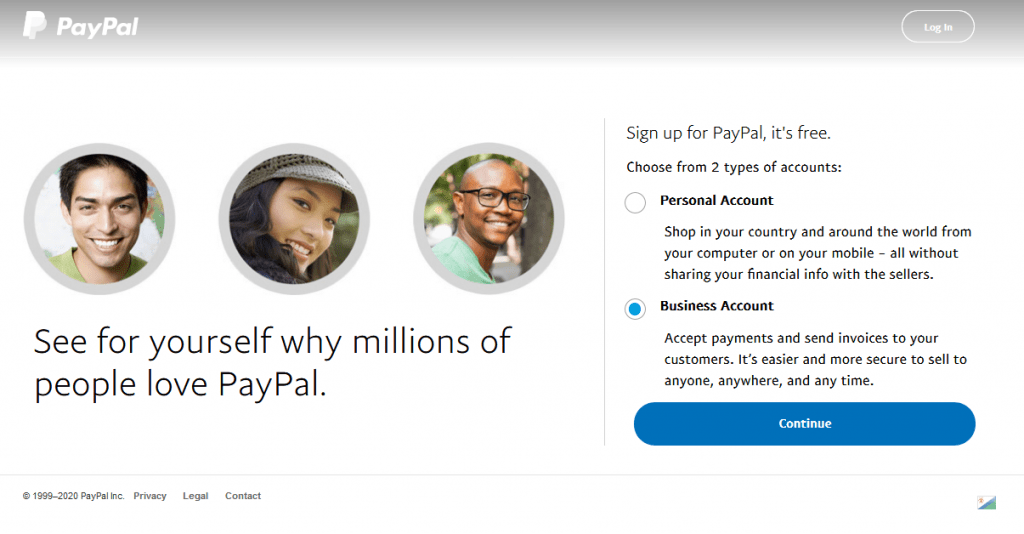 The next page is where you will need to input your valid email address which I believe you have it before now.
If you don't have an email address you can create a gmail account which is easier to create.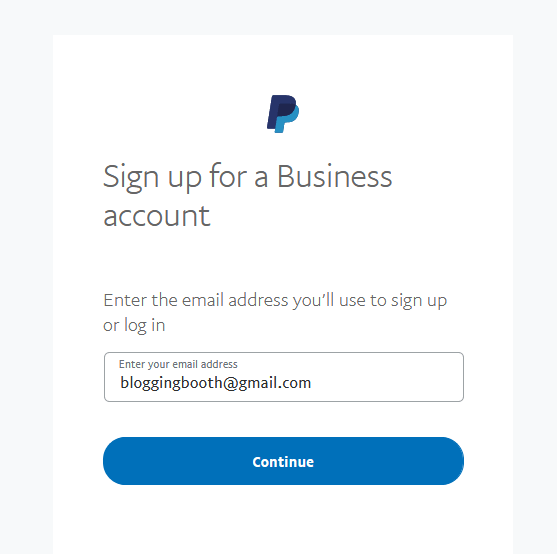 Put your email address and click continue then the next page is where you enter your name, business name and phone number.
Your name must be the same as the one on your Government issued ID Card.
If you are finding it difficult with getting a business name you can use the name of your blog if you are a blogger just like I used Blogging Booth in this guide.
ALSO READ: How to get UBA Africard for secure online transactions (2020)
When typing your phone number, click the badge and find Nigeria flag with country code +234 then select it and input your phone number.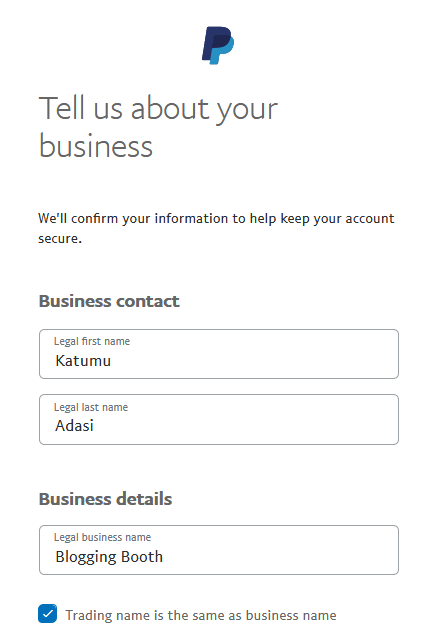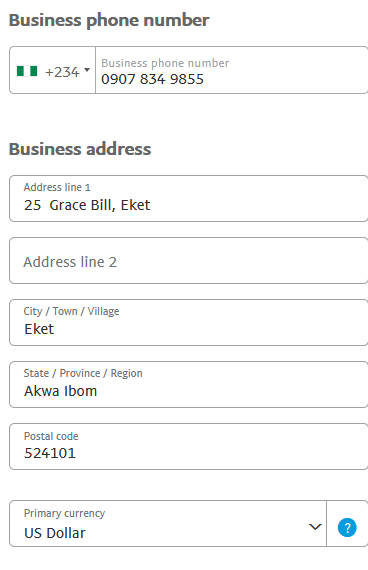 Enter your valid Nigerian address just like the one seen in the image above and choose your primary currency.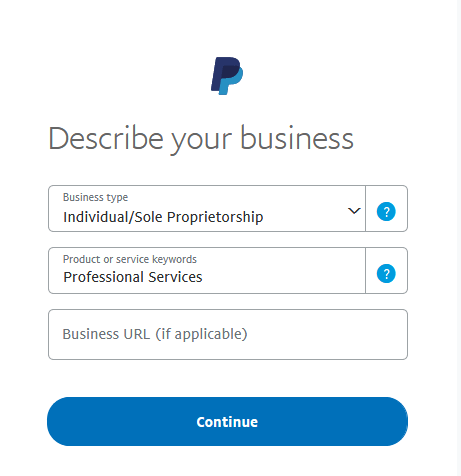 Next step is to describe your business and add your business website if there is any and click on continue to go to the next step.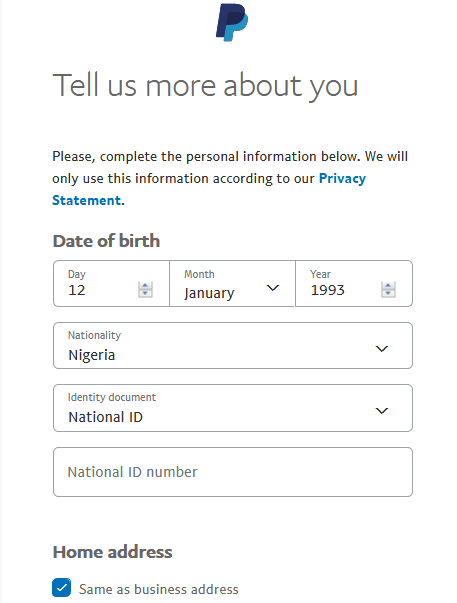 Put your date of birth, choose Nigeria as your nationality, select the identity document you want to use either Voter's Card, National ID, Drivers License.
Any Identity document you used then you need to enter the ID number in the space provided.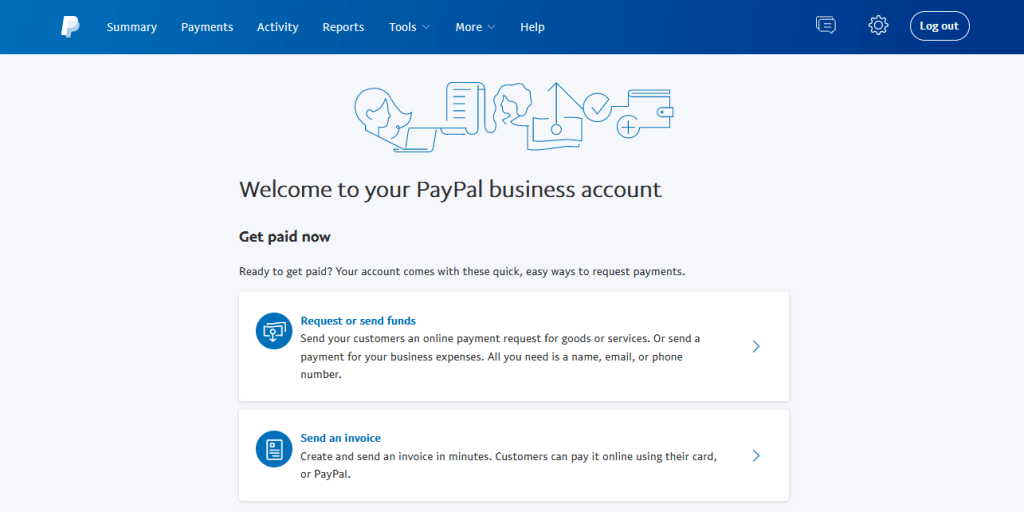 Congrats you have a new Lesotho PayPal account which you will use for your online transactions.
The next important step is to verify your email address. Another important thing is to add your card. Your linked card will be used to verify your Lesotho PayPal account.
How to verify email address
To verify your email address linked to your PayPal account, you need to login to your email inbox then locate an email from PayPal asking you to verify your account.
Kindly click on the "Confirm Email Address" button to verify your email.
Link a Card to PayPal account
You will need a UBA Africard or Wema ALAT card for your PayPal Account verification.
I personally used UBA Africard for my own PayPal Account verification and it works superbly well so I recommend that for you.
Login to your PayPal account, link your card and verify your Lesotho PayPal account.
The procedure is simple, as long as you follow the steps in this verified PayPal account guide your account will be setup successful.
Thanks for reading this Verified PayPal account/Lesotho PayPal account guide, kindly drop your comments, if you have questions or enquiries.