Everyone wants to play games that pay real money because, in reality, everyone needs money for their daily needs. Money is needed in our everyday lives.
Game lovers who were playing for fun, now find ways to make money with what they like to do at their leisure time.
While you do your full time job, side hustle, be it internet marketing or online business of any kind, when you are less busy, you can always play computer games.
Table of Contents
You can earn money by playing online games while lounging on your couch at home, at the beach, in a coffee shop, wherever you may be.
By completing surveys, shopping online, and playing mobile games, you can earn cash incentives. You can win cash, gift cards, and other prizes just for playing.
Games That Pay Real Money
1. Mistplay
You will earn money by playing online games using this Android-only app. Mistplay is a free to download, sign up for, and use gaming platform that allows players to play video games in return for gift cards.
Mistplay was established in 2017 with an emphasis on giving users a setting where they can play games for rewards. Users can participate in in-app games to earn points and gift cards from merchants like Amazon, Google Play, iTunes.
You can level up your avatar to obtain achievements and create units more quickly when playing with pals.
Mistplay that enables you to make money from the time you spend playing them. While you use other apps, Mistplay will monitor your earnings and points by operating in the background.
Only Android users can access Mistplay via the Google Play store. You should be aware that Mistplay has an earnings cap of $50. The $50 can be used to purchase a variety of benefits, such as gift cards or credit for Steam games.
It is safe to say that Mistplay is among games that pay real money. However, you must be 13 years of age or older to register with Mistplay.
Currently, Mistplay is accessible in several European nations as well as the United States and Canada.
2. Swagbucks
Free gaming is one of the numerous ways you can earn on Swagbucks. By taking surveys, viewing movies, and engaging in other online activities, you can also earn Swagbucks.
You can earn rewards wherever you go with the new Swagbucks mobile app and exchange them for gift cards or PayPal cash.
Almost every interest can be satisfied by choosing from a variety of free gift cards, including those from Visa, Walmart, and Target. They offer $5 welcome bonus.
3. Blackout Bingo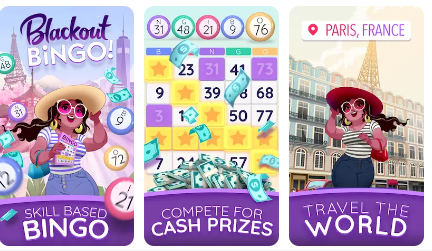 You can win in-game incentives and cash prizes by playing the classic game with a modern, competitive, social twist called Blackout Bingo (where available). Play in amazing and exotic locales with our intrepid hero Chelsea.
A game of chance, bingo. Only having the right card would make you the winner. Blackout Bingo puts YOU in charge by allowing you to play in real-time competition while seeing the same cards and balls as everyone else.
When you are talking about games that pay real money, Blackout Bingo is certainly among the numbers.
What's best? In as little as two minutes, you may win real money! It has advancements that significantly enhance the gameplay experience.
Same balls and cards are shown to every player. To become a master of bingo, you must have focus, quick thinking, and strategy.
4. InboxDollars
InBoxDollars is a cash-based online rewards program called compensates you for your time, attention, and opinion.
It's a reputable business that compensates you for simple internet tasks including viewing videos, reading promotional emails, exploring the web, completing offers, playing games, printing coupons, and more.
InboxDollars gives new users a $5 welcome prize for signing up. After that, in order to earn your first reward, you must accumulate at least $15.
When you receive your first payout, this amount is reduced to $10. You can be compensated with a prepaid Visa gift card, an electronic gift card, or PayPal.
As the name implies, InboxDollars is among the games that pay real money.
5. Blitz
You can earn real money by playing popular games like Solitaire, Bingo, Helix Jump, Ball Blast, Blackjack, Slots, and more on the new gaming competition app called Blitz.
Take part in tournaments, weekly leagues, Brawls, and other competitive 1v1 gaming events. Since its release, Blitz has received over 100,000 downloads, and daily registrations are rising.
With no advertisements, Blitz makes competitive gaming available to everyone. Get $10 in free bonus money to start playing right away.
6. Solitaire Cash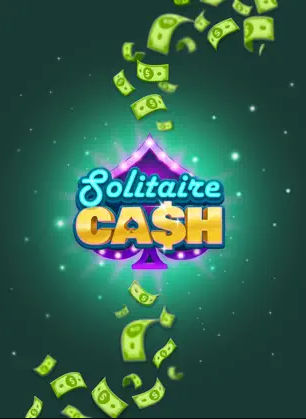 You might win up to $83 each game in a fun, quick version of solitaire by playing it quickly through PayPal or Apple Pay, which makes is an idea addition as one of the games that pay real money.
Play with other players, and if you place in the top 3, you'll win money! Even while the average winning isn't $83 per game, you can play for as little as 2 minutes and have many chances to win.
Even though you can win money for free, if you want to up the ante, deposit money to increase your earnings in skill-based cash tournaments.
7. Bubble Cash
Bubble Cash is available to download for free from the Apple App Store. You must match three bubbles of the same color until there are none left, much like in other bubble puzzle games.
You must pay an entry fee for the cash competitions in real money; they are not free. A few contests, though, do accept the gems you earn while playing the game.
Once you have gathered 120 gems, you can begin participating in contests. You can use PayPal or Apple Pay to withdraw your winnings.
8. Dominoes Gold
thirty seconds. All you could possibly need to start playing dominoes on your phone for some big money is that.
With a 4.7/5 rating in the Software Store, the popular app Dominoes Gold is only growing. It's simple to pick up when you have some free time, straightforward to master, and might help you fast win some extra money.
Play this real-time domino game alone or online against opponents with similar skill levels. Before the timer expires, achieve the highest score to increase your chances of winning big money.
While it is impossible to win money for nothing, there are cash tournaments where you can win bigger payouts ($1000+, but that is not the typical outcome!).
9. Lucktastic
Both a multiplayer gaming software and a rewards website, Lucktastic is neither. Instead, Lucktastic is a no-cost program where users can win actual money, items, and rewards.
One of the best scratch-off games, Lucktastic, allows players to win actual incentives by checking in daily and playing the game.
You would thoroughly like playing Lucktastic if you enjoy the sensation of purchasing lottery tickets or scratch-offs and daydreaming about the money you might win.
There are daily rewards of $500 in Amazon gift cards, and you can win up to $10,000 in card cash prizes.
When you download the Lucktastic app for free, you can have daily chances to win big and the payout threshold is just $1.
10. Solitaire Cube
With the addictive game Solitaire Cube, you may play solitaire on your phone and, if you stake money, participate in cash tournaments.
This application features head-to-head matches and tournaments with monetary rewards (where available).
To arrange the cards according to suit, stack them into heaps. That easy? It is. By competing in cash tournaments for great prizes, you can make real money playing solitaire.
You can also compete against other players in head-to-head matches lasting 1-2 minutes. In fact, you can win money by playing games, and you can withdraw it whenever you want by simply linking your PayPal account.
The following states do not permit prize tournaments: AR, CT, DE, IN, LA, ME, and SD.
Games that pay real money: Final Thought
Are you a serious gamer that plays on your phone a lot in your free time? If so, you might be passing up a chance to earn some extra money.
Personal finance doesn't always have to be about perfecting your spreadsheets; occasionally, it's acceptable to have some fun.
As a result, if you like the idea of trying out some new games and want the chance to win real money, you should definitely look into the cash prizes and free money offered by the applications above.
There are many options accessible to you if you're seeking for an entertaining way to earn money, but it will be difficult to find something as entertaining as winning cash rewards from free game applications.
I believe you now know some of the games that pay real money. You can install any of them and start playing.
Thanks for reading, please kindly drop your comments.