Gaming browsers are specifically designed to provide a smooth and seamless gaming environment, offering features like built-in ad blockers, resource management, and low-latency connections.
When it comes to online gaming, having a browser that is optimized for performance, speed, and compatibility can significantly enhance your gaming experience.
In this blog post, we'll explore the top five best gaming browsers that can take your gaming sessions to the next level. Let's dive in!
Table of Contents
What are Gaming Browsers?
Gaming browsers are web browsers specifically designed to enhance the gaming experience for users. These browsers prioritize features and optimizations that cater to gamers' needs, such as improved performance, reduced resource consumption, and additional customization options.
Why You Should Use Gaming Browsers
If you've ever experienced the frustration of using a resource-intensive browser like Chrome, particularly on a low-memory device, you're well aware of the challenges it poses. Chrome's heavy usage of system resources is a common concern for many users. However, there are gaming browsers available that prioritize lightweight performance while offering extensive customization features.
In addition to its resource-heavy nature, Chrome often receives criticism for its vigilant tracking practices. Google tracks users' online activities, and disabling this tracking entirely is not an option. On the other hand, gaming browsers prioritize your privacy and provide options to prevent the tracking of your online activities.
Features of Gaming Browsers
Are you wondering what are some of the key characteristics of gaming browsers? let's dive in.
Performance Optimization: Gaming browsers are typically optimized for speed and efficiency. They aim to provide a smooth gaming experience by utilizing system resources effectively and minimizing latency.
Resource Efficiency: These browsers are designed to consume fewer system resources compared to standard web browsers like Chrome or Firefox. By reducing the strain on the CPU and memory, gaming browsers allow games to run more smoothly without causing slowdowns or lag.
Customization Options: Gaming browsers often offer additional customization features tailored to gamers' preferences. These may include themes, skins, and extensions that enhance the gaming environment or provide useful tools for gamers.
Privacy and Security: Gaming browsers recognize the importance of privacy and security for users. They may incorporate built-in privacy features, such as blocking trackers and ads, to protect users' online activities while gaming.
Game-Specific Features: Some gaming browsers may include specific features aimed at improving the gaming experience. For example, they might have built-in game launchers, game-focused UI elements, or integration with gaming platforms.
5 Best Gaming Browsers for PC
If you are a professional gamer, you need this one of this gaming browsers to enhance your gaming experience.
1. Opera GX
Opera GX is a gaming browser that has gained significant popularity among gamers. It offers a range of features tailored specifically for gaming. With its GX Control feature, you can limit the browser's CPU and RAM usage to ensure optimal performance while gaming.
It also includes a built-in ad blocker, Twitch integration, and customizable themes to personalize your gaming experience. Additionally, Opera GX offers a network limiter to allocate bandwidth for gaming and other applications, reducing latency during gameplay.
2. Google Chrome
Google Chrome, one of the most popular web browsers worldwide, also delivers an excellent gaming experience. It offers fast and reliable performance, making it ideal for online gaming.
With its extensive library of extensions and support for HTML5, Chrome provides compatibility with a wide range of gaming platforms and web-based games. It also offers advanced features like automatic translation, synchronization across devices, and a vast ecosystem of plugins and apps that can further enhance your gaming experience.
3. Mozilla Firefox
Mozilla Firefox is another top choice for gamers due to its speed, performance, and compatibility. Firefox is known for its strong emphasis on privacy and security, ensuring a safe gaming environment.
It offers features like Enhanced Tracking Protection, which blocks third-party tracking cookies, and SmartBlock, which maintains website functionality while protecting your privacy.
Firefox's extensive library of add-ons and customization options allows gamers to tailor their browsing experience according to their preferences. Additionally, Firefox's resource management capabilities ensure efficient use of system resources, enhancing gaming performance.
4. Microsoft Edge
Microsoft Edge, the default browser for Windows 10, has undergone significant improvements and is now a compelling option for gamers. It offers fast browsing speed and seamless integration with Microsoft services and products.
Edge's built-in performance optimization features, such as Sleeping Tabs and Startup Boost, help enhance the browser's efficiency and speed up loading times for gaming websites.
Furthermore, Edge's compatibility with both Chrome and Firefox extensions allows gamers to access a wide range of customization options and gaming-related tools.
5. Torch Browser
Torch Browser is a lesser-known but feature-rich browser designed for gaming and multimedia experiences. It offers built-in media downloading capabilities, making it easy to save game-related videos or stream content while gaming.
Torch Browser also includes a torrent downloader, a media grabber, and a music player. With its customizable interface, Torch Browser allows gamers to personalize their browsing experience.
It offers a gaming-oriented user interface and integrates social media platforms, enabling easy sharing of gameplay highlights.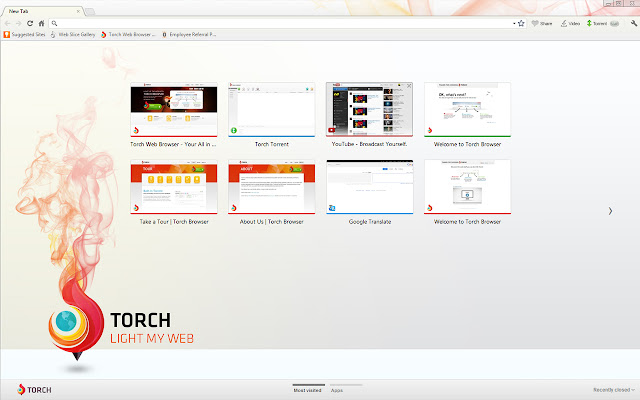 Conclusion
Choosing the right browser for your gaming sessions can significantly enhance your experience by providing speed, performance, compatibility, and additional gaming-oriented features.
The top five gaming browsers mentioned in this blog post, Opera GX, Google Chrome, Mozilla Firefox, Microsoft Edge, and Torch Browser, offer excellent options to meet the needs of gamers.
Gaming is an interesting hobby which reduce stress and you can play games in your car at your own convenience.
Consider your specific requirements, such as resource management, privacy features, customization options, and compatibility with gaming platforms, when selecting a gaming browser. Remember to also keep your browser updated for the latest security patches and optimizations.
So, whether you're playing browser-based games or accessing gaming-related content, these top gaming browsers will ensure a smooth and enjoyable gaming experience. Level up your gaming sessions and immerse yourself in the world of online gaming with these browser options!