If you have been wondering if Earning Money From Gaming is possible, then you should follow the steps in this guide which will guide you to start making money playing games.
Gaming has evolved from being just a hobby or pastime to a full-fledged industry. With the rise of esports and streaming platforms, the idea of earning money from gaming has become a reality for many enthusiasts.
It is possible you play video games in your car if you are fan of playing games irrespective on where you find yourself. You can enjoy yourself with video games.
Table of Contents
But is it really possible to turn your passion for gaming into a viable source of income? In this article, we will explore the various avenues through which individuals can earn money from gaming and examine the opportunities and challenges that come with them.
Professional Esports
One of the most prominent ways to earn money from gaming is by becoming a professional esports player. Esports refers to competitive video gaming, where players compete individually or as part of a team in organized tournaments. Successful esports players can earn substantial income through tournament prize money, sponsorships, and streaming revenue. However, reaching the professional level requires immense dedication, skill, and perseverance, as the competition is fierce.
Game Streaming and Content Creation
Streaming platforms like Twitch and YouTube Gaming have opened up opportunities for gamers to monetize their skills and personalities. By streaming their gameplay or creating engaging gaming content, individuals can attract an audience and earn money through various means, such as:
Subscriptions and Donations
Viewers can subscribe to a streamer's channel or donate money to support them. Streamers often provide additional perks to their subscribers, such as emotes or exclusive content.
Streaming platforms generate ad revenue from the advertisements displayed during a stream. Streamers can earn a share of this revenue based on the number of views and engagement on their content.
As streamers gain popularity, they may attract sponsorships from gaming brands or companies. These sponsorships can include product endorsements, brand integrations, or sponsored streams, providing an additional source of income.
Merchandise and Partnerships
Streamers can create and sell their merchandise, such as t-shirts, hoodies, or gaming accessories, to their fanbase. Additionally, they can collaborate with gaming companies to promote their products and earn a commission from sales.
Game Testing and Beta Testing
Game testing involves playing video games before their official release to identify bugs, glitches, and other issues. While it may not be as glamorous as professional esports or content creation, game testing can be a legitimate way to earn money from gaming. Many gaming companies hire game testers as part of their quality assurance process, either as full-time employees or on a freelance basis. Beta testing, where players test and provide feedback on unreleased games, is another avenue for earning money and contributing to the development process.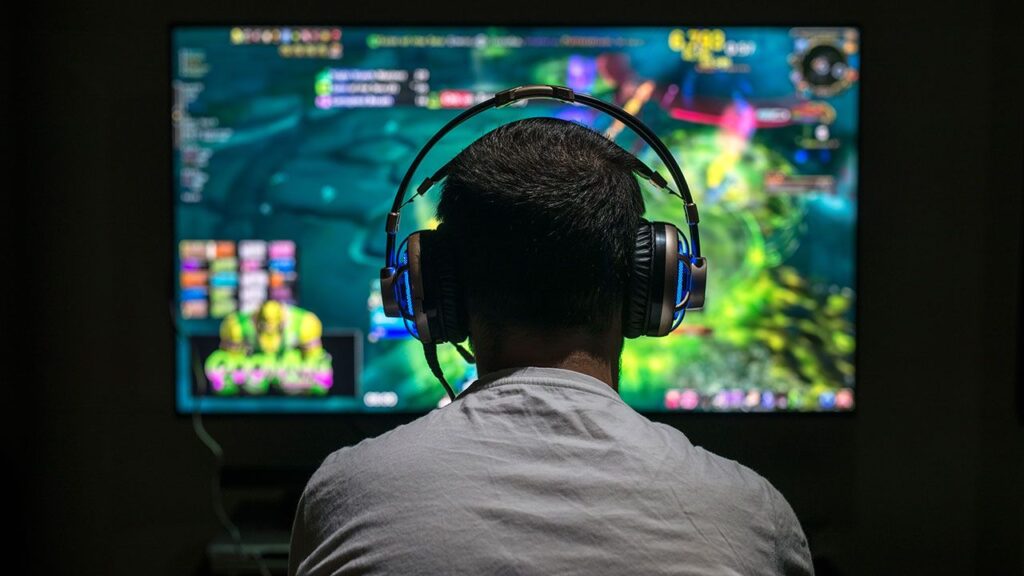 eSports Coaching and Game Guides
For skilled gamers who may not aspire to be professional players, coaching and creating game guides can be a viable option. Aspiring players often seek guidance to improve their skills and knowledge in specific games. By offering coaching services, conducting workshops, or creating comprehensive game guides, experienced gamers can earn money by helping others enhance their gameplay.
Earn Money Playing Games Online
Earning money by playing games online has become a fascinating avenue for gamers to turn their passion into a potential source of income. With the rise of online gaming platforms and eSports, opportunities have emerged for skilled players to monetize their gaming skills and dedication.
One way to earn money playing games online is through competitive eSports tournaments. These organized events bring together skilled players from around the world to compete for substantial prize pools. Gamers can participate in various eSports titles, such as multiplayer online battle arenas (MOBAs), first-person shooters (FPS), or strategy games, depending on their expertise and interest. Successful players can win cash prizes, sponsorships, and even secure professional contracts with eSports organizations.
Additionally, game streaming platforms have opened doors for gamers to generate income through streaming their gameplay sessions. Platforms like Twitch and YouTube Gaming allow players to broadcast their gameplay live to a wide audience. Viewers can support their favorite streamers through donations, subscriptions, or advertising revenue, creating a potential income stream. Streamers can also collaborate with brands for sponsorships and endorsements, further boosting their earnings.
Another way to make money playing games online is through participating in paid beta testing or game reviews. Game developers often seek feedback and insights from dedicated players before launching their titles. Gamers can sign up to become beta testers, providing valuable feedback and bug reports, and getting compensated for their time and effort. Moreover, some gaming publications or websites offer opportunities for players to get paid for writing game reviews or sharing their gaming experiences.
It's worth noting that earning money by playing games online requires dedication, skill, and building a strong online presence. It may take time and effort to establish oneself in the gaming community, attract an audience, or excel in competitive gaming. However, for passionate gamers who are willing to put in the work, this emerging field offers a unique opportunity to monetize their love for gaming and potentially turn it into a rewarding career.
While the prospect of earning money by playing games online is exciting, it's important to approach it with a realistic mindset. Success is not guaranteed, and it's essential to balance gaming with other responsibilities and commitments. Additionally, staying up-to-date with the evolving trends, improving skills, and adapting to the ever-changing gaming landscape are crucial for long-term sustainability in this field.
Earning money playing games online has become a viable option for gamers to transform their hobby into a potential source of income. Through eSports tournaments, game streaming, beta testing, and game reviews, passionate gamers can explore various avenues to monetize their skills and dedication. While it requires dedication, persistence, and adaptability, the opportunity to earn money doing what one loves is undoubtedly an appealing prospect in the rapidly expanding world of online gaming.
Android Games to Earn Real Money
You can earn money by playing games on android at your own convenience without wasting time online chatting or playing games that does not pay you any dime. These real money earning games can fetch you good sum of money online.
Here are some Android games that provide opportunities to earn real money:
This popular live trivia game allows players to answer a series of multiple-choice questions for a chance to win cash prizes. The game takes place at scheduled times, and players who answer all questions correctly split the prize money.
Mistplay is a loyalty platform that rewards players for trying and playing various mobile games. By earning points through playing eligible games, players can redeem them for gift cards from popular retailers.
This gaming app offers a variety of mini-games that allow players to win real money. Games like scratch-offs, slots, and puzzles give players the opportunity to accumulate tickets that can be exchanged for cash prizes.
Solitaire Cube is a competitive version of the classic card game. Players compete against others in head-to-head matches, with real money prizes awarded to winners based on their performance.
Skillz is a platform that hosts a wide range of mobile games, including puzzle, strategy, and arcade games. Players can compete against others for cash prizes and enter tournaments with varying entry fees and prize pools.
Bingo is a fast-paced bingo game where players can compete against others in real-time matches. By winning games and completing challenges, players can earn rewards and cash prizes.
While not exclusively a gaming app, Swagbucks offers various ways to earn money, including playing games. Players can accumulate points by playing select games and redeem them for gift cards or cash through PayPal.
Remember to research and review each game carefully before playing to ensure legitimacy and user reviews. Additionally, it's important to understand any terms and conditions, including withdrawal requirements, before expecting to earn real money from these games.
How to Make Money Playing Video Games at Home
To make money playing video games at home, consider the following tips:
Live Streaming: Set up a live streaming channel on platforms like Twitch or YouTube Gaming. Engage with viewers while showcasing your gameplay skills, and earn money through donations, subscriptions, sponsorships, and ad revenue.
eSports Competitions: Participate in competitive eSports tournaments either as an individual player or as part of a team. Success in these tournaments can lead to cash prizes, sponsorships, and potential professional contracts.
Game Testing: Apply to become a beta tester for game developers. Provide valuable feedback and bug reports, and get paid for testing and evaluating pre-release games.
Content Creation: Create video content related to gaming, such as game reviews, tutorials, or entertaining compilations. Publish them on platforms like YouTube and monetize through ad revenue and sponsorships.
Game Coaching and Tutoring: Share your expertise by offering coaching or tutoring services to other players who want to improve their gaming skills. Charge a fee for personalized training sessions or guides.
Game-Related Freelancing: Explore freelancing opportunities in the gaming industry, such as game journalism, game design, video editing, or voice-over work. Websites like Upwork and Freelancer often have gaming-related gigs available.
In-Game Item Trading: Some games allow players to buy and sell in-game items or currency for real money. Acquire valuable items through gameplay and sell them on platforms like Steam Community Market or player-to-player trading websites.
Remember that making money playing video games requires dedication, skill, and building an audience or reputation within the gaming community. It's important to approach it with a realistic mindset, understanding that success may take time and consistent effort.
How to Make Money Gaming as a Kid
Making money gaming as a kid can be an exciting and rewarding endeavor. Here are a few ways you can start:
Remember to always prioritize your safety and follow age restrictions set by platforms or games. Additionally, parental guidance and consent are essential when exploring opportunities online and engaging with others in the gaming community.
Streaming on platforms like Twitch: If you enjoy playing games and have an engaging personality, you can start streaming your gameplay on platforms like Twitch. Build an audience by interacting with viewers and providing entertaining content. You can earn money through donations, subscriptions, and sponsorships.
Creating YouTube content: Start a YouTube channel focused on gaming and create high-quality videos showcasing your gameplay, tutorials, reviews, or funny moments. As your channel grows in popularity, you can monetize it through advertising revenue, sponsored content, and merchandise sales.
Participating in eSports tournaments: Competitive gaming is a popular avenue for making money. Improve your skills in popular eSports titles and join tournaments where you can win cash prizes or even secure sponsorships from gaming organizations.
Becoming a game tester: Game developers often require testers to identify bugs, provide feedback, and ensure the quality of their games. Look for opportunities to become a game tester either by reaching out to developers or through platforms that connect testers with developers.
Trading in-game items or currencies: Some games allow players to trade valuable in-game items or currencies with other players for real money. Research popular games with active trading communities and learn the market trends to make profitable trades.
Creating and selling game-related merchandise: If you're artistically inclined, you can design and sell merchandise like t-shirts, posters, or keychains featuring popular gaming characters or themes. Utilize platforms like Etsy or Redbubble to showcase and sell your creations.
Providing coaching or tutoring services: If you excel at a particular game, you can offer coaching or tutoring services to other players who want to improve their skills. Create a portfolio showcasing your achievements and offer personalized lessons or guidance for a fee.
Remember, while making money through gaming can be exciting, it's important to balance it with other aspects of your life, such as education and personal well-being. Additionally, always ensure you comply with any age restrictions or guidelines set by platforms and games.
Conclusion
Earning money from gaming is indeed possible, thanks to the growth of esports, streaming platforms, and the gaming industry as a whole. Whether through professional esports, streaming and content creation, game testing, coaching, or creating game guides, individuals can turn their passion for gaming into a lucrative career.
However, it's important to remember that success in these endeavors requires hard work, dedication, and the ability to adapt to a rapidly evolving industry. So, if you dream of earning money from gaming, take the plunge, hone your skills, and explore the various opportunities available. Who knows, you might just transform your gaming hobby into a thriving profession!