In the rapidly evolving world of gaming, cloud gaming services have emerged as a game-changer, allowing players to enjoy their favorite titles without the need for high-end gaming hardware.
By harnessing the power of cloud computing, these services enable gamers to stream and play video games seamlessly on various devices, eliminating the constraints of traditional gaming setups.
In this blog post, we'll explore the ten best cloud gaming services that have redefined how we experience gaming, unleashing the potential to play anywhere, anytime.
If you are playing game on your personal computer using the browser, you definitely need the best gaming browsers for smooth gaming experience.
What is Cloud Gaming?
Cloud gaming, also known as game streaming or gaming-as-a-service, is a technology that allows players to play video games over the internet without the need for powerful gaming hardware or traditional game installations. Instead of running games on a local device, like a gaming console, PC, or smartphone, cloud gaming leverages remote servers in data centers to handle all the heavy processing and rendering.
Cloud gaming services enable you to enjoy your beloved games on any internet-connected device with a display. With the top-notch cloud gaming services at your disposal, you no longer have to worry about your low-end hardware hindering your gaming experience.
How Gaming on Cloud works
Cloud gaming may seem like magic, but it's not. In the past, CDs and DVDs were the only means to watch a movie because the internet lacked the power to handle streaming. As internet speeds improved, streaming services like Netflix, Prime Video, and Hulu emerged, allowing us to watch movies from distant servers.
Now, cloud gaming services do something similar, but with your favorite games! Instead of relying on your hardware, these services utilize their high-end graphical servers to run the games. The game responds to your commands, and each frame is streamed directly to your device. This creates an experience similar to traditional gaming, as long as you have a solid internet connection.
Features of Cloud Gaming Services
Cloud gaming services offer a range of features that enhance the gaming experience and provide convenience and flexibility to players. Here are some key features of cloud gaming services:
1. Accessible from Any Device:
Cloud gaming services allow players to access their favorite games from various devices, including PCs, Macs, smartphones, tablets, smart TVs, and dedicated cloud gaming consoles. This cross-platform support enables gamers to play anywhere, anytime, without being tied to specific gaming hardware.
2. Instant Play:
Cloud gaming eliminates the need for lengthy downloads or installations. Players can start playing games almost instantly after selecting them from the cloud gaming library. This instant play feature saves time and provides quick access to gaming content.
3. High-Quality Graphics and Performance:
Cloud gaming services leverage powerful data centers with high-performance CPUs and GPUs to deliver excellent graphics and smooth gameplay. Players can experience high-quality visuals and performance, even on devices with modest hardware specifications.
4. Game Library and Updates:
Cloud gaming platforms offer a vast library of games from different genres and developers. The game library is regularly updated with new releases and updates, providing players with a diverse selection of gaming content.
5. Cross-Save and Synchronization:
Many cloud gaming services offer cross-save functionality, allowing players to synchronize their game progress and save files across multiple devices seamlessly. This feature enables players to pick up where they left off, regardless of the device they are using.
6. No Hardware Upgrades Needed:
Since the games are run on remote servers, cloud gaming eliminates the need for players to invest in expensive gaming hardware upgrades to enjoy the latest titles. It makes gaming accessible to a broader audience with various hardware configurations.
7. Real-Time Multiplayer Support:
Cloud gaming services support real-time multiplayer gaming, enabling players to connect and play with friends or other gamers around the world. The low-latency performance of cloud servers enhances the multiplayer experience.
8. Flexibility in Subscription Models:
Many cloud gaming services offer flexible subscription models, giving players the option to choose from different plans based on their gaming preferences and budget. Some services also offer free tiers with limited access to games.
9. Social Integration:
Cloud gaming platforms often integrate with social media and gaming communities, allowing players to share their gaming experiences, achievements, and gameplay highlights with friends and followers.
5 Best Cloud Gaming Services
Now, we will explore some of the top cloud gaming platforms, along with their advantages and limitations.
1. NVIDIA GeForce Now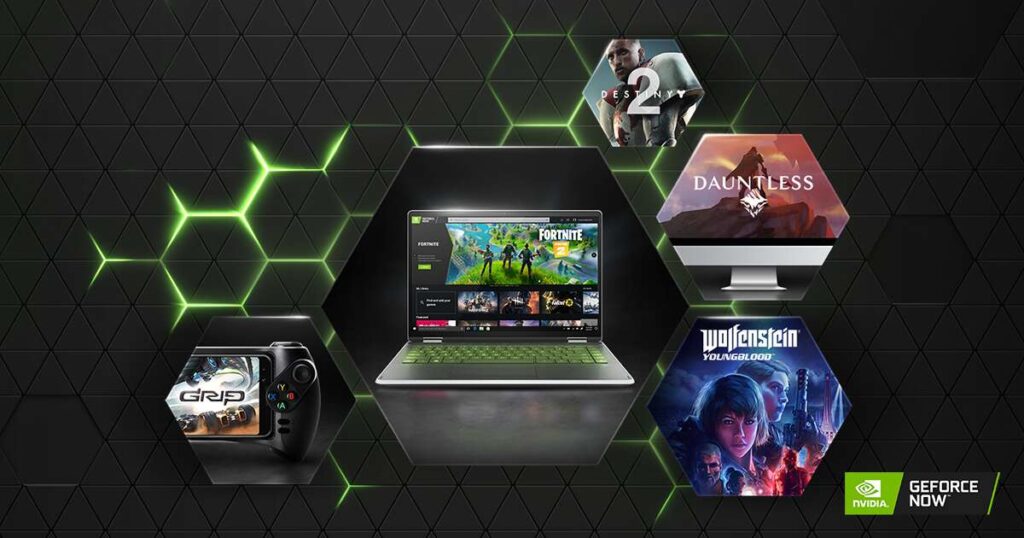 NVIDIA GeForce Now delivers an immersive gaming experience with minimal input lag, although a robust internet connection is essential for optimal performance. Unlike many other cloud gaming platforms that offer a library for purchasing individual games, GeForce Now doesn't provide this option.
Instead, it allows you to integrate games from well-known game clients like Steam, Epic, and Uplay, among others. However, it's worth noting that some games from certain clients may not be supported on GeForce Now.
When using GeForce Now, you can enjoy gaming at a maximum resolution of 1080p and 60 FPS, though games typically start with a native setting of 720p and 60 FPS. The service caters to users on various devices, as it offers applications for Android, iOS, and Mac, and supports a wide range of hardware.
One of the most significant advantages of this cloud gaming service is its exceptionally low input lag, which contributes to a seamless and smooth gaming experience akin to traditional gaming setups.
2. PlayStation Now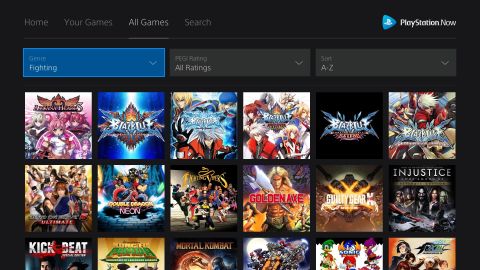 PlayStation Now presents a fantastic option for PlayStation enthusiasts or those who adore PlayStation titles. With a subscription, you gain access to a vast library of over 800 games, which you can fully enjoy at your disposal. The collection includes a delightful mix of legendary PS2 titles and contemporary titles from the PS4 and PS5 eras.
You have the flexibility to either download the games for conventional play or stream them through the PS Now servers. However, there are some limitations to consider. PS Now has restricted cross-platform compatibility and does not support smartphone operating systems like Android or iOS. It exclusively operates on Windows PC or PlayStation Consoles.
Although the library is continually expanding, the service may still feel more geared towards PlayStation users, rather than being a comprehensive cloud gaming platform. Additionally, it may not include the very latest game releases, which could be a drawback for those seeking the newest gaming experiences.
3. Shadow
Shadow sets itself apart from other cloud gaming services by being more than just a gaming platform; it's actually a cloud computing service. Unlike its counterparts that provide a portion of their resources for gaming, Shadow grants users access to an entire dedicated computer.
With Shadow, you receive a fully equipped Windows-based computer boasting RTX graphics, 12 GB of RAM, and a speedy 1 Gbps download speed. What's impressive is that you have complete control over all system settings, just as you would on a conventional machine.
Moreover, Shadow supports every game compatible with Windows, offering a top-notch streaming quality and incredibly low input lag for an unparalleled user experience. While the monthly subscription cost may be higher compared to other cloud gaming services, Shadow's remarkable feature set makes it one of the best choices available.
4. Amazon Luna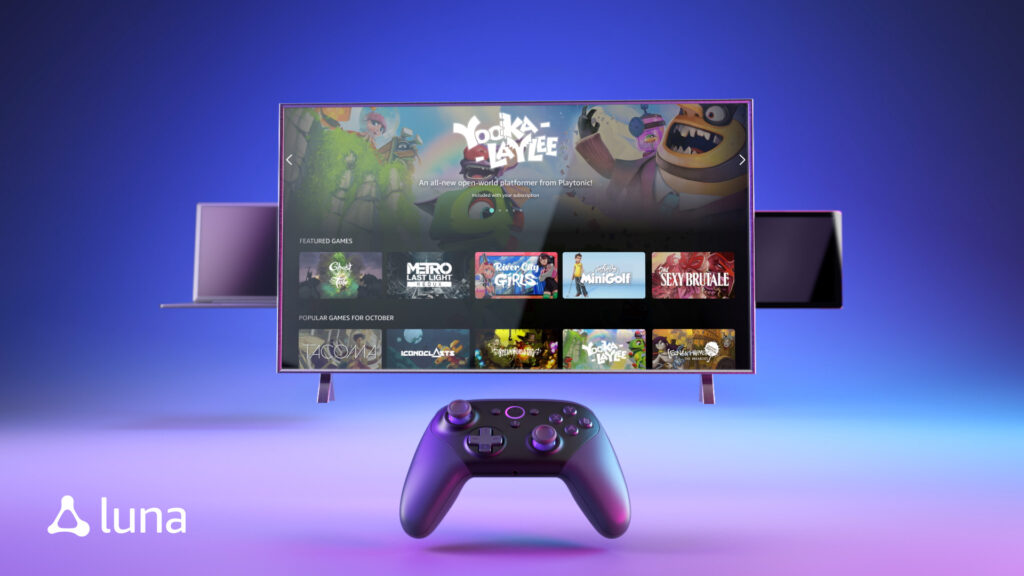 Amazon Luna is a recent addition to the lineup of top cloud gaming services. Although its game library is currently limited, it is rapidly expanding, promising a decent gaming experience.
Currently, Amazon Luna exclusively supports web browser-based gameplay. However, by utilizing the Luna controller, you can significantly enhance the service's feature set. The Luna Controller seamlessly connects to your devices while playing Luna games, providing players with improved control and responsiveness.
To reduce latency and avoid input lag, the controller connects to a separate Wi-Fi connection. Additionally, you can conveniently switch between multiple devices running the cloud gaming service using the Luna Controller.
Luna's game selection includes titles like Wonderful 101: Remastered, Ride 4, and Narita Boy. Moreover, subscribers have the option to add Ubisoft+ to their subscription, granting access to renowned AAA titles such as Assassin's Creed: Valhalla, Watch Dogs: Legion, Far Cry 5, and many more.
5. Playkey
Instead of relying on conventional centralized servers, Playkey employs Blockchain technology for its cloud gaming services. This unique approach makes it a win-win solution for both crypto miners and gamers. Users can choose between contributing their device's computing power to mine cryptocurrency as part of the blockchain network or simply utilizing Playkey's traditional cloud gaming service.
Playkey's servers are equipped with high-performance hardware, featuring the Nvidia GeForce 1080 Ti with 3584 CUDA 11 GB, i7 4 cores, and 20GB RAM, ensuring an optimal cloud gaming experience. The service is compatible with any device boasting more than 1 GB RAM and a 1.5 GHz processor. However, it currently does not support mobile devices, functioning exclusively on desktop operating systems.
The platform has established direct partnerships with prominent game developers such as Ubisoft, Bethesda, and WarGaming, granting access to their libraries. Additionally, users can integrate their Steam library or make individual game purchases through Playkey.
The gaming experience on Playkey is remarkably smooth, with minimal stutters and input lag. Users can choose from various game settings, ranging from 720p at 30 FPS to 1080p at 120 FPS, with higher settings demanding more bandwidth. Notably, Playkey offers the convenience of making payments through cryptocurrencies, catering to those who prefer conducting transactions using digital currencies.
Conclusion
Cloud gaming services continue to revolutionize the gaming industry, providing accessibility, convenience, and flexibility to players worldwide.
There are several games that pay real money which you can play and make money at your own convenience without having to play for fun only.
Whether you're a casual gamer or a dedicated enthusiast, these five best cloud gaming services offer an array of options to embark on an immersive gaming journey anytime and anywhere. Embrace the power of cloud gaming and unlock new horizons in the realm of interactive entertainment!