Here is a Motley Fool stock advisor review with facts and information you need to find out before jumping on the opportunity.
The stock market has undoubtedly been on a rollercoaster ride in recent months.
You might be thinking if picking stocks and deciding what and when to buy and sell on your own is the best option.
After a handful of friends recommended Motley Fool's Stock Advisor, things became a lot easier – and my net worth grew.
Table of Contents
I always advise against investing in a platform which you barely know about. That is why I took time to write this Motley Fool stock advisor review.
What is the Motley Fool?
The Motley Fool Stock Advisor service is the company's premium stock-picking service. For more than 25 years, the organization has provided customers with investment insights and financial counseling.
Two monthly stock recommendations, one each from Motley Fool co-founders David and Tom Gardner, track high-growth stocks and are presented in thorough email newsletters presenting a case for and detailing the possible hazards of each company.
If you're unfamiliar with Motley Fool, it's a private financial and investment advisory firm.
David and Tom Gardner founded Gardner Brothers in 1993 with the goal of "making the world smarter, happier, and richer" by giving excellent business and investing advice.
The Gardners wanted to speak the truth and were never hesitant to question conventional thinking, much as the Shakespearean court jester could proclaim the truth to the king and queen (without having his head chopped off).
The Stock Advisor by Motley Fool, which launched an online subscription platform with investment suggestions, stock research, and analysis, is ideal for folks like me (i.e., those who don't have hours each day to examine companies and don't want to pay a broker to do it for them).
What Is Motley Fool Stock Advisor?
In this Motley Fool Stock advisor review, you will find out about the Motley's Fool's advisor's pick.
The Motley Fool Stock Advisor software, created by Fool.com's stock market experts, includes a plethora of extra features and recommendations, including:
Best Stocks to Buy A monthly rotation of top stock recommendations chosen from over 300 applicants.
Starter Stocks are a collection of blue-chip and growth stocks designed for new investors.
Premium reports and articles are only for paying members.
Members can discuss tips and techniques with other members of the financial community on premium community boards.
READ MORE: Credit Sesame Review 2023: Debit Card, App, Legit or Scam?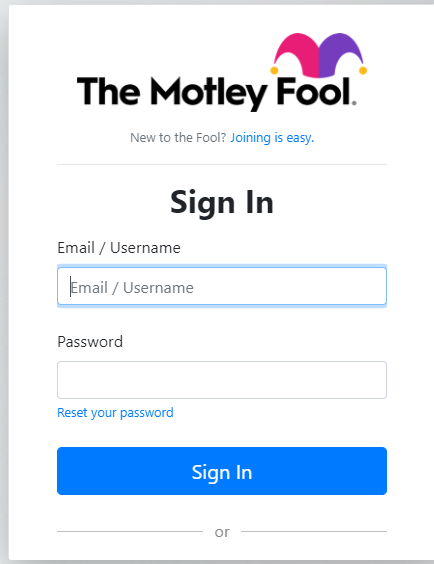 What is Stock Advisor Suitability?
Stock Advisor from the Motley Fool isn't for everyone.
Stock Advisor members are advised to develop diversified portfolios of at least a dozen recommended stocks, and to buy and hold all recommended stocks for at least three to five years, according to the Motley Fool.
The Motley Fool makes no claims that their Stock Advisor will get you rich soon, and it makes no guarantees about the returns on any of its suggestions.
Long-term investors who want to match, not beat, the performance of larger stock market indices should avoid Motley Fool Stock Advisor.
Features of Motley Fool Stock Advisor
1. Starter Stocks
Starter Stocks are great for new investors trying to construct solid stock portfolios from the ground up, according to the Motley Fool.
The components of the list are updated at least once a year. They should be included in portfolios with at least 15 different equities, according to Stock Advisor.
2. New Recommendations
Subscribers to The Motley Fool receive two "new suggestions" each month, one from each of the Fool's co-founders, David and Tom Gardner.
Each suggestion comes with its own email newsletter that outlines:
What the business does
The company's and its stock's most important information (e.g., market capitalization and price as of the recommendation date)
Who are the company's clients or customers?
Who's the boss? (key executives and board members)
Why should Stock Advisor members buy?
Risks associated with the recommendation, such as potential "sell" triggers
3. Email Subscription
You're instantly enrolled in Stock Advisor's email newsletter when you sign up. Each month, you should expect to get four to eight emails.
Enrollment is required; you will not be able to unsubscribe from the newsletter unless you cancel your subscription.
4. Stock Watchlist
The Watchlist function in Stock Advisor isn't groundbreaking anyone who has spent time on Yahoo! Finance or the back end of an online brokerage platform will recognize it but it's nonetheless useful.
To set up a real-time flow of news and analysis for your favorite stocks, just search and add tickers
It's a terrific approach to filter down the universe of Stock Advisor recommendations to only the ones that ring true for you.
READ MORE: How to Find the Next Crypto Gem with 100x & Make Profit
5. Favorites
The Favorites option in Stock Advisor is another location to keep track of the stocks you're interested in or have already invested in.
If you want to bulk-import your holdings and brokerage watchlist stocks, you can safely link your brokerage account to your Motley Fool account.
After you've imported your assets, you'll get "buy" and "sell" recommendations automatically.
6. Best Stocks to Buy
The Best Stocks to Buy dashboard is the first thing you'll see when you check in to your Stock Advisor account.
Every Thursday, this 12-stock dashboard is updated, and every month, it is totally refreshed.
On the Best Stocks to Buy list, individual recommendations frequently reappear.
Since David Gardner's first selection in September 2002, Amazon has appeared more than 30 times.
Each pick contains a condensed version of the full dossier that comes with newsletter recommendations, updated to reflect current industry or company changes, such as Amazon's 2017 acquisition of Whole Foods, which raised David Gardner's assessment of the company even more.
7. Premium Discussion Boards
More than two dozen members-only discussion boards on the Motley Fool Stock Advisor address topics such as:
Basics of Investing
Investing Techniques
Finances for Individuals
Stock Advisor's Best
You'll need to create a user name before you can post on any of these message boards.
You're not obligated to join; many Stock Advisor members lurk on their favorite message boards, passively absorbing fellow members' ideas without providing their own.
8. Stock Screener
This is yet another non-revolutionary tool that is really useful for market watchers.
You can use to check market segment (e.g., energy or consumer), volatility in stock prices, asset class advice from an advisor strength of conviction (e.g., "high" or "neutral") and yield on dividends.
Other features of Motley Fool Stock Advisor are:
Performance Tables & Charts.
Premium Research Reports.
Premium Articles.
Optional Email Subscriptions.
Scorecard
Motley Fool Stock Advisor Price
Motley Fool stock advisor review wont be complete without including the price.
Below are are the pricing:
| | |
| --- | --- |
| Plan | Price |
| Monthly Subscription | $39 |
| Annual Subscription | $199 |
| Discounted Annual Subscription | $99 |
Motley Fool Stock Advisor Review: Is Motley Fool Legit?
Simply put, Motley Fool Stock Advisor's 700,000+ members know the secret: the stock suggestions are not only legitimate, but they also outperform the S&P 500 by triple-digit percentages on average.
83 percent of the picks were lucrative during the last four years.
Not quite, but what kind of stock is it? Stock Advisor's track record speaks for itself: it has returned about 500 percent since its inception in 2002.
Is Stock Advisor supposed to make you wealthy? No, however it is intended to deliver constant and consistent growth in order to increase your wealth.
I strongly advise you to check out Motley Fool's Stock Advisor, which costs less than $100 for the year and comes with a full refund if you cancel within 30 days.
How to get started with Motley Fool Stock Advisor
After reading this Motley Fool stock advisor review and you are ready to get started, go to the Motley Fool official website and sign up now.
Pros and Cons of Motley Fool Stock Advisor
While you area reading my honest Motley Fool stock advisor review, you need to know the advantages and disadvantages of what you are getting into.
Pros:
No need for aggressive trading or time the market.
Since its start, new customers have been able to browse active recommendations.
Access to closed recommendations is included with no obligation beyond your subscription term.
There are numerous opportunities to learn from seasoned investors.
Tons of High-Quality Content.
Cons:
It's just one of Motley Fool's many premium services.
All premium content doesn't require a subscription.
There is no way to opt out of the Stock Advisor email newsletter, and there is no guarantee that the annual subscription discount will remain in effect. Canceled subscriptions will not be prorated.
Long-Term Subscribers Must Also Pay Attention to "Sell" Recommendations
Conclusion
Thanks for reading this Motley Fool stock advisor review, I believe you have found what you were looking for.
Investing in stocks is inherently risky. The Motley Fool, to its credit, does not indicate differently.
The sales brochure for the Motley Fool Stock Advisor clearly states that some Stock Advisor recommendations are duds, that members must be willing to buy and hold for several years, and that portfolios with a dozen or more options outperform their less-diversified equivalents.
If you're fine with all of this and are prepared to pay anything from $99 to $228 each year for hand-picked stock recommendations, you can't go wrong with Motley Fool Stock Advisor a tip sheet that, unlike many imitators, has more than a decade of outperforming the market.
Just keep in mind the fundamentals of investing along the process.
You are not compelled to act on any Stock Advisor suggestions, and you should never invest more than you can afford to lose in non-FDIC-insured securities, no matter how sound a tip appears to be.