Hey guys in this credit sesame review, I will tell you all you need to know about the company to find out if it is legit or scam.
To be financially successful and independent, you must have a thorough awareness of your overall financial situation.
Knowing your net worth, having a good financial plan and retirement savings, and sticking to a budget are all essential components of this picture.
However, knowing your whole credit profile by continuously monitoring your credit report and putting your best financial foot forward is a factor that is frequently disregarded.
Table of Contents
You'll get the best interest rates on vehicle and house loans, as well as lower annual percentage yields on credit cards, if you have a good credit score.
However, keeping track of your credit profile might help you discover fraudulent behavior and identity theft, which 294 million people reported in 2021.
Credit Sesame is one company that is striving to make it easier for you to keep track of your credit profile.
This Credit Sesame review shows you how to keep track of your credit profile, but what is Credit Sesame, let's find out.
What is Credit Sesame?
Credit Sesame, based in Mountain View, California, began offering free credit scoring and credit reporting in 2010.
It also offers monthly credit score updates and other incentives. TransUnion, one of the three credit bureaus that reports on your credit, is a partner of the company.
Features of Credit Sesame
There are some vital features of Credit Sesame which you will find below:
1. Free credit score
To examine your credit, Credit Sesame will obtain your information from TransUnion. This free service will explain what factors affect your credit score in an easy-to-understand manner, so you know what to work on to improve it in its credit report card.
2. Mobile protection
It's unclear why a credit monitoring company or bank would provide mobile device protection, but why argue with something that works? Theft and some sorts of damage are insured up to $500 per year.
3. Finance Management
You'll have all of your finances available for viewing in one platform to assist you manage your finances if you pull your TransUnion VantageScore every month and attach it to your debts.
Credit card bills and other debts can be scheduled and paid using your associated bank account. (This is why it's a good idea to keep credit card data on your platform.)
4. Free identity theft protection
Identity theft protection from the company is identity theft insurance that covers you for up to $50,000 — for free.
If your identity is stolen, you will be safeguarded and Credit Sesame will assist you in rebuilding your credit.
5. Credit monitoring
Credit monitoring services send you real-time alerts about changes in your credit score as well as credit checks to look for inaccuracies on your credit report.
6. Sesame Cash
Credit Sesame is a financial firm that offers a digital checking account that pays you money if you improve your credit score.
Transfer money to your online bank, and if your credit score improves by 10 to 99 points in a month, you'll get a $10 bonus, up to $100, to help you save money while improving your credit.
There are no monthly service costs, no necessary minimum balances, no international transaction fees, and free access to over 55,000 ATM locations across the world.
Credit Sesame is secure to bank with because it is FDIC insured through Community Federal Savings Bank.
You can get your money two days early if you link your pay to your Sesame bank account.
7. Savings recommendations
Credit Sesame can assist you with both spending and saving. Reviewing your credit and debt will help you save money by customizing and recommending credit cards or loans that are suitable for you.
8. Cash back Anytime
When you shop online or at participating retailers with your Sesame Cash debit Mastercard, you can receive cashback, which helps you save money while you shop.
Nike is offering a 10% cashback deal, while Circle K is offering a 5% cashback deal.
You can use your debit card with Apple Pay, Google Pay, or Samsung Pay on a mobile app.
READ MORE: Iron Trade Review 2023: Could this be a Scam?
How does Credit Sesame work?
If you have come across any other Credit Sesame review, then you have not gotten the necessary information you are looking for then look no more, you will everything here.
To take use of the free service, you'll need to create an account and supply thorough information – after all, they're checking your credit. They do an excellent job of explaining why they require the data.
Credit Sesame Pricing
| | |
| --- | --- |
| Plan | Monthly Price |
| Basic | Free |
| Advanced | $9.95 |
| Platinum | $19.95 |
Credit Sesame free account
Credit Sesame is completely free, even if it does provide you with $50,000 in identity theft protection.
There are no hidden costs or gimmicks when it comes to viewing your free credit report.
Because the free membership is so amazing, when it shows advanced capabilities that may cost money, I believe they are completely legitimate and entice me to sign up.
Credit Sesame Advance account
For $9.95 per month, the Advanced service includes a daily credit score update, a monthly three-bureau credit score update (TransUnion, Equifax, or Experian), and a monthly three-bureau comprehensive credit report.
Credit Sesame Platinum account
In the event that your wallet is lost or stolen, the Platinum Protection service is accessible with live specialists available 24 hours a day, 7 days a week.
This premium service monitors black market websites, public records, and social security numbers to warn you to suspect activity before it becomes a problem.
This platform costs $19.95 each month and includes identity theft protection of up to $1 million.
Credit Sesame Review: Is it legit?
This is what you have been waiting to hear while reading this Credit Sesame review.
YES, Credit Sesame is legit.
If you're asked today, there's no reason you shouldn't know your credit score. These days, even your credit card firms can provide you with free credit reports.
Credit Sesame's free service is a must-have in your financial portfolio of applications since staying on top of your credit report and regularly monitoring it can save you time and money in the long run.
How to create free Credit Sesame account
Follow the steps below to claim a free Credit Sesame account:
Navigate to Credit Sesame website.
Click on sign up or Claim Free Account.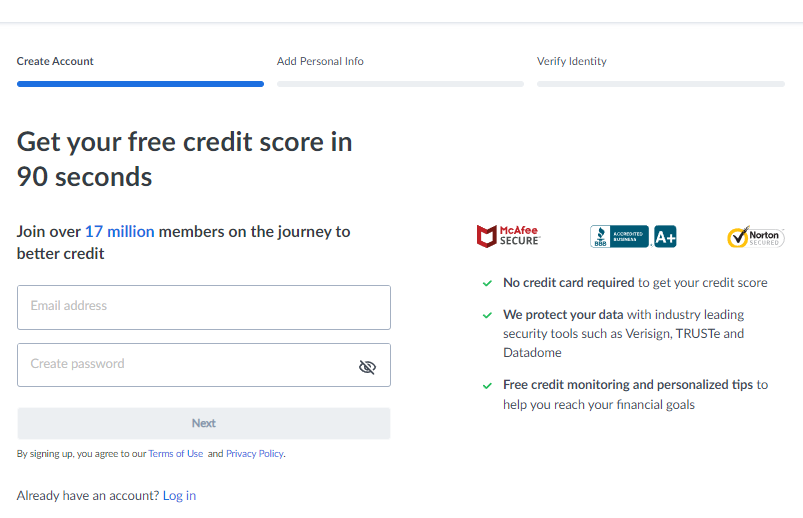 3. Fill in your email address and choose your preferred password.
4. Enter your personal information then proceed.
5. Verify identity.
6. Submit your application.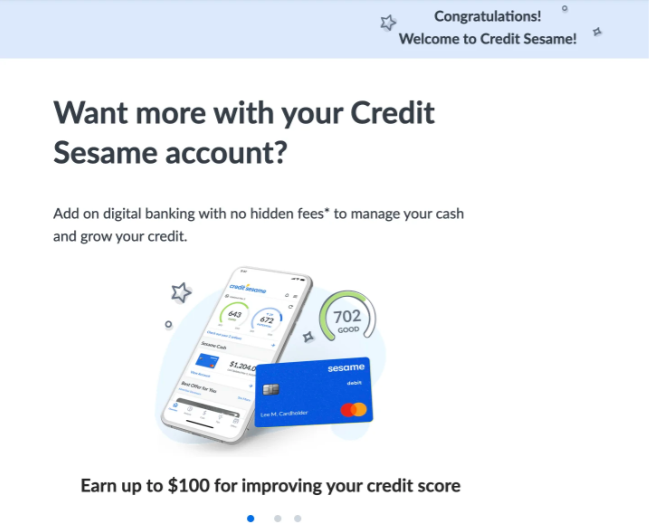 Then you're all set. However, Credit Sesame will initially try to get you to join their bank but you are free to skip it.
More on this Credit Sesame review, you will learn more about their bank and how they operate.
To get my whole credit report, you must sign up for one of Credit Sesame's Advanced or Premium accounts.
READ MORE: HFX Academy Review: Trading, Login, Signup, Price, Free Legit or Scam)
Pros and Cons of Credit Sesame
This is undoubtedly one aspect you will need to known while reading this Credit Sesame review. It's vital to know the advantages and disadvantages of what you are doing.
Pros:
Credit Sesame offers exactly what it says on the tin: it gives you your credit score for free in under 90 seconds.
There is no charge for credit reporting. You'll also notice where you need to focus on items to enhance your credit score in that review.
Cons:
Without paying, you won't be able to see the entire report.
Given that each of the three credit agencies provides one free complete report per year to those who request it, paying to get the full report on Credit Sesame isn't worth it unless you need the other services that come with the monthly fee.
Conclusion
If you read this Credit Sesame review to this extent then you have have find gotten the information you have been looking for.
You can rely on the platform to know your credit profile. Credit Sesame is legit. There has not been any scam issues with their name.
Through monthly credit score updates and other incentives, Credit Sesame provides free credit scoring and credit reporting.