In this Abeg App review you will find out everything about the payment platform which everyone is talking about.
It is always wise to read reviews about products or services before you make the decision of putting your money to avoid being scammed.
The same goes with Abeg App, after reading this post to the end, you will find out if it is legit or not.
What is Abeg App?
Abeg App is a payment platform for sending, receiving and donating money to an important cause.
Abeg App offers the flexibility to receive and send money using cash transfers.
Who owns Abeg App?
Dare Adekoya is the founder and CEO of Abeg Technologies. He is an entrepreneur, product designer and tech enthusiast.
Dare Adekoya is a young, self-made billionaire and under 30 CEO.
Abeg App Mission and Vision
Their vision is to be the best Peer to Peer (P2P) service in Africa by creating a large community of people sending and receiving money instantly.
Their mission is to meet and exceed the expectations of customers by providing the easiest, fastest and most effective ways to send, receive and pay for stuff through peer to peer (P2P) transfers.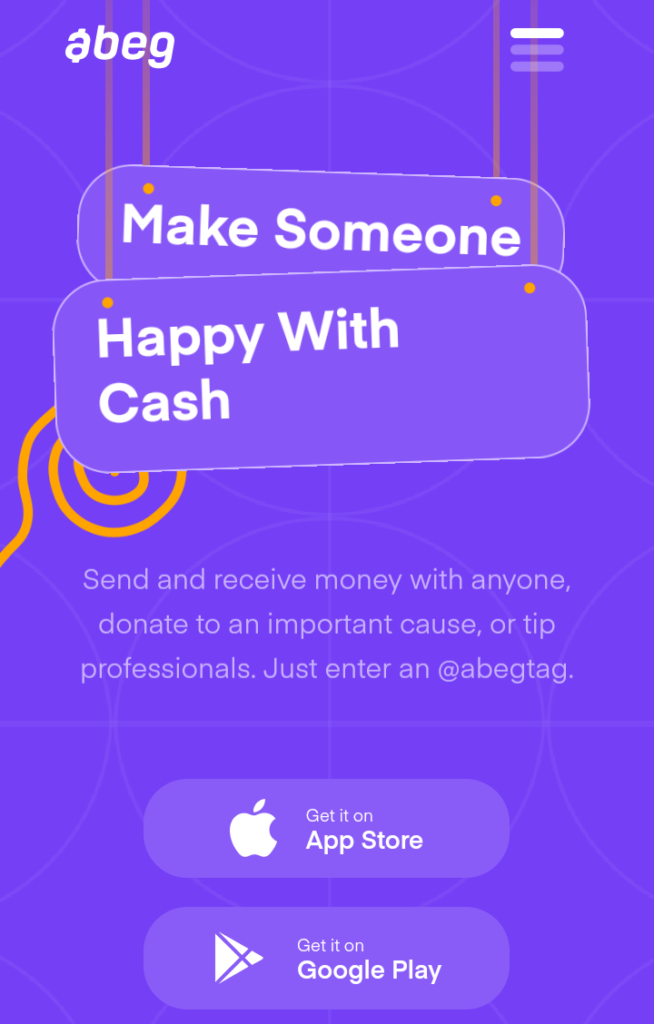 Abeg App Review: Is It Legit or Scam?
Abeg App is a legit payment platform that was founded in 2019, by a young Nigerian Dare Adekoya.
The platform is trusted by thousands of users who gave their testimonies after making use of the Abeg App.
READ MORE: Chiji14Xchange Review 2021: Is it Scam or Legit?
Benefits of Using Abeg App
Reliability and Consistency
The platform is dependable and reliable, we believe in building and managing strong relationships and understand that trust is built through consistency.
Abeg App is dedicated to its customers and getting the job done. The team is committed to the success of the business, the company mission and vision statement and to each other.
They are authentic, open, honest and constantly strive to clearly communicate their services with customers and also within the team.
Creativity and Innovation
Abeg App likes to constantly challenge the conventional way of doing things by finding fun and more effective ways of doing them.
How to Send & Receive Money with Abeg App
To start sending and receiving money with the Abeg App, follow the steps below:
Install Abeg App on Google Playstore for Android and App Store for iPhone users.
Sign up using your personal details.
Add your BVN.
Start sending and receiving money instantly.
How to Contact Abeg App
You can contact them using the email below:
You can also follow Abeg Technologies on their social media pages.
READ MORE: Crowdyvest Review 2021: Is It A Safe & Secure Way To Invest?
Frequently Asked Questions (FAQ)
How do I send money anonymously?
You can send money anonymously by long pressing the 'Send' button.
I can't request money from people by using their Abeg tag, help
Sorry but you can only request money from people on your contact list.
The number I used for my BVN is different from the number I used to register for the Abeg, please help
Our customer support agent can help with this, send a message to us on twitter @abeg_app or send an email to [email protected]
Is Abeg available in other countries?
Sorry but Abeg is only available in Nigeria for now.
How do I become verified on Abeg?
To get verified you'll need to have done several giveaways, minimum of NGN250,000.
Is there a limit to the amount I can transfer or receive?
Yes, the minimum amount of money you can transfer is NGN1 and the maximum amount of money you can send is NGN1,000,000
What should I do if I forget my password?
No worries, if you forget your password just click on the 'Forgot Password' text on the sign in page of your Abeg app to start your password retrieval process.
How do I change my Abeg pin?
Our customer support agent can help with this, send a message to us on twitter @abeg_app or send an email to [email protected]
What do I need to use Abeg?
To use Abeg you'll need a phone (Android or ios), Internet connection and a bank account.
You can read more FAQs on Abeg App.
Conclusion
Abeg App is the new generation means of doing a safe and secure transaction or donation to your loved ones without stress or scam.
Your money is 100% safe with them because there have never been any fraud allegations against them.
Thanks for reading, I believe you find it helpful, please share and don't forget to drop your comments.
What do you think about the Abeg App, the team and the CEO, Dare Adekoya.