In this Foremedia.net review, you will find out all the necessary information you need to know about the Foremedia.net advertising network.
There have been several questions about Foremedia.net, with many bloggers and publishers finding it difficult to use because they don't trust the advertising network.i
Meanwhile, there are several ads network that can make you good money.
Foremedia.net is a new ad network, one of the best, but the question remains "Is Foremedia.net legit?" You will find out as you read on.
What is Foremedia.Net?
Foremedia.net is an advertising network that allows publishers to monetize their website by displaying native ads on their website.
Foremedia.net uses Cost Per Click (CPC) which means you earn money when visitors click on ads on your website.
They also creates an avenue for advertisers to run their campaigns.
Foremedia.net Publishers Requirements
Like other advertising networks, Foremedia has certain requirements before you can be accepted into their program.
Below are publishers requirements before getting approval into the platform:
First and surname
Valid email address
Domain (website URL)
Minimum of 150,000 monthly pageviews
Benefits of Using Foremedia.net
In this Foremedia.net review, you will find the benefits of joining the program.
1. Fast and Easy Setup
Foremedia platform is friendly which makes it easier and faster to set up your account and ad placement.
In 5 minutes, you can set up different ad formats, ranging from push notifications to video ads wherever you want to place the ads.
2. Convenient Payment Methods​
For publishers, receiving payment on the platform is convenient and secured. And advertisers also don't have to worry about loss of money.
3. Dedicated Support
They have dedicated and active customer support to answer questions and also assist in solving problems you encounter.
4. Fraud Prevention
Foremedia has technical professionals to stop malware and fraudulent activities both for advertisers and publishers.
5. Do It Yourself (DIY) platform
Foremedia.net platform is easier to use and they provide self-service to help advertisers create and test ad creatives, adjust ad budget, launch campaigns and monitor ad performance.
How to Create Foremedia.net Account
At the end of this Foremedia.net review, you will be able to create your account and start making money.
Below are steps to set up your Foremedia account:
Navigate to Foremedia.net in your browser.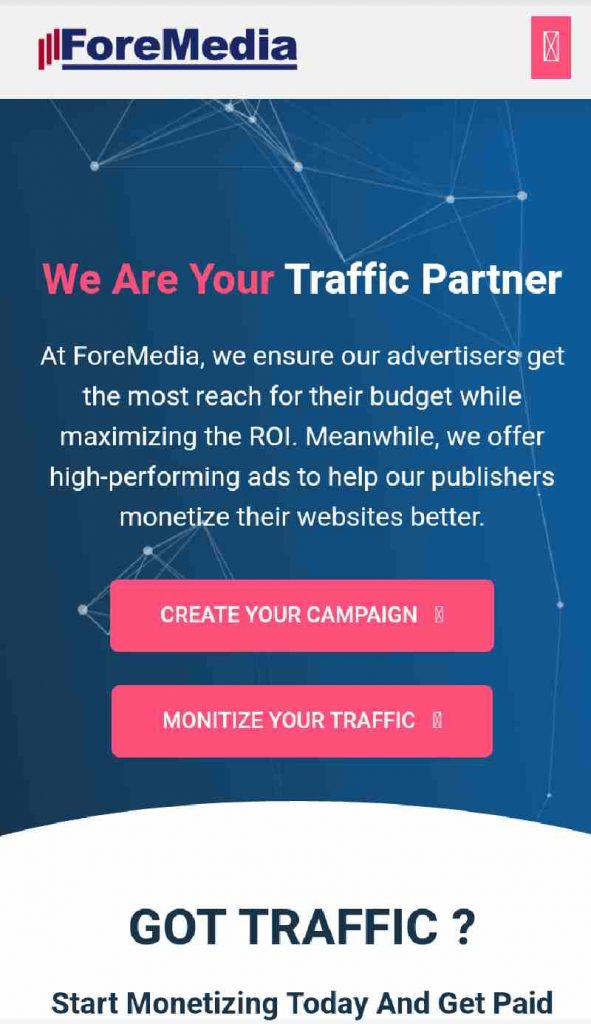 Choose "Monetize your traffic" for publishers.
Fill in your details; name, email address, etc, and submit.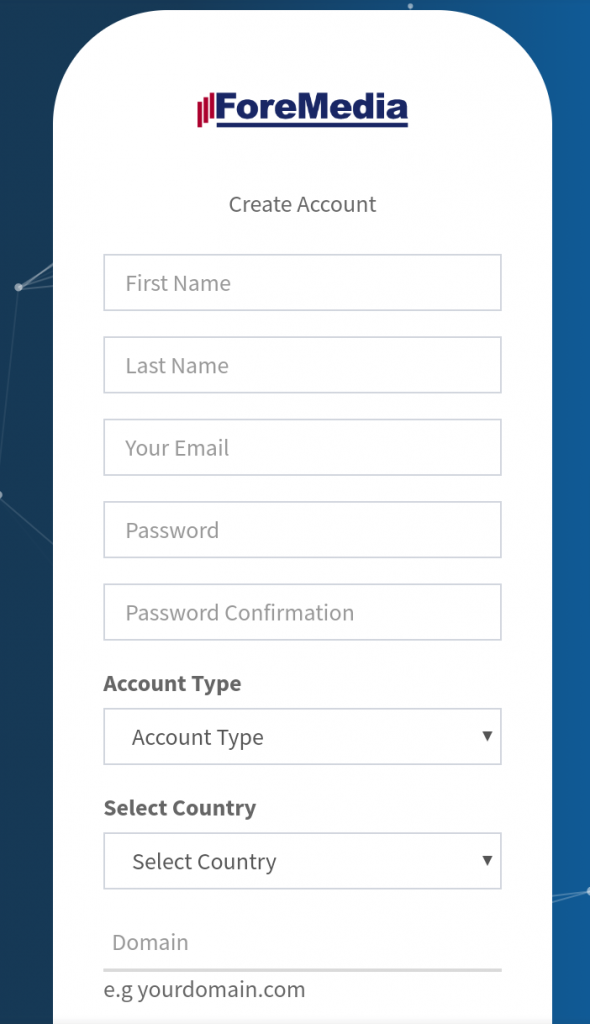 Check your email for the congratulatory message.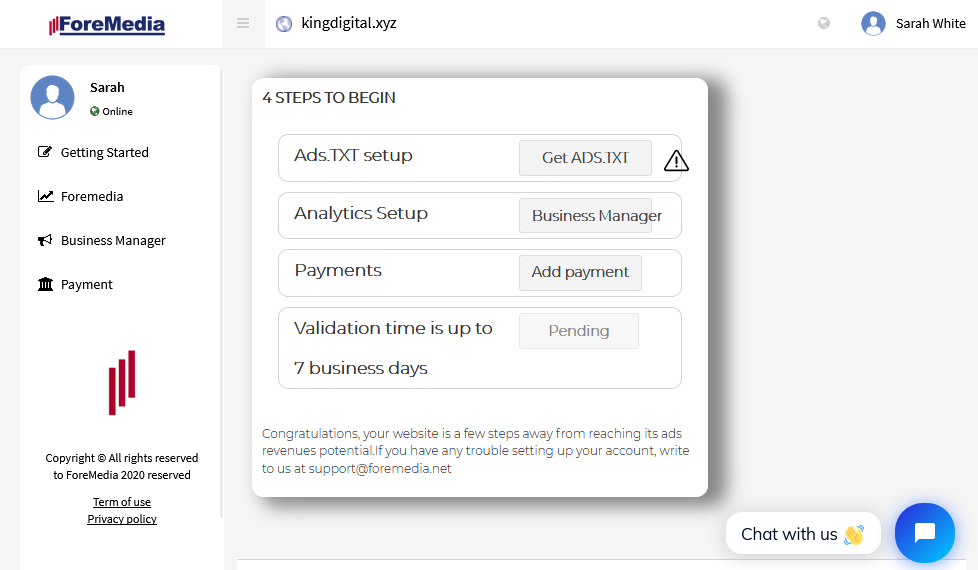 How to Setup Foremedia account on your website
Go to your Foremedia dashboard and set up ads.txt.
Copy the ads.txt. code and paste in the <head> tag of your site.
Copy the analytics code in your Foremedia dashboard and paste it in the <body> tag of your site.
Setup your payment method, they have two payment methods (PayPal and bank transfer).
After setting up everything, wait for approval from Foremedia within 2-3 days.
Foremedia Ads Format
They offer friendly ads format such as:
Display ads
Native ads
Push notifications
Pop up ads etc.
READ MORE: WhoGoHost Review 2021: Hidden Truth Revealed
How to make money with Foremedia.net
While reading this Foremedia.net review, I know what you want to hear is how you can make money online with the ad network.
To make money with Foremedia, you need to have a blog to monetize, if you don't have any, check this article on how to start a successful blog from scratch, that will help you get started.
After creating your blog, next is to create content, build backlinks to improve SEO, and you will start getting traffic.
When your blog has a good readership, then you can monetize it using Foremedia.net.
How to Withdraw Foremedia Earning
This Foremedia.net review won't be complete without adding how to withdraw earnings because that is what people want to hear.
Foremedia means of withdrawal are:
Bank transfer
PayPal
The two options are currently available for making a withdrawal in Foremedia.
Foremedia Review: Is Foremedia Legit or Scam?
Foremedia is a legit advertising network, lots of bloggers are already using and shared their payment proof.
The payment proof is included in this Foremedia review to make you believe how legit the ads network is.
READ MORE: Crowdyvest Review 2021: Is It A Safe & Secure Way To Invest?
The platform is trusted and they work in partnership with another popular advertising network.
Foremedia Payment Proof
Below are payment proof of the money earned from Foremedia.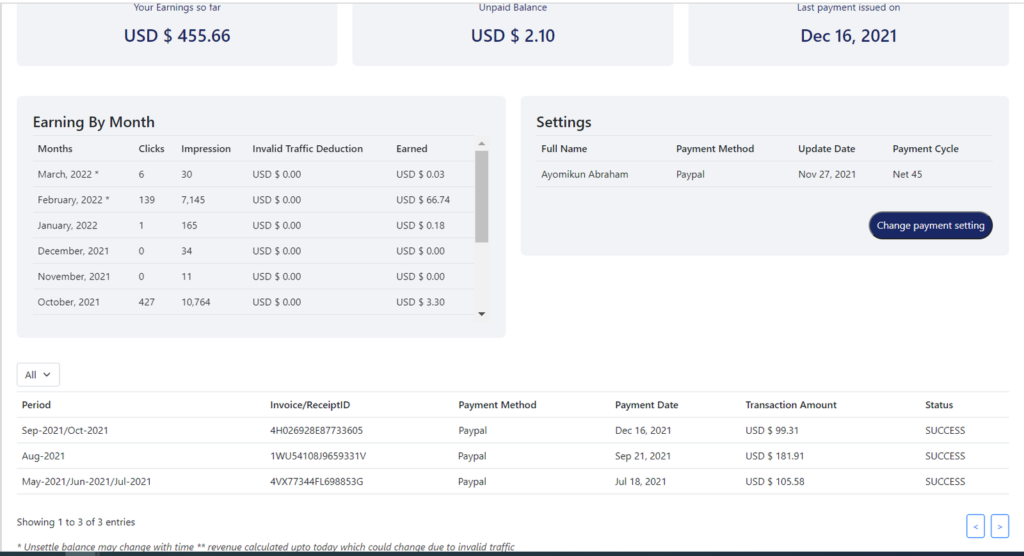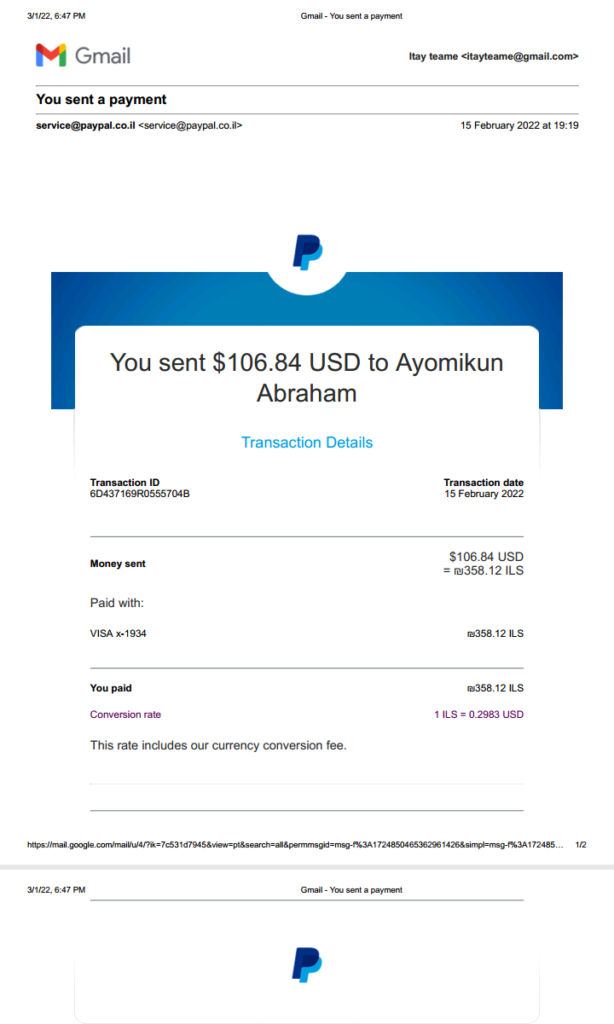 Foremedia vs AdSense
Foremedia vs AdSense debate has been getting tense recently with some saying Foremedia is an AdSense alternative.
However, from my experience, Google AdSense is the best ad network in the world. Ezoic is another ad that is trusted, and it's paying even more than AdSense. Ezoic is an impression based.
The Foremedia vs AdSense comparison is too far. Adsense is better but Foremedia is a good ad to rely on and make money.
Conclusion
Foremedia.net is a legit ad network, which many believe is one of the Google AdSense alternatives especially because of their ad format.
Some of the people using Foremedia have shared their payment proof, the money they earned on the platform.
After reading this Foremedia.net review, I believe you have gotten all the necessary information about the advertising network.
You can now go and sign up with Foremedia, and start making money with your content.
Foremedia is one of the best advertising network in the world.
Thanks for reading, don't forget to drop comments if you have questions or contributions.