In this Newor Media review, I will take you through one of the well-known advertising networks which you probably didn't know much about.
It's a dream of every blogger or webmaster to make money with Google AdSense, but getting approval seems difficult due to their strict policies.
Table of Contents
However, there are several other networks which you can rely on to make money through your website.
Some ad network claims to be Google AdSense alternative, but not all are good enough to give it a try.
Newor Media is one ad network you need to know about, that's why I put out this honest Newor Media review.
What is Newor Media?
Newor Media is a real time bidding technology ad network suitable for both advertisers and publishers to make money with display and video ads.
In order to secure the highest-paying advertisers for your website, the platform collaborates with ad exchanges that employ header bidding.
A huge advantage for publishers is that when you sign up with Newor Media, you also gain access to Google Ad Exchange, which has a lot more capabilities and controls than just an ad exchange.
READ MORE: Eleavers Review 2023: Login, Requirements & Payment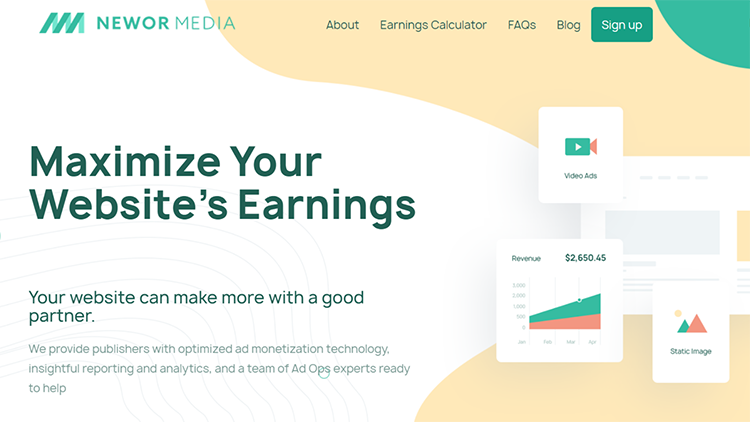 How Newor Media works
Just like other advertising networks, before you can make money with your website, your website will pass through the review process to make sure it adhere to their program policies.
Newor Media approval process is fast so you get to find out if your website is approved or not.
Nothing to worry about because it your site has quality contents and traffic, you can give a shot at it.
To get started, go to Newor Media website and sign up, follow the procedure and wait for approval.
Newor Media Requirements
Before you can be accepted into their program policies, there are certain requirements you need to meet.
Below are the Newor Media ad requirements:
Quality contents.
At least 30,000 unique visitors.
No fake traffic
If you meet the requirements, then your website will be approved and you start making money.
Newor Media Ad Formats
Newor Media support all IAB standard banners of different sizes including video ads.
Newor Media Review: Is it legit?
Newor Media is a legit advertising network base on the reviews and testimonials from users.
The ad network use real time bidding technology to deliver relevant ads to website.
Newor Media Payment Threshold
They operate on net 30 basis with minimum payment threshold of $50 for PayPal or Payoneer, and $250 for wire transfers. To get payment if you are in the US, you must upload a W-2 form.
Features of Newor Media
Ease of use.
Real time bidding technology.
Ad placement control.
Simple and easy requirements.
Earnings calculator.
On time payment.
Balance User Experience and Ad Placement.
READ MORE: Jubna Review 2023: Don't Join Without Knowing this Secret Fact
Conclusion
Newor Media is a fantastic professional ad management tool to take into consideration if you want high-paying advertisements that will increase your website's revenue.
Its programmatic advertising technique employs automated technology for media buying tactics to increase your earnings without requiring you to make any more financial, time, or labor-intensive investments.
You get pages that Google will adore that are optimized and load quickly.
As a result, you may increase your ad revenue while maintaining excellent user experience and good rankings.
Thanks for reading my Newor Media review, please drop your comments.