Hey, let's read this EaseMoni loan app review before you think of getting a loan because you can't tell if they are legit.
When you are dealing with people or brands online, make sure you do your diligence research to avoid losing your hard earned money.
That's the same with getting a loan from EaseMoni.
There is information you need to get which will open your eyes about the company you want to get a loan from.
EaseMoni is one of the popular loan app in Nigeria which offers quick and instant loans to users during their urgent need.
Do you need that urgent 2k?
Read on as I tell you everything you need to know.
READ MORE: Imoney Loan App Review: Read this before taking a loan
What is EaseMoni?
EaseMoni is a Nigerian loan app that offers up to N1 million loans for individuals for personal and business purposes.
The app has a good user interface and user experience making it one of the best loan apps in Nigeria.
Getting an instant loan has been made easier and simpler with the new age technology.
Who owns EaseMoni?
EaseMoni was founded by BlueRidge Microfinance Limited. Their office is located at 60 Adeniyi Jones Ave, Ikeja, Lagos, Nigeria.
EaseMoni Contact Information
How does EaseMoni loan work?
To get a loan from EaseMoni you don't need any complicated details, you just need your personal details such as phone number and BVN with no collateral.
EaseMoni makes use of artificial intelligence (AI) to analyse your data and determine your credit score with the help of your BVN phone number.
Your phone number should be the one that is linked to your BVN and you are sure of receiving SMS.
How much is EaseMoni interest rate?
EaseMoni loan interest rate is a minimum of 5 – 10% monthly depending on your credit score.
For a loan amounted to ₦3,000; the interest would be ₦273; and the total amount due would be ₦3,273. First month repayment would be ₦1091, repayment of second and third month would also be ₦1091. No hidden charges.
How much can I get from EaseMoni
EaseMoni offers loans starting from N3,000 to N1,000,000 with a repayment period of 91 to 365 days.
The amount of loan you get the first time depends on your credit evaluation. Once you pay your first loan, you stand a chance of getting a higher loan amount.
READ MORE: FairMoney Loan App Review: Is it the best loan app in Nigeria?
EaseMoni loan app Review: Is It legit?
EaseMoni is legit.
The loan platform is owned by BlueRidge Microfinance Limited. There have not been complaints about their mode of operations.
Having been in the system for a couple of years, they have been providing quick loans to Nigerians who are really in need.
How to apply for EaseMoni loan
Follow the below steps to apply and receive EaseMoni loan within 5 minutes.
Download and install the EaseMoni APP from the Google Play Store and Apple store.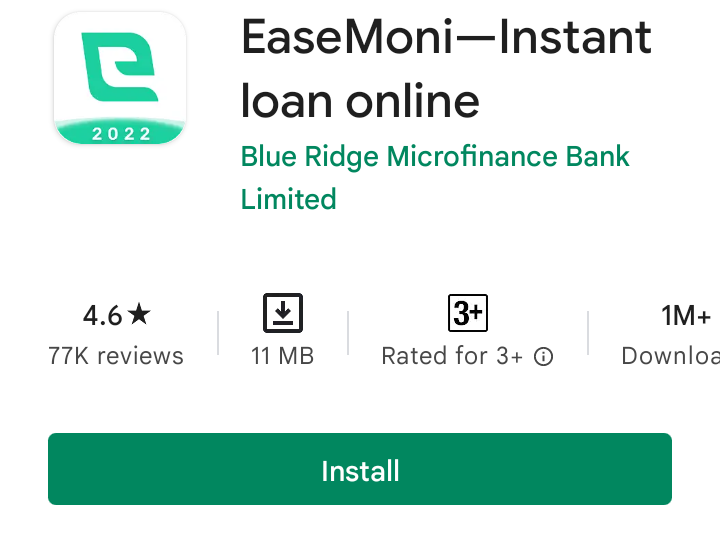 Create an account using your name, phone number and BVN.
Verify your phone number and submit your application.
Apply and sign a loan agreement and if approved the loan will be disbursed into your bank account.
Conclusion
EaseMoni is one of the easiest ways to get a short quick loan for your personal and business needs.
I believe you have gotten the information you needed to know in this EaseMoni loan app review.
EaseMoni makes it possible to get instant loans when you least expect it.
Thanks for reading, please share and kindly drop your comments. What do you think about EaseMoni?