In this Afriex App review, you will discover the fastest way to make transfer, exchange rates and find out the taxes involved without going through stress.
You can send money between the United States, Nigeria, Ghana, Kenya, and Canada with the Afriex app. Alternatively, you can effortlessly transfer funds from a debit card to a bank account or another Afriex user.
With technology doing most of the jobs in todays life, it is safe to say that life is much more easier now that back in the 90s.
Developers are coming up with lots of features and innovations to make things easier for people.
Table of Contents
What is Afriex
Afriex is a global payment company (mobile money transfer app) that is now available in Nigeria, Ghana, Kenya, Canada, and the USA. The Afriex app was released in 2019 and now has over 100,000 users.
Cryptocurrency powers the Afriex money-transfer network. You may send money instantly and cheaply both abroad and at home.
Users can send money to and from Africa using the Afriex app. Afriex also offers cryptocurrency in some countries, but not all, depending on local regulations.
READ MORE: Iron Trade Review 2023: Could this be a Scam?
Is Afriex Safe?
Afriex is a safe app that encrypts all personal data to protect users' data.
According to the Payment Card Industry Data Security Standard, the company's payment technology is PCI DSS compliant.
The organization has a set of strong security standards in place to establish and maintain a safe payment environment for its customers.
How to download Afriex App for Android and iPhone
The Afriex App is available for Android and iPhone users.
Simply go Afriex offical website and download the app then start making transactions.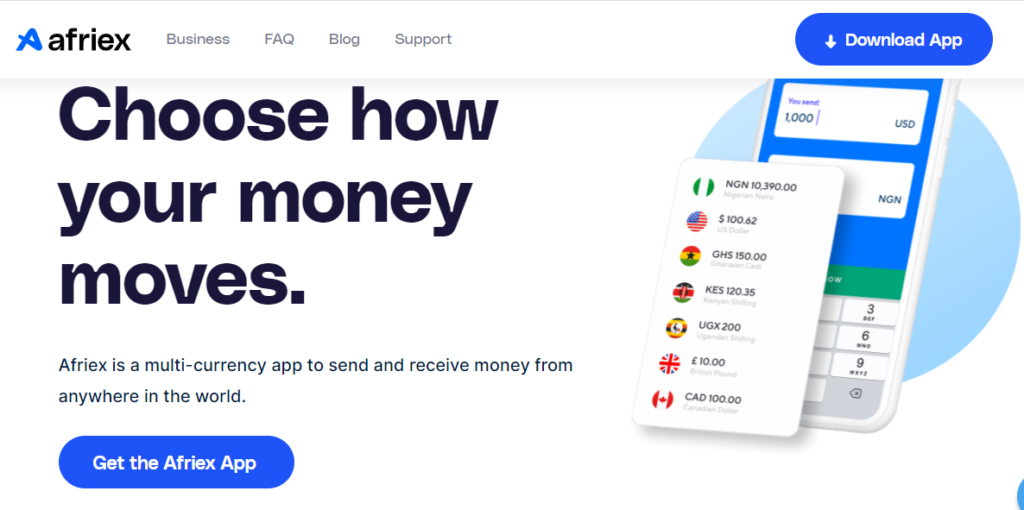 Who is Afriex Owner?
Tope Alabi (CEO) and John Obirije (CTO) founded Afriex. Sequoia Capital China, Dragonfly Capital Partners, Haseeb Qureshi, Exceptional Capital, Goldstreet Venture Capital, Stellar Development Foundation, Bossa Nova InvestimentosPrecursor Ventures, Mandela Schumacher-Hodge Dixon, and Russell Smith are some of the investors in Afriex.
How does Afriex work?
Afriex is a cryptocurrency-powered money transfer platform that allows you to send money anywhere in the world quickly and affordably.
You can send money between the United States, Nigeria, Ghana, Kenya, and Canada with Afriex.
You can send up to $3,000 every day to bank and e-wallet accounts. You can send money directly to a Nigerian bank account or to any Afriex user, and it will be received immediately.
Users of Afriex can also earn money by referring their friends and relatives.
When you suggest a friend or family member, you'll both receive a $5 Afriex credit if they sign up and send $100 or more.
The Afriex app allows users to send money to over 130 countries in minutes, including Nigeria. View your payment history and track your payments from anywhere.
READ MORE: How to open & verify Cash App Account in Nigeria (Easy & Fast)
Afriex Fees
When sending money, Afriex does not charge any fees, but we may charge a modest fee when withdrawing money. Fees and exchange rates should be checked in your app.
Afriex Funding
Afriex raised $11.3 million in total. A $1.3 million seed round was completed in May 2021, and the company just closed a $10 million Series A financing (2023) at a valuation of $60 million.
Afriex App Review: Is it legit or scam?
Afriex app is legit.
The company has lots of investors and there has not been any issue of scam since the platform was launched.
How to Send Money with Afriex to Nigerian Bank Account
At the bottom of the Afriex app, click the $ sign.
To change the currency, click the Nigerian flag in the upper right of the page.
Press SEND after entering the amount you want to send.
'SEND TO BANK' should be selected.
If it's a new account, click 'ADD RECEIVING BANK,' or select an existing account.
Press SEND after entering the amount you want to send.
How to Receive Money Through Afriex in Nigeria
Select Cash Pickup – You can select cash pickup when sending money or cashing out from your Afriex wallet.
You'll Receive a Text Message – When your money is ready, the Afriex system will send you an SMS.
Pick up your money at the bank — Receive your US Dollars at Afriex partner bank, First City Monument Bank, the same day the transaction is completed.
Conclusion
Afriex is a payment platform for mobile money transfers that is available in 130 countries including Nigeria, Ghana, Kenya, Canada, and the USA.
The Afriex app was founded in 2019 and now has over 100,000 users.
Thanks for reading this honest Afriex app review, kindly drop your comments. What do you think about Afriex App?