In today's fast-paced world, mobile phones have become an indispensable part of our daily lives, offering convenience and connectivity at our fingertips. Some people are actually using the most expensive phones in the world for different purposes.
While most of us opt for high-quality, yet reasonably priced smartphones, some luxury connoisseurs seek something beyond the ordinary. Enter the world of extravagance, where opulence meets technology, and the most expensive phones showcase unparalleled craftsmanship and cutting-edge features.
In this blog post, we delve into the realm of luxury and present the ten most expensive phones in the world that redefine the notion of exclusivity.
Table of Contents
10 Most Expensive Phones in the World
Here are the 10 most expensive phones in the world ranked according to their prices.
1. Falcon Supernova iPhone 6 Pink Diamond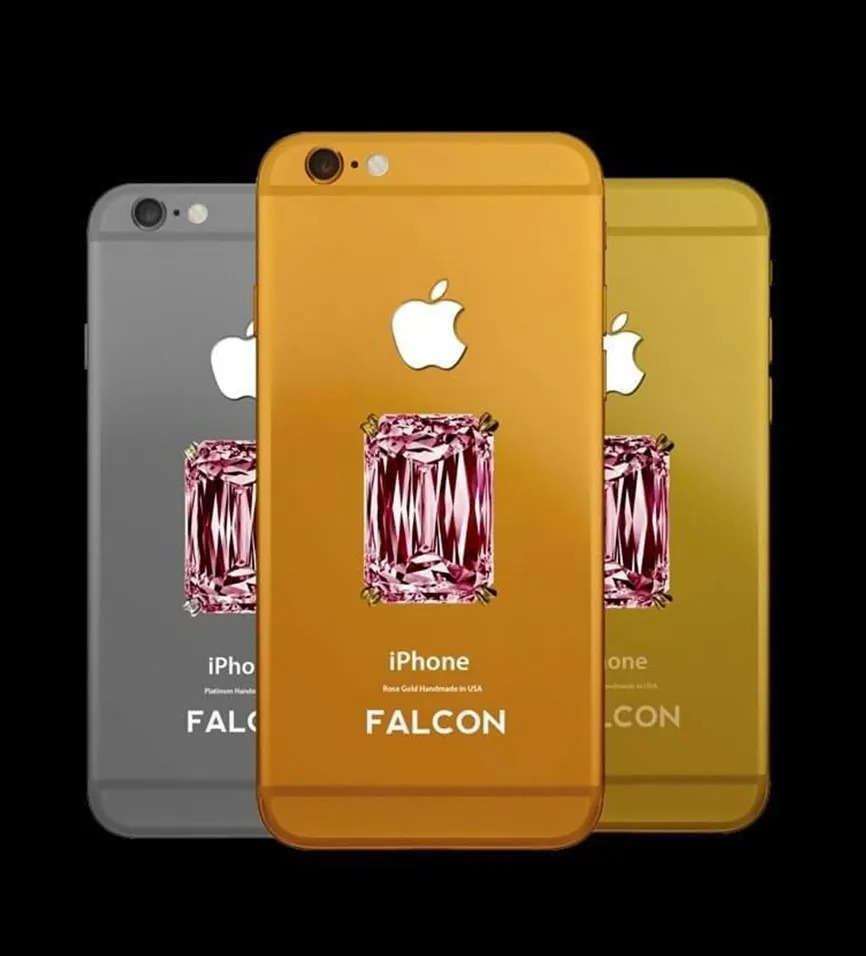 Topping our list is the Falcon Supernova iPhone 6 Pink Diamond Edition, a masterpiece of luxury and rarity. Encrusted with a stunning pink diamond on the rear, this iPhone exudes elegance and extravagance. Produced by Falcon Luxury Group, this limited-edition gem is reserved for the elite few.
Introducing the epitome of luxury smartphones, the ultra-luxurious Falcon SuperNova collection, available in two exquisite variants: the iPhone 6 and iPhone 6 Plus. Both phones boast a rare and captivating pink diamond, each encased in a stunning body style that exemplifies opulence:
Falcon SuperNova Platinum Pink Diamond iPhone: Encased in 950 platinum, this variant exudes an aura of elegance and prestige.
Falcon SuperNova Rose Gold Pink Diamond iPhone: Wrapped in 18K Rose Gold, this variant showcases a mesmerizing blend of sophistication and luxury.
iPhone Pink Diamond Falcon SuperNova: Enclosed in 18K yellow gold, this variant exudes grandeur and opulence.
Both the iPhone 6 and iPhone 6 Plus in the Falcon SuperNova collection come with ample internal storage of 128GB and are unlocked for international usage, ensuring global connectivity and convenience.
With your phone purchase, you will be treated to a suite of exclusive perks, including a 24/7 concierge service, a privacy-protecting mobile app, and a 5-year guarantee against defects. Your luxurious device will be delivered to you by FedEx, the top US carrier, ensuring a seamless and secure shipping process.
Dubbed as the most expensive phone in the world, the Falcon SuperNova collection is exclusively available at Dubai's flagship shops upon special request. However, for those who desire a taste of luxury without the exorbitant price tag, there are two watered-down variants available:
The first diluted version, priced at $42.5 million, features a captivating orange diamond on its back.
The second diluted version, priced at $32.5 million, showcases a striking blue diamond, adding a touch of allure to your device.
Indulge in the epitome of luxury and sophistication with the Falcon SuperNova collection, elevating your smartphone experience to unprecedented levels of grandeur and refinement.
2. Stuart Hughes iPhone 4S Elite Gold – $9.4 million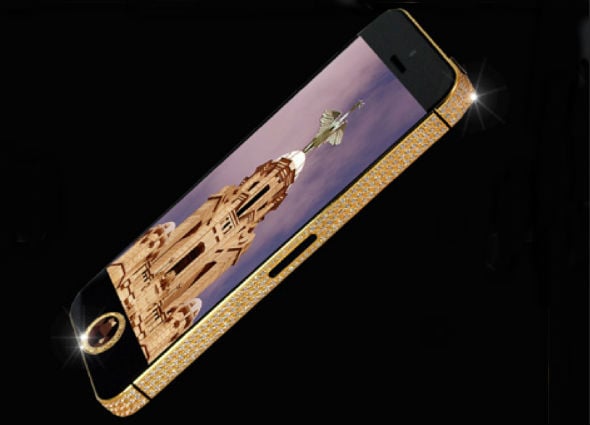 Next on our roster is the Stuart Hughes iPhone 4S Elite Gold, a true symbol of refined luxury. Handcrafted with 24-carat gold and studded with 500 flawless diamonds, this exquisite device exemplifies unparalleled craftsmanship. The signature Apple logo on the back alone comprises 53 diamonds.
The iPhone 4s Elite Gold stands as an unparalleled masterpiece, boasting a construction adorned with over 500 flawless diamonds, contributing a remarkable 100 carats to its opulent design. With a staggering price tag of $9.4 million, it proudly ranks as the third-most expensive phone in the world.
This extraordinary device leaves no detail untouched, as the iconic Apple logo is encrusted with 53 diamonds, while the rear cover showcases solid gold. Even the home button and its borders are lavishly adorned with glistening diamonds. Remarkably, only two productions of the iPhone 4s Elite Gold with 64 GB of internal memory have ever been issued, adding to its exclusivity and allure.
Presented in a meticulously crafted chiselled platinum box, inlaid with T-Rex dinosaur bone, this limited and personalized version of Apple's antique smartphone further enhances its worth as one of the most expensive phones globally, appealing to discerning connoisseurs of luxury.
Within the device's intricate design, a grand total of 500 diamonds, weighing an astonishing 100 carats, are ingeniously integrated. Out of these 500 gems, 25 diamonds form the iconic Apple logo, adding an extra touch of splendor. The gold used in this masterpiece is of the highest quality, boasting 24 karats, while the screen's button itself is a single piece composed of 2.6 karats.
The iPhone 4s Elite Gold redefines luxury and elegance, standing as an extraordinary testament to artistry and craftsmanship, appealing to collectors and enthusiasts seeking the pinnacle of opulence in their mobile devices.
3. Diamond Crypto Smartphone – $1.3 million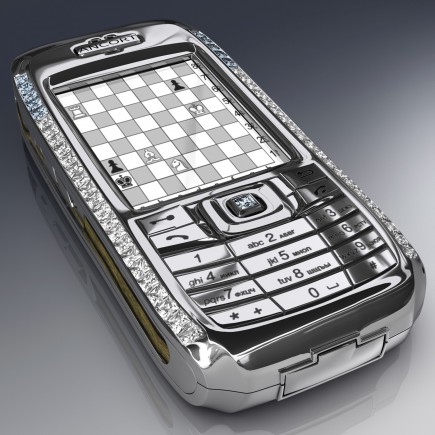 The Diamond Crypto Smartphone transcends the notion of being just a mere phone, evolving into an impregnable secure vault reserved exclusively for the elite. Crafted under the meticulous artistry of luxury goods designer Peter Aloisson, this opulent masterpiece exudes unparalleled grandeur with its lavish rose gold exterior and embellishment of over 50 dazzling diamonds.
However, what truly distinguishes this exceptional device is its cutting-edge encryption technology, delivering an unyielding fortress of privacy and protection for its exclusive and discerning users.
4. Goldvish Le Million – $1.3 million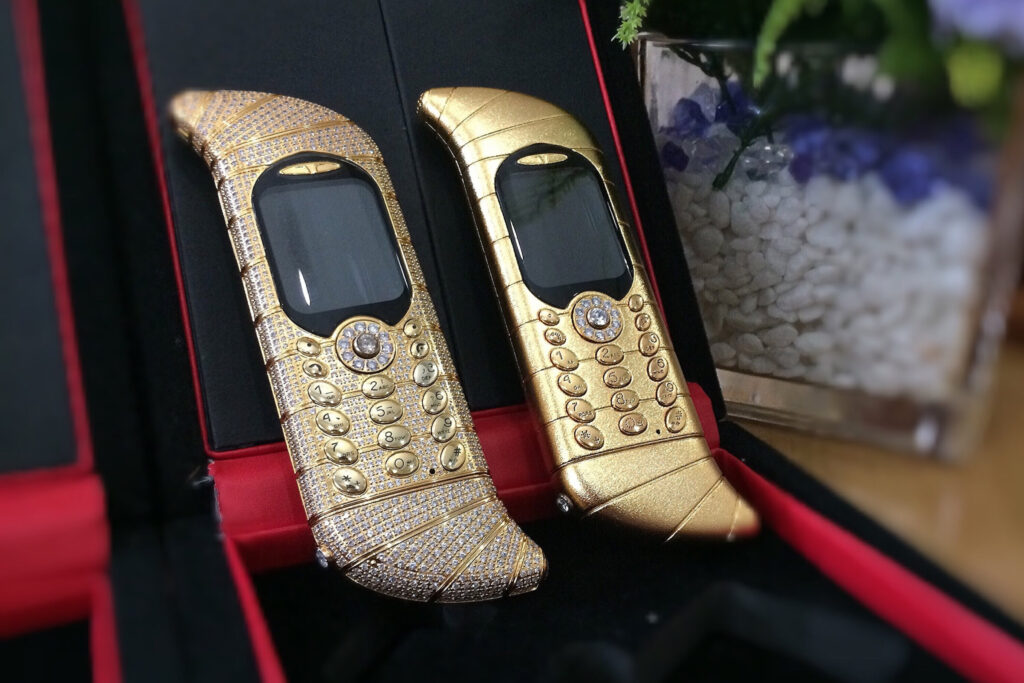 The epitome of opulence and craftsmanship, the Goldvish Le Million stands as a timeless masterpiece crafted by the prestigious Swiss luxury brand Goldvish. Its reputation as the world's most expensive phone, earned in 2006, has solidified its status as a symbol of unbridled extravagance that endures even today.
Radiating pure luxury, this exquisite creation boasts a resplendent design embellished with gleaming white gold and adorned with a breathtaking array of 120-carat diamonds, showcasing the pinnacle of refinement and splendor. The Goldvish Le Million remains an enduring testament to the fusion of artistry and luxury, captivating the world with its unparalleled allure.
5. Gresso Luxor Las Vegas Jackpot – $1 million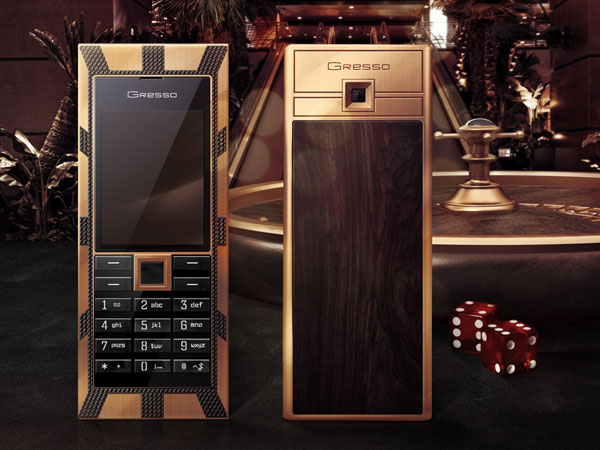 Basking in the sheer radiance of opulence, the Gresso Luxor Las Vegas Jackpot stands as an extraordinary embodiment of luxury and grandeur. With its captivating embellishment of black diamonds and the rare 200-year-old African Blackwood, this exceptional phone transcends mere communication devices to become an exquisite work of art.
Restricted to a highly exclusive edition of just three units, the Gresso Luxor Las Vegas Jackpot showcases Gresso's unwavering dedication to curating an unparalleled experience of prestige and refinement for its discerning clientele.
Each device serves as a testament to the brand's unwavering commitment to crafting an elite fusion of cutting-edge technology and exclusive luxury, further solidifying its position as a true emblem of extravagance.
6. iPhone 3G Kings Button – $2.5 million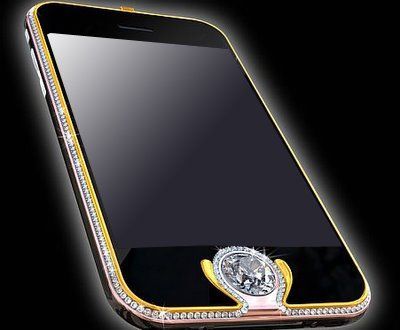 The iPhone 3G Kings Button, a magnificent masterpiece meticulously crafted by the renowned Austrian jeweler Peter Aloisson, dazzles with its sheer opulence and allure. At the heart of this extraordinary creation lies its crowning jewel—a resplendent 6.6-carat white diamond adorning the home button.
This singular embellishment sets it apart from all other extravagant phones, elevating it to a realm of exclusivity and luxury that captures the imagination of collectors and enthusiasts across the globe. Embodying a harmonious fusion of cutting-edge technology and extraordinary craftsmanship, the iPhone 3G Kings Button stands as a symbol of exquisite artistry and refinement, making it a prized possession for those with a taste for the extraordinary.
7. Vertu Signature Cobra – $310,000
Exuding unparalleled luxury and artistic brilliance, the Vertu Signature Cobra emerges as a mesmerizing masterpiece meticulously designed by the esteemed French jeweler, Boucheron. Celebrating the epitome of extravagance, this exceptional phone showcases a resplendent cobra motif that bewitches all who lay eyes upon it. A true testament to exclusivity, a mere eight units of this opulent creation were meticulously produced, ensuring its status as a highly coveted collector's item.
Envisioned with an extraordinary attention to detail, the Vertu Signature Cobra's allure lies in its captivating cobra, meticulously crafted from a dazzling array of precious gemstones. Two radiant emeralds and diamonds intertwine to form the majestic serpent's eyes, while a mesmerizing 439 rubies accentuate its captivating form. Every facet of this unique phone emanates an air of grandeur and sophistication, making it an emblem of extraordinary artistry and refinement.
Embrace the breathtaking fusion of high-end technology and unparalleled craftsmanship as the Vertu Signature Cobra stands as a true testament to Boucheron's legacy of exquisite jewelry design. With its limited production and unrivaled allure, this luxurious masterpiece captures the hearts of discerning connoisseurs and enthusiasts, leaving an indelible mark on the world of opulence and elegance.
8. Black Diamond VIPN Smartphone – $300,000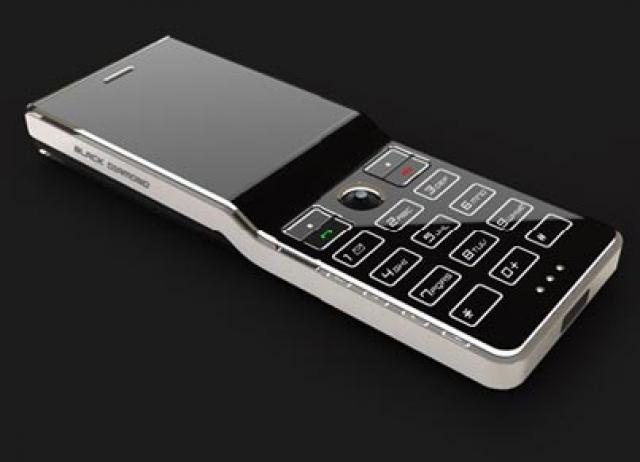 Distinguished by its daring and unconventional design, the Black Diamond VIPN Smartphone takes center stage with a striking feature—an exquisite black diamond majestically nestled in the heart of its navigation button. Crafted to perfection by the visionary designer Jaren Goh, this extraordinary phone artfully merges cutting-edge technology and luxurious aesthetics, radiating a mesmerizing futuristic charm that captivates the senses.
In a world of ubiquitous smartphones, the Black Diamond VIPN stands out as a true symbol of individuality and refinement. The juxtaposition of technology and opulence results in an unparalleled fusion of form and function, making this device a coveted piece of artistry and innovation.
With each glance, one is entranced by the mesmerizing black diamond, enhancing the allure of this unique smartphone. Jaren Goh's masterful creation speaks volumes about his commitment to pushing boundaries and redefining the essence of luxury in the digital age.
Embrace the Black Diamond VIPN Smartphone and embark on a journey of unparalleled elegance and visionary design, as it asserts its rightful place as a statement of style and sophistication in a world captivated by innovation and opulence.
9. Vertu Signature Diamond – $88,000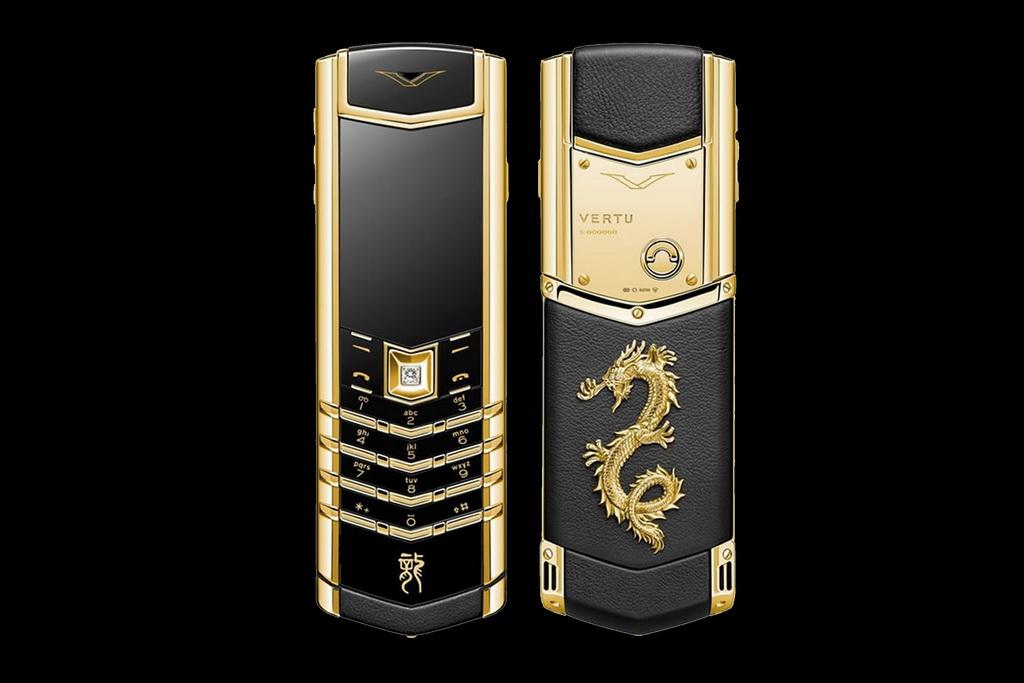 Indulge in the epitome of elegance and luxury with the Vertu Signature Diamond, a captivating masterpiece that holds a prestigious place within the illustrious Vertu Signature collection. Immerse yourself in the allure of its refined and sophisticated design, meticulously crafted to exude an aura of unparalleled grace and opulence.
Every detail of the Vertu Signature Diamond is a testament to exquisite craftsmanship, as it is lovingly handcrafted using top-tier materials that epitomize the pinnacle of quality. This luxurious device stands as a dazzling testament to the harmonious fusion of artistry and technology, seamlessly blending aesthetics with functionality.
Embrace the enchanting allure of this exclusive device, accentuated by the radiance of 200 brilliant diamonds that grace its exquisite exterior. Each diamond adds a touch of refined glamour, elevating the Vertu Signature Diamond to a realm of unmatched class and exclusivity.
Unveil the true essence of luxury as you immerse yourself in the world of Vertu, where the Vertu Signature Diamond shines as a symbol of prestige, sophistication, and timeless elegance. Cherish the privilege of owning a device that exemplifies the art of living luxuriously, embracing the epitome of sophistication and prestige with every interaction.
10. iPhone 3GS Supreme Goldstriker Advanced – $3.2 million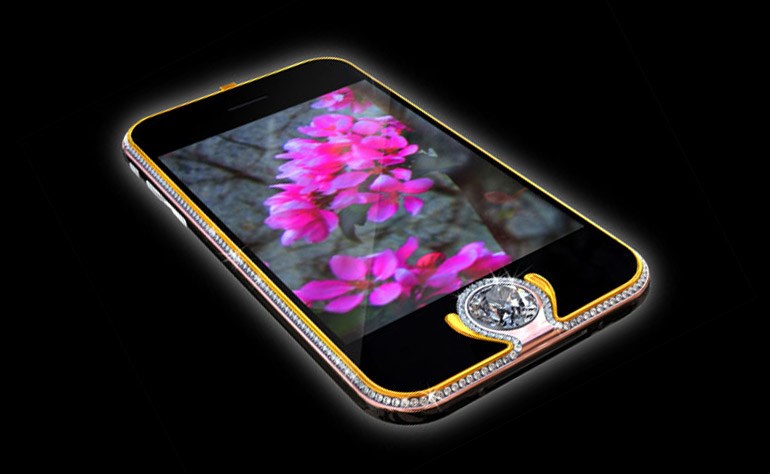 Indulge in the captivating opulence of the iPhone 3GS Supreme Goldstriker Advanced, a truly exceptional creation from the visionary British designer, Stuart Hughes.
Immerse yourself in the allure of its stunning design, as the device boasts a solid 22-carat gold casing meticulously crafted to perfection, exuding an aura of pure luxury.
The epitome of grandeur, the iPhone 3GS Supreme Goldstriker Advanced is adorned with a mesmerizing array of 136 diamonds, elevating it to a realm of unparalleled sophistication and brilliance. Notably, the rear logo alone boasts a dazzling display of 53 diamonds, rendering it a true masterpiece and an extraordinary collector's item.
Embrace the privilege of owning a device that transcends the boundaries of conventional technology, transforming into an exquisite work of art that embodies the pinnacle of luxury and refinement.
The iPhone 3GS Supreme Goldstriker Advanced stands as a remarkable testament to the seamless blend of artistry and innovation, captivating the hearts of collectors and connoisseurs alike with its radiant beauty and exclusive allure.
Indulge in the essence of prestige and sophistication as you immerse yourself in the world of Stuart Hughes, where the iPhone 3GS Supreme Goldstriker Advanced reigns as an unparalleled symbol of luxury and brilliance.
Cherish the privilege of owning this extraordinary masterpiece, basking in the limelight of exquisite craftsmanship and unparalleled beauty with every glance.
Conclusion
The world of luxury phones brings together cutting-edge technology and masterful craftsmanship to create devices that transcend the ordinary. The ten most expensive phones in the world represent the epitome of exclusivity, designed to cater to the desires of the wealthiest and most discerning individuals. As these remarkable creations redefine the boundaries of opulence, they also underscore the fusion of luxury and technology in a truly captivating manner.