As technology continues to evolve, the integration of devices in our daily lives becomes more seamless and interconnected. One significant development in this regard is the integration of Apple's AirPlay 2 technology with a wide range of smart TVs.
AirPlay 2 allows users to effortlessly stream content from their Apple devices to their TVs, making for a more immersive and convenient viewing experience. In this blog post, we present a comprehensive list of AirPlay 2-compatible TVs from various manufacturers.
What is AirPlay 2?
AirPlay 2 is an advanced wireless streaming protocol developed by Apple. It enables users to stream audio, video, and other content from their Apple devices such as iPhone, iPad, Mac, and Apple Watch to compatible speakers, smart TVs, and other audio and video devices. AirPlay 2 offers several improvements and additional features compared to the original AirPlay protocol. Some key features of AirPlay 2 include:
Benefits of AirPlay 2-supported TVs
AirPlay stands as Apple's exclusive wireless protocol, enabling you to effortlessly project videos, photos, or music onto your television screen. Additionally, it facilitates the mirroring of your iPhone, iPad, or Mac screens onto Apple TV and compatible smart TVs.
What's more, through seamless HomeKit integration, you gain the ability to manage your TV via Siri commands, the Control Center, and even directly from your Lock Screen. Siri, in this context, extends its assistance by suggesting shows and movies based on your previous viewing preferences.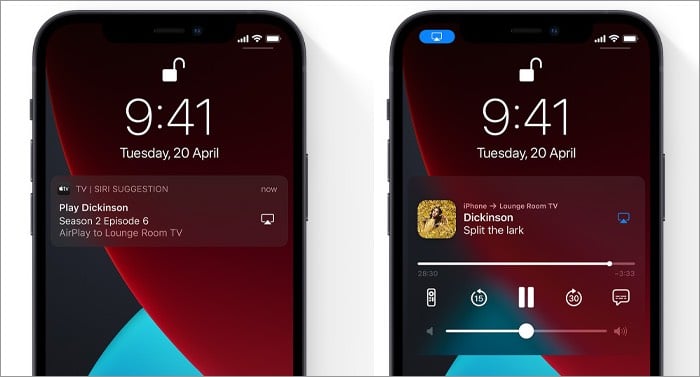 12 AirPlay 2 Compactible TVs
1. LG:
LG Electronics is a frontrunner when it comes to AirPlay 2 compatibility. Many of their smart TVs, including their OLED and NanoCell series, offer AirPlay 2 support. LG's WebOS interface makes it easy for users to mirror their Apple devices on the big screen.
2. Samsung:
Samsung's smart TVs, powered by the Tizen operating system, are also AirPlay 2-compatible. This means you can seamlessly stream content from your iPhone, iPad, or Mac to your Samsung TV.
3. Sony:
Sony's Bravia series boasts AirPlay 2 support. This means you can enjoy your favorite Apple content on a high-quality Sony TV without the need for additional devices.
4. Vizio:
Vizio's SmartCast TVs offer AirPlay 2 compatibility. This allows users to cast content from their Apple devices directly to their Vizio TV with ease.
5. TCL:
TCL's lineup of Roku TVs also supports AirPlay 2. This integration enhances the versatility of these budget-friendly smart TVs.
6. Panasonic:
Panasonic's smart TVs with the My Home Screen operating system now come with AirPlay 2 support. This feature provides a seamless streaming experience for Apple users.
7. Hisense:
Certain models of Hisense smart TVs are now AirPlay 2-compatible, making it easier than ever to enjoy your Apple content on a larger screen.
8. Sharp:
Sharp's Aquos smart TVs offer AirPlay 2 support, allowing users to cast their Apple devices' content effortlessly.
9. Philips:
Philips' Android TV lineup includes models that support AirPlay 2. This means you can enjoy the convenience of streaming from your Apple devices on a Philips smart TV.
10. B&O (Bang & Olufsen):
Bang & Olufsen's BeoVision series of smart TVs also come with AirPlay 2 compatibility, offering high-quality audio and video experiences.
11. Loewe:
Certain Loewe TVs are AirPlay 2-compatible, adding to the brand's reputation for premium television experiences.
12. Grundig:
Grundig's smart TVs with the Vision OS also support AirPlay 2, enhancing the options available to consumers.
Conclusion
AirPlay 2 has become a popular choice for users who want to create a seamless and flexible home audio and video streaming ecosystem. It offers improved compatibility, functionality, and ease of use compared to its predecessor, making it a valuable feature for Apple users looking to enjoy content across multiple devices and rooms.
It is pertinent to note that, the availability of AirPlay 2 compatibility may vary depending on the model and year of manufacture. Before purchasing a TV, it's essential to verify its compatibility with AirPlay 2 to ensure that you can seamlessly integrate your Apple devices into your home entertainment setup. With the convenience of AirPlay 2, you can enjoy your favorite content on the big screen without the need for additional accessories.