Some of the vTuber software available online are designed to enhance your live streaming experience without any doubt.
The world of content creation and live streaming has taken an exciting twist with the rise of virtual YouTubers, or vTubers. These digital personas use animated avatars to interact with their audience, offering a unique and engaging way to connect.
If you're looking to become a vTuber and start your own live streaming journey, you'll need the right software to bring your virtual self to life.
In this blog post, we're presenting the ten best vTuber software options to help you get started.
What Is vTubing?
vTubing, short for "Virtual YouTubing" or "Virtual Content Creation," refers to a digital trend where individuals create and portray virtual characters, often through the use of 3D avatars or animated personas, to produce content on platforms like YouTube and streaming services. These virtual characters can be anthropomorphic animals, fantasy creatures, or entirely original designs.
vTubers (Virtual YouTubers) use real-time motion capture technology and facial recognition to animate their virtual avatars, syncing the avatars' movements and expressions with their own actions and speech. This allows creators to interact with their audience while maintaining a level of anonymity behind their virtual personas.
Concept of vTubing
The concept of vTubing gained significant popularity in Japan and South Korea and has gradually spread to other parts of the world. vTubers engage in a variety of content, including gaming livestreams, Q&A sessions, music performances, storytelling, and more.
Viewers are drawn to vTubing due to its unique blend of entertainment, interactivity, and the novelty of interacting with digital characters as if they were real individuals.
Several virtual agencies and platforms have emerged to support and manage vTubers, providing tools, technology, and marketing strategies to help creators build their virtual personas and grow their online presence.
The phenomenon showcases the evolving landscape of online content creation and the ways in which technology can enable new forms of digital expression and engagement.
How Does vTubing Work?
vTubing operates by capturing your movements and translating them into actions performed by a 3D model during a live stream.
To capture your motion, you can employ various devices. For instance, an iPhone equipped with a Lidar sensor and an Ultraleap controller can be utilized. Alternatively, a quality web camera featuring motion-sensing technology can also serve the purpose.
Subsequently, you'll employ vTuber software to rig and configure your virtual avatar. This avatar can take the form of 2D, 3D, anime, Pixar-style models, and more, serving as your guiding presence during broadcasts.
To convey facial expressions, the vTuber software supports multiple keyboard shortcuts. Additionally, specialized keyboards designed to generate facial expressions can also be integrated.
Notably, speech conversion artificial intelligence (AI) operates subtly to enhance the disguise further.
In the final steps, you connect all these components to a broadcasting application, facilitating live streaming or the uploading of prerecorded content onto platforms like YouTube or Twitch.
10 Best vTuber Software
Let's dive in to look at the 10 best vTuber software available.
1. VRoid Studio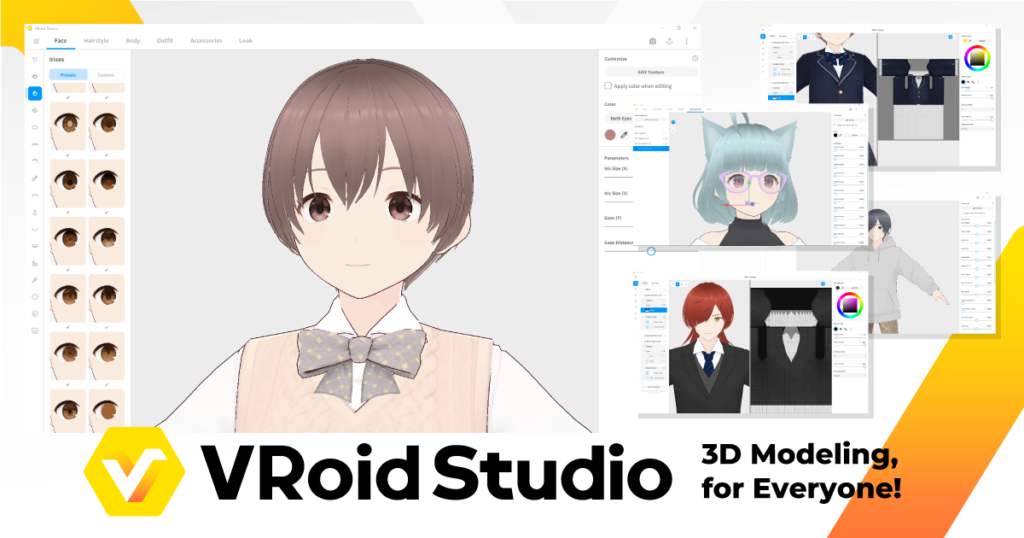 VRoid Studio stands out as a widely favored option for crafting 3D models and avatars tailored to the world of vTubing. This intuitive tool empowers you to personalize every facet of your avatar's presentation, from its visual attributes to its attire and even its array of expressions. With its user-friendly interface and comprehensive customization capabilities, VRoid Studio emerges as a premier choice, enabling you to breathe dynamic life into your virtual persona.
2. Live2D Cubism
Renowned for its exceptional prowess in 2D animation, Live2D Cubism has garnered a reputation as a powerful resource, granting vTubers the ability to fabricate avatars that burst forth with an array of expressions and fluid movements. This remarkable tool serves as a catalyst, elevating the richness of your live streaming encounters to unprecedented levels.
3. Wakaru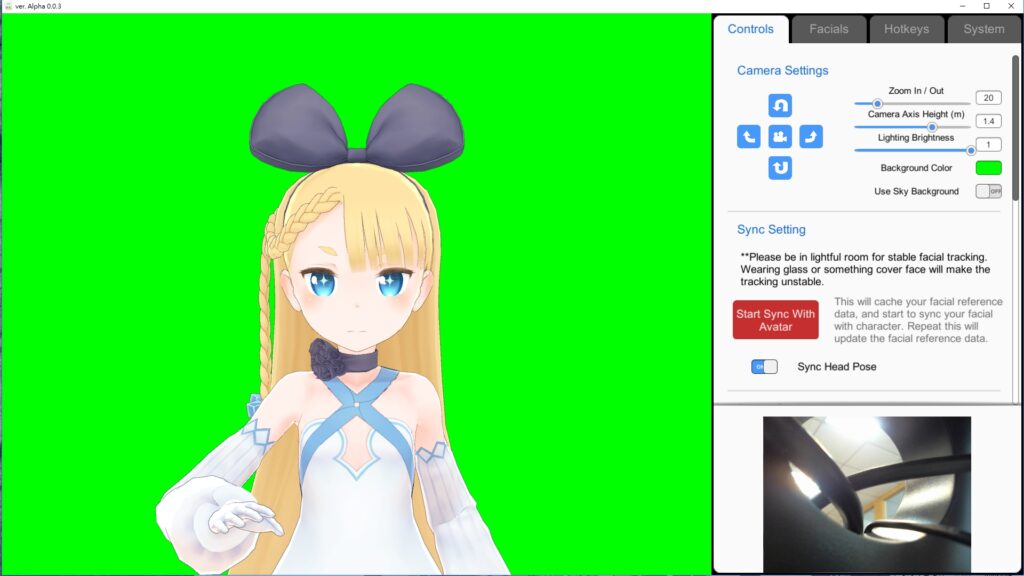 Wakaru emerges as an effortlessly navigable vTuber software solution, delivering the coveted features of real-time lip syncing and intricate facial expressions.
This platform's inherent simplicity renders it an optimal choice for individuals venturing into the vTubing realm for the first time, while simultaneously catering to the needs of seasoned vTubers with its array of advanced tools. Its intuitive interface serves as an accommodating canvas, inviting a diverse spectrum of users to harness its capabilities and amplify their virtual presence.
4. PrprLive
PrprLive emerges as a robust and cutting-edge solution, delivering a pinnacle of excellence in the realm of high-quality live streaming. Boasting an impressive array of camera angles and immersive real-time effects, this platform presents itself as the ideal companion for vTubers who aspire to transcend conventional boundaries and elevate their live streaming endeavors to new heights of creativity and engagement.
By seamlessly integrating innovative features, PrprLive empowers vTubers with the tools they need to craft captivating and unforgettable live experiences that resonate deeply with their audience.
5. Facerig
Facerig stands out as an exceptionally versatile vTuber software solution that caters to an extensive spectrum of creative expressions. With the unique ability to seamlessly accommodate both 2D and 3D avatars, Facerig emerges as a dynamic canvas for vTubers to bring their virtual personas to life.
The software's comprehensive suite of real-time animations and expressions serves as a catalyst for elevating the depth and interactivity of your interactions with your audience, enabling you to forge a more captivating and immersive connection. By harnessing Facerig's capabilities, vTubers gain the means to amplify the resonance of their content and infuse it with a heightened sense of authenticity and engagement.
6. Holotech Studios
Within the domain of vTubing, Holotech Studios emerges as a multifaceted provider, presenting a range of vTuber software solutions, including the distinguished VTube Studio and its elevated counterpart, VTube Studio Pro.
These applications stand out for their meticulous emphasis on streamlined setup processes, advanced facial tracking capabilities, and seamless integration with live streaming platforms.
By selecting from this array of offerings, vTubers gain access to tools that not only simplify their journey into the virtual realm but also empower them to embrace intricate facial expressions and interactions with an audience in real time.
The comprehensive approach of Holotech Studios serves as a beacon for those seeking an all-encompassing solution to enhance their vTubing experiences.
7. VC Face
VC Face emerges as a robust and dynamic open-source vTuber software, renowned for its versatile compatibility across a spectrum of platforms. What sets this software apart is its continual evolution, meticulously nurtured by a dedicated community of enthusiasts and developers.
This ongoing refinement ensures that VC Face remains at the forefront of technological advancements and user needs. For those who hold customization and active community engagement in high regard, VC Face offers an exceptional avenue.
Its vibrant ecosystem fosters a collaborative atmosphere, where vTubers can tailor their virtual identities to their liking while actively participating in the software's evolution. By choosing VC Face, users not only access a powerful vTubing solution but also join a thriving collective that champions individuality and innovation.
8. Luppet
Luppet presents itself as a comprehensive plugin thoughtfully designed to seamlessly integrate with OBS Studio, a popular broadcasting software. This harmonious fusion serves to streamline the intricate art of orchestrating and animating your vTuber avatar in real-time, especially during live streaming endeavors.
Noteworthy for its ability to facilitate a more accessible and intuitive interface, Luppet proves to be an optimal choice for vTubers who possess familiarity with the workings of OBS.
By embracing Luppet's capabilities, you not only enhance the vibrancy of your virtual presence but also harness the synergy between two powerful tools, effectively elevating the quality and engagement of your live streams.
9. Hololive Production
Hololive Production stands as a distinctive and unparalleled platform, presenting an extraordinary opportunity for budding vTubers to seamlessly integrate into a virtual talent agency ecosystem. This remarkable avenue, however, entails an audition process that serves as the gateway to a realm of immense possibilities.
What truly sets Hololive Production apart is its unwavering commitment to fostering a nurturing environment, complete with an array of resources, comprehensive support systems, and an active community.
This multifaceted support structure proves to be a beacon for vTubers, offering them the guidance and tools they need to cultivate their talents, amplify their presence, and ultimately flourish within the vibrant realm of virtual content creation.
By aligning with Hololive Production, aspiring vTubers embark on a transformative journey that transcends the traditional boundaries of individual content creation, paving the way for collaborative growth, camaraderie, and artistic exploration.
10. Animaze
Animaze emerges as a comprehensive and cutting-edge solution tailored to the needs of vTubers, encompassing a rich repertoire of 3D animation prowess intertwined seamlessly with the power of live streaming.
This platform stands as a beacon for those seeking to elevate their virtual presence, bridging the gap between imagination and reality. Remarkably versatile, Animaze extends its compatibility to a diverse array of platforms, ensuring accessibility across digital landscapes.
Beyond its technical prowess, Animaze serves as a realm of endless possibilities, boasting a captivating array of avatars that span a multitude of characters and personas. The fabric of customization options provided within Animaze weaves an intricate tapestry of creative freedom, empowering vTubers to meticulously tailor their virtual identities to mirror their unique expressions.
By harnessing the collective might of 3D animation and live streaming, Animaze augments the potency of vTubers' interactions, infusing depth and authenticity into their digital narratives.
Conclusion
As you venture into the world of vTubing and live streaming, remember that each software has its own strengths and features. Choose the one that aligns with your creative vision, technical skills, and desired interactions with your audience. With the right vTuber software, you'll be ready to captivate your viewers and embark on an exciting virtual journey.