One of the most remarkable applications of AI technology in this domain is the development of AI headshot generators. These innovative tools employ cutting-edge algorithms to produce astonishingly realistic and professional-looking portraits with just a few clicks.
In recent years, the world of artificial intelligence has experienced groundbreaking advancements, revolutionizing various industries, including photography and design.
In this blog post, we will delve into the top 10 AI headshot generators that have taken the art of portrait creation to new heights.
Table of Contents
What Is a Headshot Generator?
A headshot generator is a digital tool or software powered by artificial intelligence (AI) that automatically creates realistic and high-quality portrait photographs of individuals.
These generators utilize sophisticated algorithms to analyze and process various facial features, such as the shape of the face, eyes, nose, and mouth, to produce lifelike headshots.
Unlike traditional portrait photography, where a professional photographer captures a subject's image, headshot generators can create portrait-like images without the need for a photoshoot. Users can simply upload a photograph or provide a description, and the AI-driven headshot generator will generate a new portrait based on the input.
Headshot generators are versatile tools that cater to a wide range of applications. They are often used in various industries, including gaming, animation, virtual reality, and social media.
For instance, in gaming, headshot generators can create unique character avatars for players to use in their gaming profiles. In animation and virtual reality, these generators assist in designing realistic and engaging virtual characters. Additionally, on social media platforms, users can use headshot generators to create visually appealing profile pictures.
The AI algorithms behind headshot generators continuously evolve and improve, allowing for more precise and diverse portrait creations. As a result, headshot generators have become valuable assets for designers, artists, developers, and individuals seeking quick and realistic portrait solutions without the need for professional photography sessions.
How Headshot Generator Works
Headshot generators are advanced tools that can produce highly realistic images based on reference photos provided by users. These generators employ AI algorithms to train themselves using these images and create a model capable of reconstructing a person's face using learned knowledge about their facial features.
Despite their sophisticated capabilities, most headshot generators are designed to be user-friendly, allowing even those without technical expertise to use them effectively.
These tools provide users with the opportunity to experiment with different styles, hairstyles, backgrounds, outfits, and more, without requiring in-depth technical knowledge. Despite this versatility, they strive to maintain a high level of accuracy in their outputs.
To achieve the best results, many headshot generators request multiple photos of the user taken from various angles. This approach allows the tool to analyze facial features more comprehensively, resulting in top-quality outputs.
10 Best AI Headshot Generators
Here are the best 10 AI headshot generators which you can use any one of your choice for a stunning photo portrait.
1. Aragon
Look no further than Aragon for the ultimate solution to all your headshot-related needs. This user-friendly tool seamlessly transforms ordinary photographs into stunning headshots, eliminating any hassle in the process. In just thirty minutes, Aragon performs its magic by retouching your images to perfection. To achieve its remarkable results, Aragon requires twelve of your photos to train its advanced AI algorithm, enabling it to gain profound insights into your unique facial features.
Once the algorithm has learned from your images, it harnesses this knowledge to craft top-quality headshots that perfectly capture your essence. Understanding the significance of first impressions, especially in the corporate world, Aragon ensures that no recruiter ever rejects your application based on your LinkedIn profile picture's quality.
Moreover, Aragon prioritizes the security of its users' data. Utilizing AES256 encryption and hosting databases with SOC 2 and ISO 27001 certified providers in the United States, the platform guarantees the utmost protection for your information. Rest assured, Aragon firmly commits not to sell your data to any third party, ensuring your data remains safeguarded within the platform's secure confines.
2. ProPhotos.ai
ProPhotos.ai specializes in delivering the highest quality and remarkably realistic AI-generated headshots for its users. It serves as a genuine alternative to professional business and corporate headshots, presenting the perfect solution for entrepreneurs and companies seeking to elevate their professional image.
Employing cutting-edge proprietary technology, ProPhotos.ai meticulously analyzes facial features, customizes lighting, and applies face corrections to craft an exceptionally accurate model of each user's face. This intricate process enables their software to generate headshots that resemble authentic photos, making them ideal for various professional contexts.
Notably, ProPhotos.ai boasts advanced AI background removal technology, allowing users to seamlessly place their headshots on any background of their choice. This feature proves invaluable for companies and teams striving to maintain a consistent and polished appearance across all their headshots.
The entire process is remarkably swift, with headshots ready for use in just 30-45 minutes. Moreover, users can kickstart their personalized headshot journey with as few as 5-10 casual photos.
A significant advantage of using ProPhotos.ai is that users retain full ownership of all generated headshots, granting them the freedom to utilize these professional assets on any platform, be it professional documents or social media profiles.
As a service, ProPhotos.ai offers unparalleled efficiency and accuracy, making it an attractive option for individuals seeking to enhance their professional image without investing excessive time or encountering unnecessary hassle. Furthermore, ProPhotos.ai stands out as an incredibly affordable choice, with their base package starting at a mere $25.
With such comprehensive features and cost-effectiveness, ProPhotos.ai empowers users to elevate their professional image and make a lasting impact in their respective fields.
3. AirBrush
Airbrush AI Headshot stands as a premium photo service, leveraging cutting-edge AI technology to produce top-notch headshots. Backed by AirBrush, an industry leader in portrait editing with over seven years of experience and a vast user base of over 10 million, this service guarantees a trusted and reliable solution.
At its core, Airbrush AI Headshot places a strong emphasis on timeliness, affordability, and convenience. Employing a custom AI algorithm, it effortlessly generates professional-grade photos while preserving the user's facial features and intricate details.
Remarkably, pricing starts at an incredibly accessible $4.99, offering unbeatable value for the quality provided. In comparison to traditional photography studios, this innovative service saves users valuable time and money by eliminating the need for commuting, makeup, and extensive photo editing.
With an extensive array of clothing and background options at your disposal, Airbrush AI Headshot empowers you to craft the perfect look that aligns precisely with your vision and needs.
Overall, Airbrush AI Headshot represents an efficient solution for anyone seeking to swiftly and effortlessly generate professional headshots. Its affordable pricing and customizable features render it a distinct and highly competitive option in the market, catering to a diverse range of users and their unique preferences. Trust in Airbrush AI Headshot to deliver exceptional results, ensuring you make a lasting impression with your professional portraits.
4. Headshots AI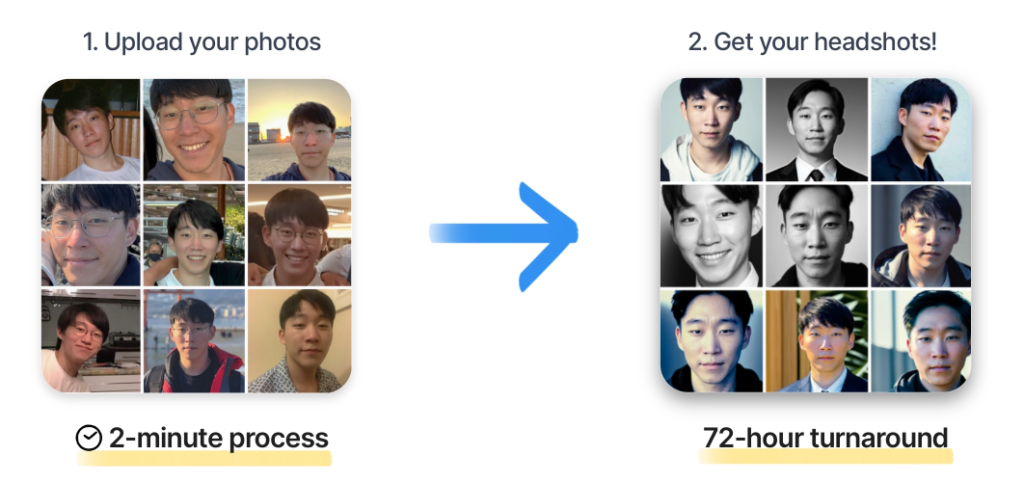 When it comes to achieving photorealistic headshot outputs, look no further than Headshots by AI. This remarkable headshot generator relies on Artificial Intelligence to meticulously study your facial features and construct a detailed model based on the knowledge gained.
Upon generating the model, it proceeds to create multiple headshots, promptly notifying the user upon completion. The headshot creation process typically takes approximately 3 hours. An added privacy feature of Headshots by AI is that after 24 hours, the tool automatically deletes all your photos, ensuring the utmost protection of your personal data.
While Headshots by AI offers exceptional services, it is important to note that they are not free. To initiate the AI training process, users are required to make a payment beforehand. It's worth mentioning that refund options are not available for these paid services.
If obtaining high-quality, lifelike headshots is your priority and you value privacy in the process, Headshots by AI presents an excellent choice. By leveraging advanced AI technology, this service delivers impressive results while safeguarding your sensitive information.
5. PFPMaker
Discover PFPMaker, also known as Profile Pic Maker, a fantastic tool for crafting exceptional corporate profile pictures for you and your team. This AI-powered headshot generator sets itself apart by requiring only a single photo to create your personalized AI photo.
Unlike many other headshot generators that consume significant amounts of time, PFPMaker boasts remarkable efficiency, delivering impressive outputs within just an hour.
As previously highlighted, your LinkedIn profile picture holds immense importance in making a positive impression on potential employers. With PFPMaker's vast library of 100+ top-quality portraits, you can rest assured that your first impression will always be on point.
The best part is that PFPMaker is completely free, making it accessible to anyone seeking to enhance their professional image with ease. Embrace PFPMaker to effortlessly create captivating profile pictures that leave a lasting impact on your professional endeavors.
6. Secta AI
With Secta AI, creating professional headshots from your ordinary selfies has never been easier. In a remarkably short span of less than an hour, this tool can generate hundreds of striking close-ups, elevating your portrait game to new heights. The added perk of Secta AI is the provision of a private gallery where you can securely save your portraits and conveniently export the ones that resonate with you.
What truly sets Secta AI apart is its commitment to customer satisfaction. The picture quality it delivers is exceptional, but in the rare event that you are unsatisfied with the results, Secta AI offers a money-back guarantee. As long as you haven't downloaded any images yet, you can request a full refund without any hassle.
To celebrate its launch, Secta AI currently presents an irresistible offer: a significant discount on their services. For a mere 49 USD, instead of the regular 99 USD, you can acquire 300+ professional headshots, making it an incredibly cost-effective choice.
Empower yourself with Secta AI to effortlessly produce captivating and high-quality headshots that truly reflect your professional persona. Take advantage of this exceptional opportunity and secure the perfect headshots that leave a lasting impression on your audience.
7. Dreamwave.ai
Enter the world of Dreamwave.ai, the AI-powered headshot generator that takes avatar creation to new heights. This cutting-edge tool assists users in crafting personalized AI avatars adorned with various outfits, backdrops, hairstyles, and more. Notably, Dreamwave.ai's capabilities extend beyond humans, as it can also generate AI avatars for pets.
Driven by a highly efficient AI algorithm, Dreamwave.ai excels in extracting the best angles from your photographs, ensuring the resulting avatars truly showcase the best version of yourself or your beloved pets.
With Dreamwave.ai, no detail is overlooked in the pursuit of perfection. By providing just 10+ photos, you can expect to receive remarkably realistic results within a single day. The freedom to choose the avatars you love and share them wherever you please grants you complete control over your digital representation.
Ordinarily, Dreamwave.ai offers 50 photos for a charge of 50 USD, which is already a great value. However, there's even more to celebrate as they currently feature a limited-time offer. For only 29 USD, you can secure 50 photos, making it an irresistible deal.
Seize the opportunity to embark on a personalized avatar journey with Dreamwave.ai, and let your digital persona reflect your unique style and identity. Whether it's for yourself or your furry companions, Dreamwave.ai promises to bring your avatars to life with unparalleled realism and creativity.
8. StudioShot
Unleash the power of StudioShot and create virtual headshots in just minutes. With its remarkable close-ups, StudioShot offers a convenient alternative to traditional photo shoots, delivering high-quality headshots that truly impress.
The array of styles available is vast, encompassing options such as LinkedIn, Real Estate, Executive, Charcoal Gray, Bright White, and more. Each style stands out with its unique lighting, background, and overall aesthetic, ensuring a perfect match for every individual's preference.
What sets StudioShot apart is their unwavering commitment to customer satisfaction. The dedicated team provides infinite touchups, going the extra mile to refine your headshot until you are completely content with the result. The outcome is nothing short of stunning, perfectly suited for team pages, LinkedIn profiles, pamphlets, business cards, and any other professional use.
StudioShot offers flexible plans tailored to the number of team members, with prices starting at just 29.25 USD per person for groups of 1-5 members. This affordability, coupled with the exceptional quality and customization options, makes StudioShot a go-to solution for individuals and teams seeking to elevate their professional image effortlessly. Embrace StudioShot and embrace the future of virtual headshots.
9. HeadshotPro
Experience the ultimate solution for all your headshot creation needs with HeadshotPro. Utilizing your photographs as a reference, its advanced AI algorithm crafts exquisite headshots that are practically indistinguishable from genuine photographs, eliminating the necessity for physical shoots.
Beyond catering to solo creations, HeadshotPro extends its prowess to create eye-catching headshots for your entire team. By inviting your coworkers to join your team and upload their selfies, you can collectively obtain studio-quality results that exude professionalism.
The AI tirelessly generates over 120 headshots for each team member, optimizing each photo for the perfect color, focus, lighting, and more. With a diverse array of backgrounds and clothing options to choose from, you can elevate your close-up photo to unprecedented heights.
Rest assured, HeadshotPro prioritizes privacy. While the tool automatically deletes all uploaded photos and generated avatars from their servers within a week, users retain the option to delete them instantly if desired.
Upon creation, HeadshotPro grants you full ownership of the outputs, empowering you to utilize them wherever you please without any concerns.
Presently, HeadshotPro offers individual plans, starting at 29 USD per shoot, and team plans, beginning at 39 USD per person. Embrace HeadshotPro's exceptional features and affordability to craft headshots that leave a lasting impression in all professional contexts.
10. Try it on AI
With Try it on AI at your fingertips, obtaining studio-quality headshots has never been easier. Simply submit your photos to create AI headshots and then take your pick from a variety of portrait styles available.
Once you've made your selection, the powerful algorithm gets to work, delivering the outputs within a swift timeframe of 1-3 days. Whether you intend to use your headshots on LinkedIn, a dating app, or any other platform, Try it on AI is more than capable of fulfilling your needs.
At present, Try it on AI offers a remarkable deal of 100 AI headshots for just 17 USD. For those seeking an additional human touch, the option for human editing is available at an extra cost of 7 USD.
Experience the ease and convenience of Try it on AI as it revolutionizes the way you create and utilize headshots, providing you with a wide range of options and exceptional results that leave a lasting impression wherever you choose to display them.
Conclusion
In today's market, there is a plethora of efficient AI headshot generators that excel in producing professional close-up photos. Our curated list aims to introduce you to some of the finest options available.
Take advantage of these powerful tools today and experience the convenience of creating awesome headshots without the need to visit a studio or hire a photographer. Save valuable time and money while elevating your presence in the corporate world.
With these AI headshot generators, you have the power to showcase your best self, leaving a lasting impression in professional contexts. Embrace the future of headshot creation and become a star in the corporate realm with these remarkable tools at your disposal.