YouTube has become a powerhouse platform for content creators, offering an incredible opportunity to share your creativity and engage with a global audience. As a YouTube creator, having the right tools and apps in your arsenal can greatly enhance your video production, editing, and channel management. In this blog post, we'll explore five of the best apps that every YouTube creator should consider using to level up their content creation game.
YouTube, the second-largest search engine globally, after Google, garners an impressive three billion searches each month. For content creators, a YouTube channel holds immense potential for various opportunities.
Nonetheless, the success of your channel relies heavily on the volume of traffic, views, and subscribers it manages to attract. To thrive on YouTube, it is crucial to generate compelling and top-notch content. A well-designed application can play a pivotal role in achieving this goal.
5 Best Apps for YouTube Creators
Below are the top 5 apps for YouTube creators to use in content creation:
1. Adobe Premiere Rush
When it comes to the realm of video editing, Adobe Premiere Rush stands out as an exceptional application, providing an array of robust features within a remarkably user-friendly interface.
This outstanding app empowers you to edit your YouTube videos effortlessly, even while on the move, by offering an assortment of tools for trimming, incorporating transitions, applying filters, and even crafting motion graphics of a professional caliber.
One of the notable advantages of Adobe Premiere Rush is its seamless synchronization capability, which effortlessly keeps your projects up to date across multiple devices.
Whether you prefer editing on your phone, tablet, or computer, this synchronization feature ensures remarkable flexibility and unparalleled convenience for creators who are constantly on the go.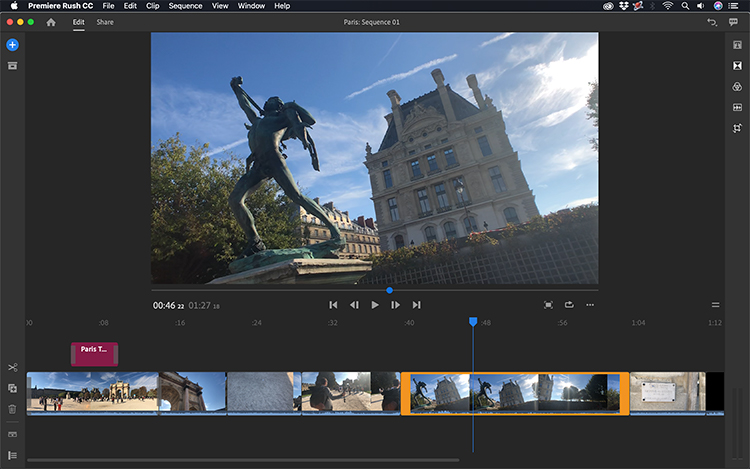 2. TubeBuddy
For YouTube creators seeking to optimize their channel's performance and expand their audience, TubeBuddy emerges as an indispensable application.
This remarkable app offers a comprehensive suite of features, encompassing crucial aspects such as keyword research, tag suggestions, competitor analysis, and video SEO tools. By leveraging the power of TubeBuddy, creators gain access to invaluable insights on trending topics, enabling them to enhance their video metadata strategically.
Moreover, TubeBuddy facilitates the streamlining of various tasks through automation, including bulk annotations and end screen templates. With its extensive repertoire of features, TubeBuddy serves as an invaluable ally for YouTubers aspiring to unlock the full potential of their channels, empowering them to achieve remarkable growth and success.
3. Canva
In the competitive realm of YouTube, captivating thumbnails, channel art, and social media graphics play a pivotal role in capturing the attention of potential viewers.
To excel in this aspect, Canva emerges as a versatile graphic design application, equipped with a remarkably user-friendly interface and an extensive assortment of templates, fonts, and images.
Leveraging the power of Canva, creators gain the ability to effortlessly craft personalized thumbnails, channel banners, and other visually striking elements that authentically showcase their brand's identity.
By utilizing Canva's abundant resources, creators can effectively distinguish their channel amidst the sea of content on YouTube, ensuring their unique presence and maximizing their chances of attracting and engaging audiences.
4. Epidemic Sound
The impact of music on YouTube videos cannot be overstated, as it contributes significantly to setting the right ambiance and elevating the overall quality of your content.
To meet this crucial need, Epidemic Sound emerges as an invaluable resource, providing content creators with an expansive library of royalty-free music tracks and sound effects that are thoughtfully curated.
The user-friendly interface of the Epidemic Sound app simplifies the process of exploring, previewing, and downloading high-quality music tracks that align seamlessly with the mood and style of your videos.
By leveraging the vast collection of copyright-friendly music from Epidemic Sound, creators can ensure a seamless and worry-free experience, avoiding any potential complications related to copyrighted content on their channels.
With Epidemic Sound as a trusted companion, creators can confidently enhance their videos with captivating music, elevating the overall viewer experience.
5. Google Analytics
Gaining a comprehensive understanding of your audience and effectively analyzing your YouTube channel's performance are vital steps in optimizing your content strategy. Google Analytics, a robust application, offers an array of powerful features that provide in-depth insights into various aspects of your channel's performance.
This includes valuable metrics such as watch time, audience demographics, traffic sources, and levels of engagement. By utilizing Google Analytics, you gain the ability to meticulously track your video views, monitor subscriber growth, and evaluate audience retention rates.
Armed with this valuable data, you can make informed, data-driven decisions to enhance your content and foster effective channel growth. With Google Analytics as your trusted ally, you can unlock the potential to elevate your content strategy and cultivate a thriving YouTube channel.
Conclusion
In conclusion, these five apps offer invaluable tools and features for YouTube creators to streamline their video editing, channel management, design, music selection, and data analysis.
Incorporating these apps into your YouTube workflow can help you create high-quality content, optimize your channel's performance, and ultimately connect with a wider audience. As you embark on your YouTube creator journey, make sure to explore these apps and leverage their capabilities to take your channel to new heights. Happy creating!
Frequently Asked Questions (FAQs)
What are the best apps for editing YouTube videos?
Some popular apps for editing YouTube videos include Adobe Premiere Pro, Final Cut Pro, iMovie, and Filmora. These apps offer a range of advanced features and editing capabilities to enhance the quality of your videos.
Which app is recommended for optimizing YouTube channel performance?
TubeBuddy and VidIQ are highly recommended apps for optimizing YouTube channel performance. They provide valuable tools for keyword research, competitor analysis, video SEO, and other features to help you grow your audience and maximize your channel's potential.
Are there any apps that help with creating engaging thumbnails and channel art?
Canva and Adobe Spark are two widely used apps for creating engaging thumbnails and channel art. They offer user-friendly interfaces and a wide range of customizable templates, fonts, and images to help you design visually appealing graphics that reflect your brand identity.
What are some popular apps for managing YouTube analytics and tracking channel growth?
Google Analytics, YouTube Studio, and Social Blade are popular apps for managing YouTube analytics and tracking channel growth. These apps provide detailed insights into your channel's performance, including metrics such as views, watch time, subscribers, and audience demographics.
Are there any recommended apps for finding royalty-free music and sound effects for YouTube videos?
Epidemic Sound and Artlist are highly recommended apps for finding royalty-free music and sound effects for YouTube videos. They offer extensive libraries of high-quality audio tracks and sound effects that you can use without worrying about copyright issues. These apps provide easy search and download options to enhance the audio experience of your videos.